What can a 157-year-old phar­ma gi­ant bring to the ta­ble of cell and gene ther­a­pies? Quite a bit, Bay­er says
By now, Bay­er has sketched out in bold strokes some grand plans for cell and gene ther­a­py, ce­ment­ed by big-dol­lar ac­qui­si­tions of plat­form com­pa­nies.
But just how do you stitch to­geth­er a new unit burst­ing with the newest ideas with­in a sto­ried phar­ma?
Ste­fan Oel­rich, the head of Bay­er's phar­ma di­vi­sion, briefly lift­ed the cur­tain and spot­light­ed three key fac­tors as he took the stage on a vir­tu­al me­dia day, flanked by Emile Nuwaysir and Sheila Mikhail, the chiefs of Blue­Rock and AskBio, who each in­tro­duced their work in a way you'd ex­pect from a biotech CEO.
The chem­i­cal ex­per­tise that the Ger­man be­he­moth has ac­crued over 157 years, for starters, isn't just pro­pelling small mol­e­cule drug R&D. It's giv­en them one of the biggest chem­i­cal li­braries in the pri­vate sec­tor, one that Oel­rich re­calls be­ing front and cen­ter in deal ne­go­ti­a­tions:
When we ac­quired AskBio, one of the first ques­tions that Jude Samul­s­ki asked me be­fore we closed is do I get ac­cess to your li­brary once this is done? And I said of course, you're gonna be part of the fam­i­ly. He told me some­thing that I wasn't aware of. When you're a biotech com­pa­ny, like for ex­am­ple in gene aug­men­ta­tion. To de­vel­op your cap­sids, to get the ge­net­ic in­for­ma­tion in­to the tis­sue where it needs to get to, you ac­tu­al­ly need chem­istry. And we can pro­vide things to them that they're not hav­ing ac­cess to to­day. So there's even syn­er­gy be­tween the two. What we need to learn now is how we con­nect those and how we build an en­vi­ron­ment in which both tech­no­log­i­cal plat­forms can re­al­ly thrive. This is some­thing that we're work­ing on.
It fits in­to the next piece — what BD chief Mar­i­anne De Backer calls "ag­ile deal­mak­ing" by her team.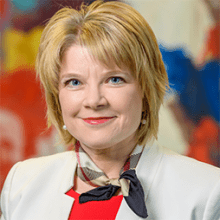 Mar­i­anne De Backer
"To give you one ex­am­ple, we have ac­quired 2 com­pa­nies last year and from a non-bind­ing of­fer to sign­ing of the agree­ment took all of 6 weeks," she said. "So the speed of our de­ci­sion mak­ing, the speed at which we can do this is ex­treme­ly, ex­treme­ly fast. I think we are one of the most com­pet­i­tive in the in­dus­try."
The au­ton­o­my that Blue­Rock and AskBio now en­joy, they sug­gest, should be felt by every fu­ture cell and gene ther­a­py com­pa­ny that comes un­der their um­brel­la.
"How do we bring this to­geth­er with­out giv­ing up what made these com­pa­nies so suc­cess­ful in the first place, with­out los­ing a beat in their abil­i­ty to con­tin­ue to in­no­vate, with­out los­ing the abil­i­ty to re­main re­al­ly a very fast and nim­ble biotech or­ga­ni­za­tion?" Oel­rich mused. "And so we came up with our idea to ac­tu­al­ly or­ches­trate these com­pa­nies that we would ac­quire in an arm's length fash­ion."
Those pro­grams won't be con­tribut­ing to the bot­tom line any time soon. In the next three to four years, Bay­er is count­ing on more tra­di­tion­al drugs to be the next block­buster prod­ucts.
There's daro­lu­tamide, the prostate can­cer drug it's de­vel­op­ing with Ori­on; finerenone, the treat­ment for chron­ic kid­ney dis­ease that's just scored pri­or­i­ty re­view at the FDA; the heart fail­ure drug veri­ciguat, be­ing co-de­vel­oped with Mer­ck; or even BAY-342, the newest Phase III prod­uct for symp­toms of menopause that ar­rived via the buy­out of KaNDy Ther­a­peu­tics.