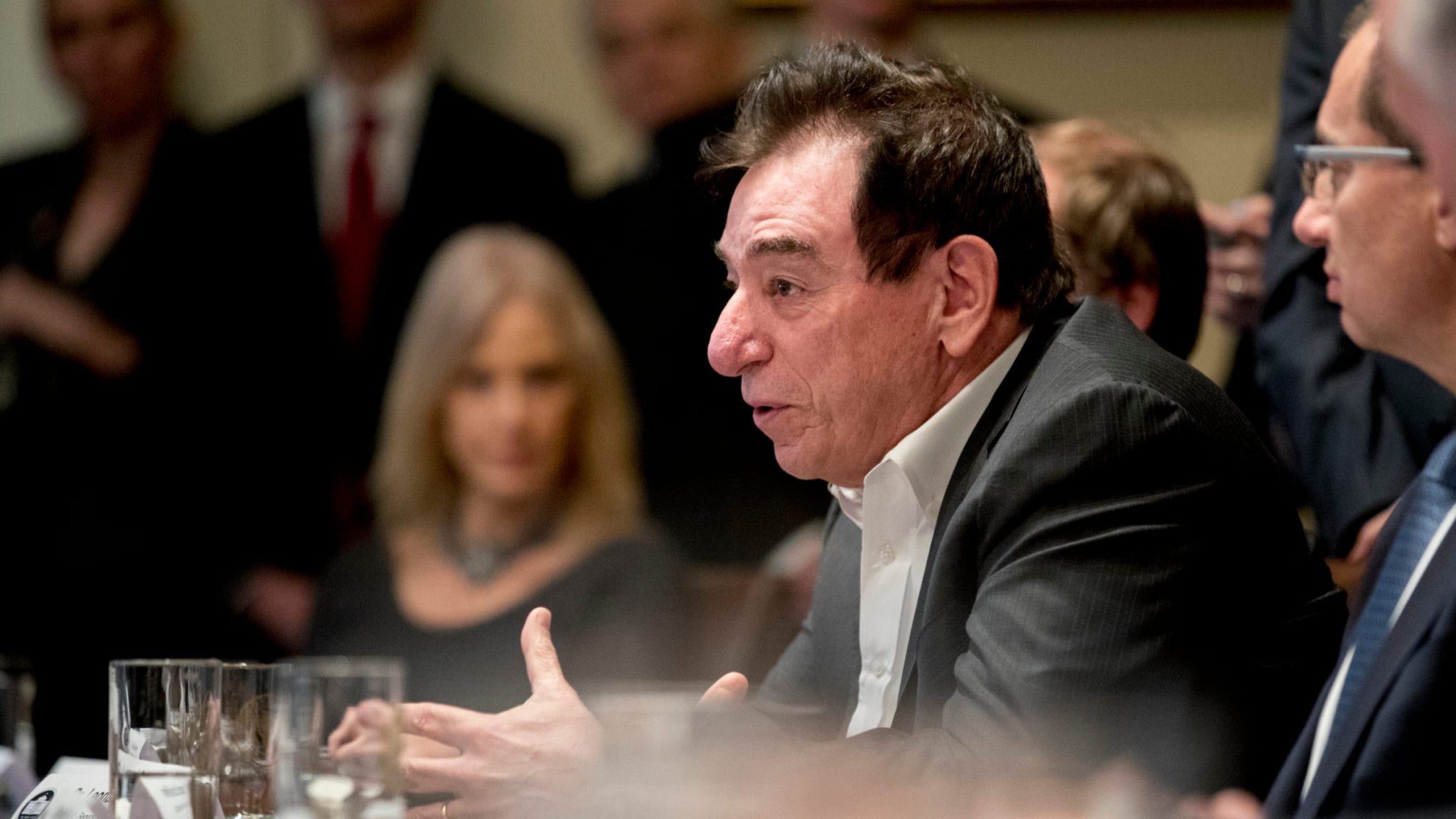 Leonard Schleifer, Regeneron CEO (AP Images)
What hap­pens when the N-of-1 is the pres­i­dent of the US? Re­gen­eron is about to find out
Pres­i­dent Trump is tak­ing a very per­son­al in­ter­est in an­oth­er ex­per­i­men­tal drug for Covid-19.
Fri­day af­ter­noon, af­ter he had test­ed pos­i­tive for coro­n­avirus, the White House put out a state­ment say­ing that Trump had tak­en an 8 gram dose of Re­gen­eron's an­ti­body cock­tail — the high dose that ap­peared to do bet­ter than the low dose in terms of bat­ting down vi­ral loads.
Right af­ter word ar­rived that Trump had tak­en the ex­per­i­men­tal ther­a­py, he was trans­ferred to Wal­ter Reed — news that im­me­di­ate­ly height­ened fears about his con­di­tion. The Wash­ing­ton Post not­ed that Trump and his team de­cid­ed to make the move while he could still walk.
The pres­i­dent's physi­cians didn't stop with the cock­tail. Late Fri­day night, the pres­i­dent's spokesper­son stat­ed that the doc­tors start­ed a course of remde­sivir, the Gilead drug that won the first emer­gency use au­tho­riza­tion from the FDA on mod­est­ly pos­i­tive tri­al re­sults.
New state­ment from WH Physi­cian Sean Con­ley MD re­ports Pres Trump "do­ing very well" tonight at Wal­ter Reed.. "He is not re­quir­ing any sup­ple­men­tal oxy­gen," and is re­ceiv­ing Remde­sivir ther­a­py, a drug the Pres him­self has of­ten trum­pet­ed. Says he "is rest­ing com­fort­ably." pic.twit­ter.com/SR1II­wmXrH

— Mark Knoller (@mark­knoller) Oc­to­ber 3, 2020
Ear­li­er in the week Re­gen­eron — led by CEO Len Schleifer and chief sci­en­tist George Yan­copou­los — had stirred a mixed re­ac­tion to its first cut of the da­ta on their cock­tail, es­sen­tial­ly pro­vid­ing proof-of-con­cept da­ta for the drug with­out sol­id ev­i­dence of ef­fi­ca­cy in eas­ing the path of the pa­tients with ini­tial­ly mild cas­es of Covid-19.
While Re­gen­eron of­fered da­ta demon­strat­ing that the drug could re­duce the need for med­ical vis­its among pa­tients with a low im­mune re­sponse, the num­bers in­volved were far too low to of­fer any clear pic­ture reg­u­la­tors nor­mal­ly need for an OK. The use of the drug may in­di­cate that Trump is among the most vul­ner­a­ble group.
Trump, though, has a his­to­ry of tout­ing drugs based on lit­tle to no ev­i­dence they work. He took hy­droxy long af­ter the da­ta point­ed to its in­ef­fec­tive­ness. And he pushed the FDA to pro­vide an emer­gency OK for con­va­les­cent plas­ma on thin ev­i­dence that it could work to fight the virus.
Trump's re­sponse to the Re­gen­eron cock­tail, re­al or sim­ply self-di­ag­nosed, could have enor­mous con­se­quences for the biotech — though adding remde­sivir could make it near im­pos­si­ble to tease out a re­sponse now. The star an­ti­body drug mak­er is seek­ing an emer­gency OK and may soon have the pres­i­dent in their cor­ner if he pulls through quick­ly.
Any se­ri­ous set­backs from here, though, could threat­en to turn Trump in­to an in­flu­en­tial op­po­nent.
So far right now, the pres­i­dent is a very big N of 1. And the ini­tial mar­ket re­sponse is all pos­i­tive. Re­gen­eron's stock surged 5% af­ter hours Fri­day — not bad when you start with a mar­ket cap of $60 bil­lion.
Trump him­self of­fered a late-night thumbs up:
Go­ing welI, I think! Thank you to all. LOVE!!!

— Don­ald J. Trump (@re­al­Don­aldTrump) Oc­to­ber 3, 2020
Bio­phar­ma com­pa­nies don't typ­i­cal­ly like get­ting com­pas­sion­ate use re­quests for their drugs, see­ing lit­tle up­side when they work and a big down­side when they don't. But as Schleifer told Katie Thomas at the New York Times: "When it's the pres­i­dent of the Unit­ed States, of course, that gets — ob­vi­ous­ly — gets our at­ten­tion."
Al­so of note: Trump had a choice in ex­per­i­men­tal an­ti­bod­ies. Eli Lil­ly tout­ed its ap­proach be­fore Re­gen­eron ar­rived on the scene, and their ther­a­py — which dis­ap­point­ed a num­ber of an­a­lysts on the first snap­shot of da­ta — didn't make the cut. That can't sit well at the phar­ma gi­ant.
In ad­di­tion to the cock­tail, Trump al­so is tak­ing zinc, vi­t­a­min D, famo­ti­dine, mela­tonin and a dai­ly as­pirin.
For a look at all End­points News coro­n­avirus sto­ries, check out our spe­cial news chan­nel.