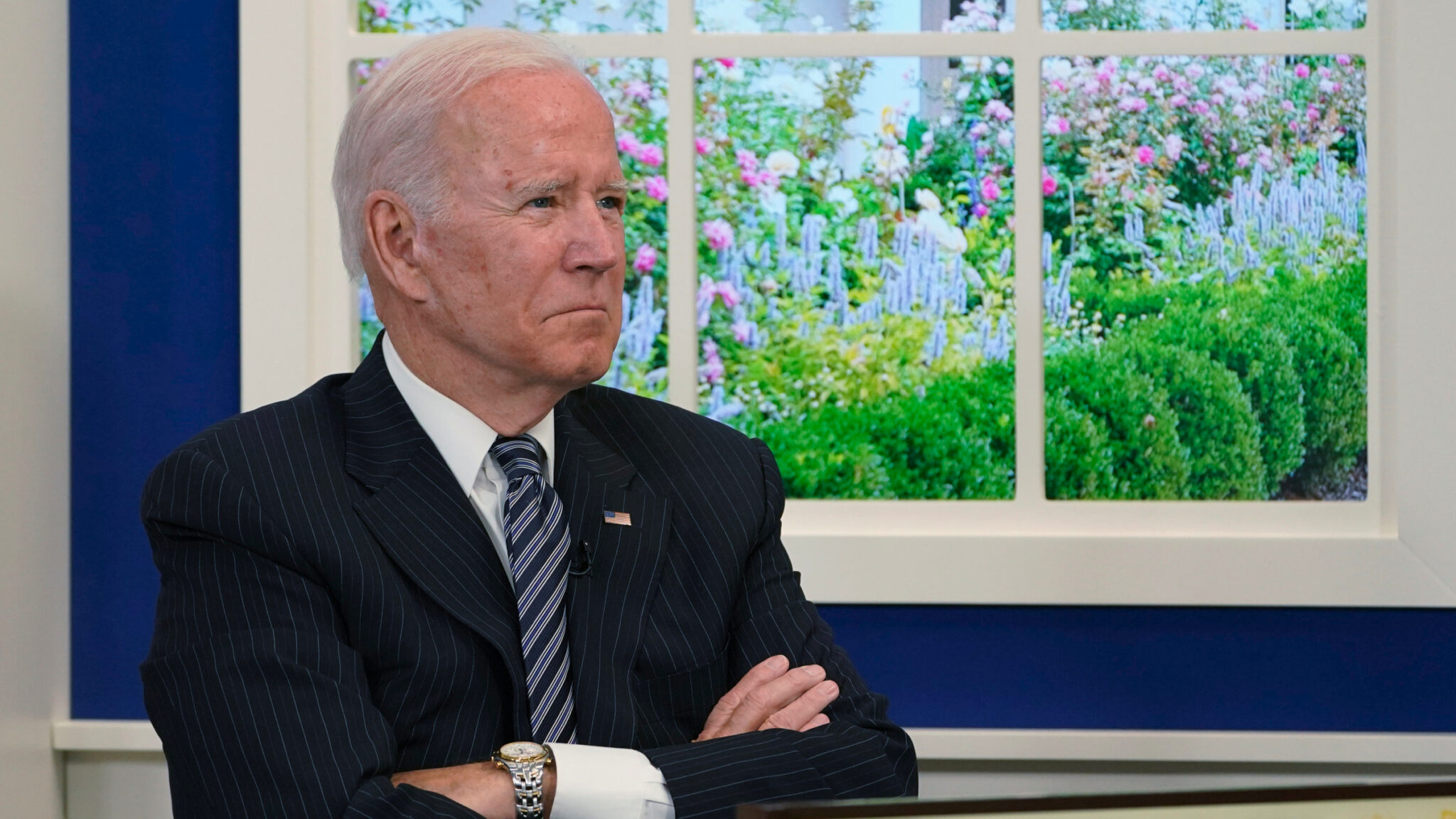 President Biden in the South Court Auditorium on the White House complex (Susan Walsh/AP Images)
White House kills off ma­jor drug pric­ing re­forms as De­moc­rats fail to co­a­lesce around Medicare ne­go­ti­a­tion plan
Just be­fore de­part­ing for Eu­rope this af­ter­noon, Pres­i­dent Joe Biden made clear that ma­jor drug pric­ing re­forms are un­like­ly to cross the fin­ish line in the fi­nal $1.75 tril­lion so­cial spend­ing bill from De­moc­rats.
The an­nounce­ment is a ma­jor step back for Biden, who in Au­gust pledged that the gov­ern­ment would save hun­dreds of bil­lions from Medicare ne­go­ti­a­tions, and De­moc­rats in gen­er­al, who have tried to open up ne­go­ti­a­tions for years to no avail.
Biden on Thurs­day re­leased a frame­work to help con­gres­sion­al ne­go­tia­tors fig­ure out the fi­nal de­tails of the bill, but no­tice­ably ab­sent was any men­tion of al­low­ing Medicare to ne­go­ti­ate drug prices, which in­dus­try had fought tooth and nail to de­feat as pay-for for the Build Back Bet­ter Act.
"At the end of the day, there are not yet enough votes to get some­thing across the line that will de­liv­er what the Amer­i­can peo­ple need and ex­pect on pre­scrip­tion drugs," a White House of­fi­cial said on a call with re­porters Thurs­day morn­ing.
Alex Law­son, ex­ec­u­tive di­rec­tor of the non­prof­it So­cial Se­cu­ri­ty Works who's been work­ing on the ne­go­ti­a­tions, con­firmed to End­points News that Medicare ne­go­ti­a­tions are of­fi­cial­ly dead.
What the Biden frame­work does still in­clude is a re­peal of a Trump-era re­bate rule, which it ex­pects will save about $145 bil­lion as it would've in­creased se­niors' drug pre­mi­ums. But the Biden ad­min­is­tra­tion could've re­pealed that rule with­out the help of Con­gress, and $145 bil­lion is a far cry from the CBO's pre­vi­ous es­ti­mate that Medicare drug price ne­go­ti­a­tions would've saved $450 bil­lion over 10 years, based on its analy­sis of a pri­or drug pric­ing bill from House Speak­er Nan­cy Pelosi.
So who's to blame for drop­ping the ball on ma­jor drug pric­ing re­forms? Swarms of phar­ma­ceu­ti­cal in­dus­try lob­by­ists are the big win­ners. And a hand­ful of Sen­ate De­moc­rats, like New Jer­sey Sen. Bob Menen­dez, have been re­luc­tant to come on board with Medicare ne­go­ti­a­tions as the in­dus­try has made clear that it could come at the cost of new drugs.
Sean Dick­son, drug pric­ing ex­pert at West Health, told End­points he's still wait­ing to hear more de­tails on the penal­ties that may oc­cur when drug prices in­crease faster than the rate of in­fla­tion. Sen. Ron Wyden (D-OR), who's spear­head­ing the drug pric­ing part of the ne­go­ti­a­tions, pre­vi­ous­ly said he se­cured agree­ment with the par­lia­men­tar­i­an on the in­clu­sion of the penal­ties.
"I'll note that ab­sent re­forms that re­duce drug prices, 1.1M se­niors are ex­pect­ed to die pre­ma­ture­ly due to cost-re­lat­ed non-ad­her­ence over the next 10 years," Dick­son said.
David Mitchell, a can­cer pa­tient and founder of Pa­tients For Af­ford­able Drugs Now, said in a state­ment in re­sponse to Biden's frame­work: "The lack of pro­vi­sions to low­er drug prices in the Build Back Bet­ter frame­work is a huge fail­ure that will harm mil­lions of Amer­i­cans who are count­ing on De­moc­rats and the pres­i­dent to de­liv­er on their promis­es and pro­vide des­per­ate­ly need­ed re­lief."