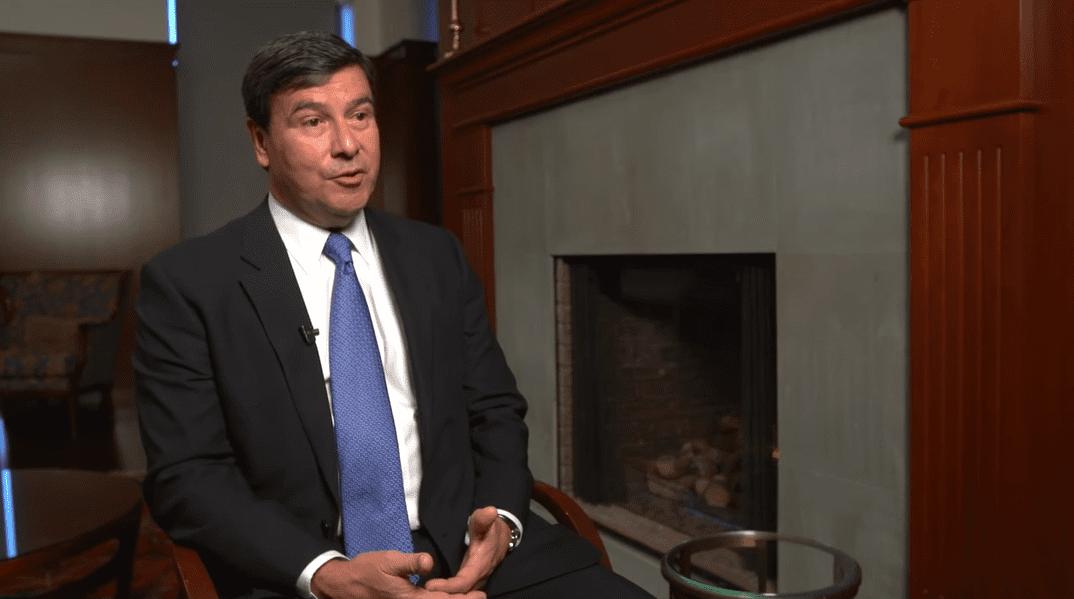 Vicente Anido, Aerie CEO (University of West Virginia via YouTube)
Who needs pri­ma­ry end­points any­way? Aerie touts sil­ver lin­ings from failed PhI­Ib, plots PhI­II in dry eye dis­ease
Aerie's dry eye dis­ease drug may not have met the pri­ma­ry end­points it's cho­sen for a Phase IIb study, but that's not stop­ping the biotech from pow­er­ing through Phase III — and steer­ing to­ward a field with plen­ty of ri­vals.
"While we did not achieve sta­tis­ti­cal sig­nif­i­cance at our pre-de­ter­mined pri­ma­ry end­points at Day 28, as a re­minder, this is a Phase 2b study where se­lect­ing pri­ma­ry end­points are not re­quired," CEO Vi­cente Anido said in a state­ment.
In­stead, he high­light­ed how AR-15512, a TRPM8 ag­o­nist giv­en in the form of an eye drop, spurred sta­tis­ti­cal­ly sig­nif­i­cant im­prove­ments on "mul­ti­ple FDA-rec­og­nized symp­toms and signs" — things like oc­u­lar dis­com­fort, tear pro­duc­tion and eye dry­ness.
All of that, he added, points to a clear path to­ward ap­proval.
In­vestors aren't so sure. Shares $AERI fell 17.83% af­ter the bells to $2.80.
Based on the re­sults, ex­ecs have de­cid­ed to bring the high­er con­cen­tra­tion of 0.003% BID in­to two Phase III tri­als that will stretch over three months.
With No­var­tis' block­buster Xi­idra al­ready on the mar­ket, the FDA is in no rush to clear new treat­ments for dry eye dis­ease, re­ject­ing Kala's ini­tial NDA and de­mand­ing a new Phase III be­fore fi­nal­ly ap­prov­ing its oc­u­lar cor­ti­cos­teroid, Ey­su­vis. But biotechs have ar­gued that the mar­ket re­mains un­tapped and there's still need for more op­tions.
A to­tal of 369 pa­tients en­rolled in the COMET-1 study in­to one of three arms: AR-15512 (0.0014%), AR-15512 (0.003%) or AR-15512 ve­hi­cle. Dosed dai­ly over 84 days, they were eval­u­at­ed at days 1, 14, 28 and 84.
Un­usu­al for a da­ta read­out, Aerie didn't pro­vide a p-val­ue on the pri­ma­ry end­points — or even men­tion them — for the topline. Ac­cord­ing to its post­ing on clin­i­cal­tri­als.gov, the pri­ma­ry out­come mea­sures of the COMET-1 study are im­prove­ment from base­line in ODS-VAS, or oc­u­lar dis­com­fort score on a vi­su­al ana­logue scale, and im­prove­ment on the anes­thetized Schirmer's score. There was no word on how pa­tients fared on those two met­rics in a press re­lease.
In­stead, the com­pa­ny high­light­ed how the drug cleared the bar for oc­u­lar dis­com­fort at day 84 (p=0.028), SANDE (symp­tom as­sess­ment in dry eye) at days 14, 28 and 84 (p-val­ue be­tween 0.025 and 0.0005) and eye dry­ness at day 84 (p=0.03). It al­so re­port­ed pos­i­tive re­sults in signs like ef­fi­ca­cy af­ter the first dose, tear pro­duc­tion based on the unanes­thetized Schirmer's score, con­junc­ti­val red­ness and oc­u­lar sur­face stain­ing.
Less than 3% of par­tic­i­pants dis­con­tin­ued the tri­al due to ad­verse events, Aerie added, and they con­clud­ed both for­mu­la­tions test­ed were safe and well-tol­er­at­ed.
Aerie will see what the FDA thinks of its plan in an end of Phase II meet­ing planned for ear­ly next year — al­though the rest of the world may not find out un­til much lat­er.
AR-15512 came to Aerie — which al­ready boasts of sev­er­al ap­proved drugs in glau­co­ma — via its 2019 buy­out of Spain's Avi­zorex Phar­ma. The up­front pay­ment came in at $10 mil­lion, per­haps re­flect­ing the sales ex­pec­ta­tion."We would look for AR-15512 to match the ef­fi­ca­cy of ap­proved dry eye dis­ease ther­a­peu­tics (in terms of both dry eye dis­ease signs and symp­toms) with peak sales of ~$230 mil (in­di­ca­tion would be worth $4). If ef­fi­ca­cy is sig­nif­i­cant­ly above on-mar­ket prod­ucts, our peak sales es­ti­mates could be ~$500 mil (in­di­ca­tion would be worth $9)," Mizuho an­a­lysts wrote in a re­cent note.