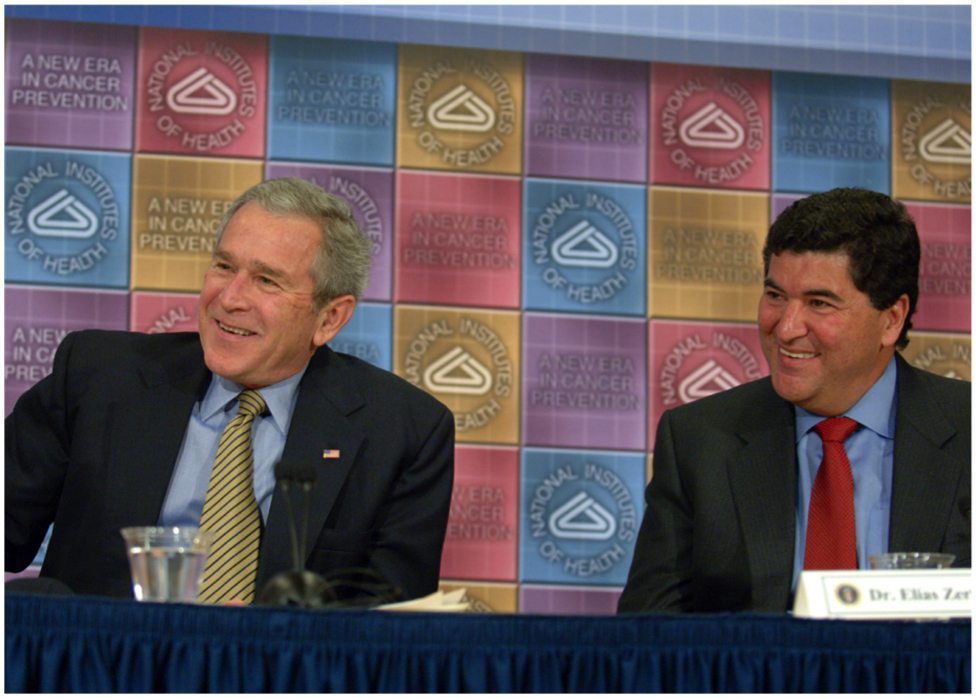 The Zer­houni rule: "Every com­pa­ny that ac­quires a plat­form com­pa­ny kills it."
Why Medi­va­tion makes the per­fect biotech takeover tar­get for Sanofi
---
John Car­roll, Ed­i­tor
Last Jan­u­ary at the J.P. Mor­gan con­fab, I had a chance to sit down with Sanofi R&D chief Dr. Elias Zer­houni. He made it clear up front he's been fol­low­ing my writ­ing for some years. He even seemed to have en­joyed some of it — ex­cept for the parts in which I rou­tine­ly point­ed to Sanofi's lack of in­ter­nal in­no­va­tion and a heavy re­liance on its de­vel­op­ment part­ners (es­pe­cial­ly Re­gen­eron) to ad­vance ma­jor new drugs.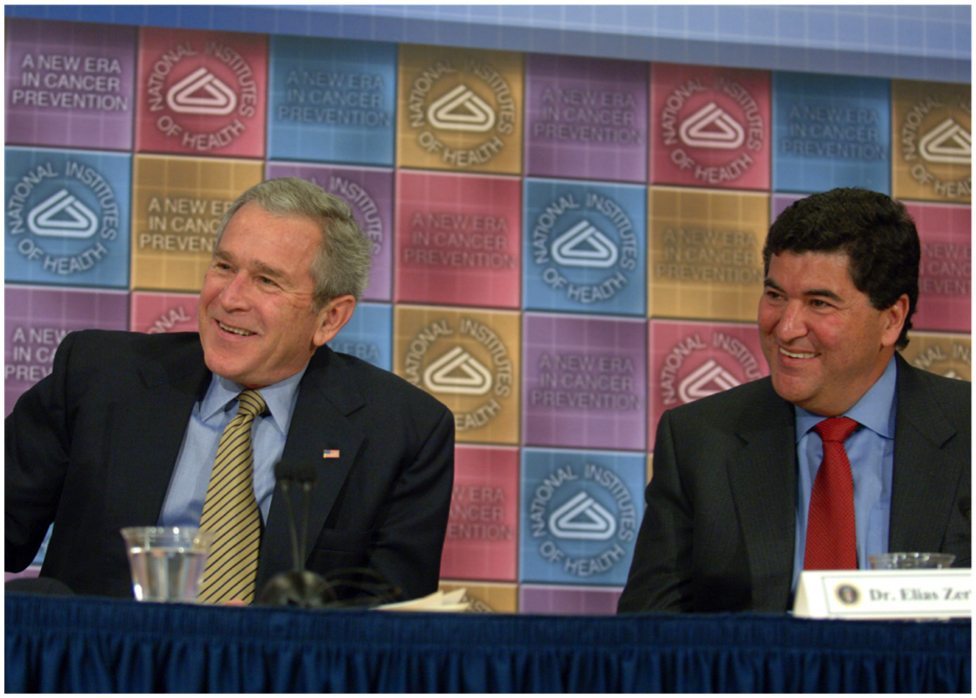 (Feb 7, 2007: Pres­i­dent George W. Bush and NIH Di­rec­tor Dr. Elias Zer­houni en­joy an ex­change. Cour­tesy NIH)
---
The for­mer head of the NIH took ex­cep­tion to what he sees as a reg­u­lar theme of mine: that Sanofi "just buys" in­no­va­tion at part­ner com­pa­nies. And that set the stage for a con­ver­sa­tion on his track record at the French phar­ma gi­ant since ex-CEO Chris Viehbach­er re­cruit­ed him in 2009, set­ting him on a mis­sion to cre­ate the kind of R&D struc­ture at a glob­al op­er­a­tion that can be man­aged ef­fi­cient­ly and gen­er­ate im­por­tant new ther­a­pies.
There wasn't a hint in that ex­change that Sanofi had its eyes on Medi­va­tion, a com­pa­ny that had played a break­through role in treat­ing prostate can­cer and fol­lowed that up with a ma­jor league PARP in­hibitor deal as it jock­eyed for po­si­tion against some big ri­vals. But look­ing back, you can see all the in­tel­lec­tu­al build­ing blocks that de­fine what makes Medi­va­tion — or a sim­i­lar biotech — the per­fect takeover tar­get for the French phar­ma gi­ant and its new CEO, Olivi­er Brandi­court.
Zer­houni, who had re­cent­ly dropped an op­tion to buy Warp Dri­ve Bio in fa­vor of a long­time col­lab­o­ra­tion, be­lieves that any phar­ma com­pa­ny that wants to buy a plat­form biotech–build­ing a pipeline out of its own dis­cov­ery en­gine–is on a fool's mis­sion.
"Every com­pa­ny that ac­quires a plat­form com­pa­ny kills it," he told me blunt­ly. So a few years ago when the board at Sanofi start­ed ask­ing about buy­ing Re­gen­eron, a close part­ner which Sanofi al­ready owns a big stake in, he wasn't in­ter­est­ed.
Zer­houni's re­sponse: "That would be the stu­pid­est thing you could do."
At that point I not­ed that Viehbach­er—who al­so told me in a re­cent in­ter­view that he didn't be­lieve any Big Phar­ma op­er­a­tion could be tru­ly in­no­v­a­tive — had once men­tioned in an in­ter­view that if Sanofi had bought Re­gen­eron, they would prob­a­bly just screw it up.
"I told Chris that," re­spond­ed Zer­houni em­phat­i­cal­ly.
I was re­mind­ed of that con­ver­sa­tion as I was read­ing over Medi­va­tion's caus­tic kick­back against Sanofi's $9.3 bil­lion buy­out of­fer. Medi­va­tion is any­thing but a plat­form com­pa­ny. It was go­ing af­ter prostate can­cer at the same time it was mak­ing a failed bet that a Russ­ian an­ti­his­t­a­mine could be the per­fect new drug for Alzheimer's. (Wrong.) But they scored block­buster gold with Xtan­di, a drug that came out of the UCLA lab of Charles Sawyers, one of the lead­ing lights in an­dro­gen re­cep­tor drug tech now at Memo­r­i­al Sloan-Ket­ter­ing. Pick­ing up their com­ple­men­tary late-stage PARP in­hibitor, ta­la­zoparib, last year from Bio­Marin was a pure play add-on deal.
There wasn't any­thing in­no­v­a­tive about it. But it was smart. And Medi­va­tion CEO David Hung is a very smart deal­mak­er. One of the best.
If the PARP drug works, it will be be­cause the drug is ef­fec­tive, rel­a­tive­ly safe and the de­vel­op­ment team didn't screw it up. Xtan­di is al­ready a known, ap­proved prod­uct. Medi­va­tion's jab at Sanofi's failed Bi­Par deal won't fly. If Big Phar­ma is good at any­thing, it's as­sem­bling deeply pro­fes­sion­al de­vel­op­ment teams and spend­ing big on con­vinc­ing Phase III da­ta. Sanofi, with its $6 bil­lion an­nu­al R&D bud­get, is every bit as good at that as any of its Big Phar­ma brethren.
It's not in­no­v­a­tive.
If the drug doesn't work, that will be on the Medi­va­tion team that bought it — as much as Sanofi for tak­ing a gam­ble on it. It's as low risk as it gets in R&D.
Over­all, Zer­houni es­sen­tial­ly gives him­self a sol­id though not spec­tac­u­lar grade on new prod­uct de­vel­op­ment, to date. Start­ing with "noth­ing in the pipeline," he's scored 18 prod­uct launch­es, a record he de­scribes as "good, not great," in­clud­ing some drugs that he read­i­ly of­fers weren't all that in­no­v­a­tive to be­gin with. And he's done it while re­struc­tur­ing R&D, cut­ting the head­count 37%, from 14,000 to about 8,000 ("I closed 22 sites"), and switch­ing a pri­ma­ry fo­cus on small mol­e­cules to one that is now 75% bi­o­log­ics, which can cut de­vel­op­ment times from 7 to 4 years.
For what it's worth, I agreed with Zer­houni that I have rou­tine­ly not­ed Sanofi's lack of in­ter­nal in­no­va­tion. That seems more than ob­vi­ous, though per­haps Zer­houni is right and Sanofi can one day re­form its in-house R&D im­age. But Re­gen­eron has proved re­peat­ed­ly that it has one of the best de­vel­op­ment ef­forts in the in­dus­try. And far from sug­gest­ing that Sanofi "just buys" in­no­va­tion, I'd say that af­ter watch­ing a slew of Big Phar­mas waste bil­lions of dol­lars chas­ing sci­en­tif­ic shad­ows, I give high marks to any­one that can strike the right kind of part­ner­ships and push them in the right di­rec­tion.
Sanofi has de­vot­ed con­sid­er­able ef­fort and cash to make the Re­gen­eron deal work, as it is do­ing with Al­ny­lam and a host of oth­er com­pa­nies. If you want to know how Zer­houni thinks of it in chart for­mat, here's the schemat­ic he drew up: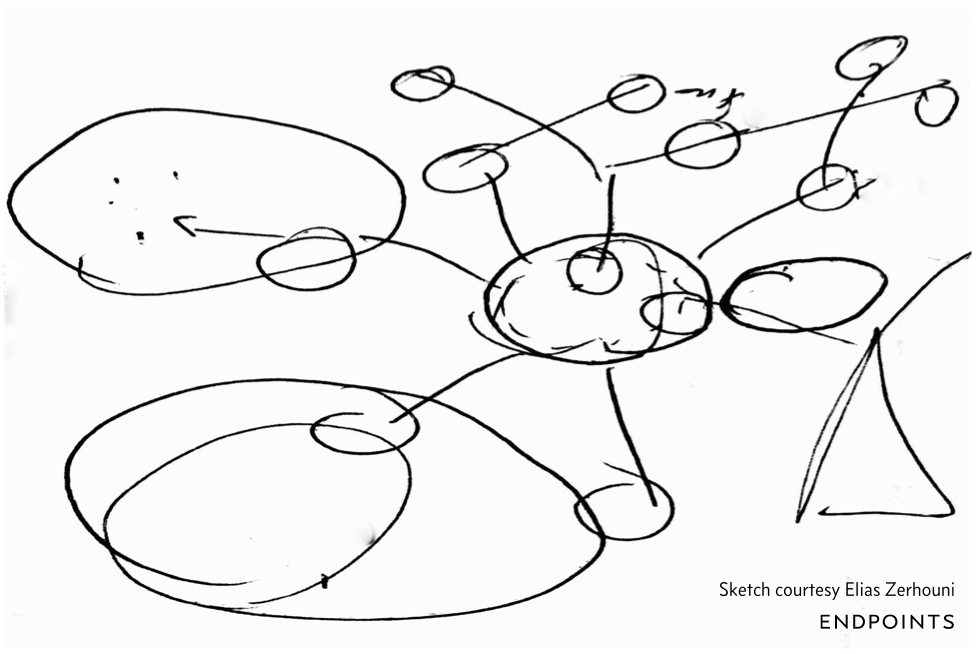 ---
In Zer­houni's world, he sits in the mid­dle of a host of re­la­tion­ships with big and small com­pa­nies that have plen­ty of in­no­v­a­tive plat­form work go­ing on. He doesn't want to buy and kill any of it. He does want to fos­ter it and prof­it from the work.
In Medi­va­tion, Sanofi has a per­fect mix of late-stage and com­mer­cial­ized prod­ucts. There's no plat­form to kill. And it speaks to the phar­ma com­pa­ny's in­tent when its ex­ec­u­tive crew say they're de­ter­mined to com­plete the merg­er. Medi­va­tion, or a com­pa­ny just like it, fits neat­ly in­to Zer­houni's view of the bio­phar­ma food chain.