Why Medivation makes the perfect biotech takeover target for Sanofi
---
Last January at the J.P. Morgan confab, I had a chance to sit down with Sanofi R&D chief Dr. Elias Zerhouni. He made it clear up front he's been following my writing for some years. He even seemed to have enjoyed some of it — except for the parts in which I routinely pointed to Sanofi's lack of internal innovation and a heavy reliance on its development partners (especially Regeneron) to advance major new drugs.
---
The former head of the NIH took exception to what he sees as a regular theme of mine: that Sanofi "just buys" innovation at partner companies. And that set the stage for a conversation on his track record at the French pharma giant since ex-CEO Chris Viehbacher recruited him in 2009, setting him on a mission to create the kind of R&D structure at a global operation that can be managed efficiently and generate important new therapies.
There wasn't a hint in that exchange that Sanofi had its eyes on Medivation, a company that had played a breakthrough role in treating prostate cancer and followed that up with a major league PARP inhibitor deal as it jockeyed for position against some big rivals. But looking back, you can see all the intellectual building blocks that define what makes Medivation — or a similar biotech — the perfect takeover target for the French pharma giant and its new CEO, Olivier Brandicourt.
Zerhouni, who had recently dropped an option to buy Warp Drive Bio in favor of a longtime collaboration, believes that any pharma company that wants to buy a platform biotech–building a pipeline out of its own discovery engine–is on a fool's mission.
"Every company that acquires a platform company kills it," he told me bluntly. So a few years ago when the board at Sanofi started asking about buying Regeneron, a close partner which Sanofi already owns a big stake in, he wasn't interested.
Zerhouni's response: "That would be the stupidest thing you could do."
At that point I noted that Viehbacher—who also told me in a recent interview that he didn't believe any Big Pharma operation could be truly innovative — had once mentioned in an interview that if Sanofi had bought Regeneron, they would probably just screw it up.
"I told Chris that," responded Zerhouni emphatically.
I was reminded of that conversation as I was reading over Medivation's caustic kickback against Sanofi's $9.3 billion buyout offer. Medivation is anything but a platform company. It was going after prostate cancer at the same time it was making a failed bet that a Russian antihistamine could be the perfect new drug for Alzheimer's. (Wrong.) But they scored blockbuster gold with Xtandi, a drug that came out of the UCLA lab of Charles Sawyers, one of the leading lights in androgen receptor drug tech now at Memorial Sloan-Kettering. Picking up their complementary late-stage PARP inhibitor, talazoparib,  last year from BioMarin was a pure play add-on deal.
There wasn't anything innovative about it. But it was smart. And Medivation CEO David Hung is a very smart dealmaker. One of the best.
If the PARP drug works, it will be because the drug is effective, relatively safe and the development team didn't screw it up. Xtandi is already a known, approved product. Medivation's jab at Sanofi's failed BiPar deal won't fly. If Big Pharma is good at anything, it's assembling deeply professional development teams and spending big on convincing Phase III data. Sanofi, with its $6 billion annual R&D budget, is every bit as good at that as any of its Big Pharma brethren.
It's not innovative.
If the drug doesn't work, that will be on the Medivation team that bought it — as much as Sanofi for taking a gamble on it. It's as low risk as it gets in R&D.
Overall, Zerhouni essentially gives himself a solid though not spectacular grade on new product development, to date. Starting with "nothing in the pipeline," he's scored 18 product launches, a record he describes as "good, not great," including some drugs that he readily offers weren't all that innovative to begin with. And he's done it while restructuring R&D, cutting the headcount 37%, from 14,000 to about 8,000 ("I closed 22 sites"), and switching a primary focus on small molecules to one that is now 75% biologics, which can cut development times from 7 to 4 years.
For what it's worth, I agreed with Zerhouni that I have routinely noted Sanofi's lack of internal innovation. That seems more than obvious, though perhaps Zerhouni is right and Sanofi can one day reform its in-house R&D image. But Regeneron has proved repeatedly that it has one of the best development efforts in the industry. And far from suggesting that Sanofi "just buys" innovation, I'd say that after watching a slew of Big Pharmas waste billions of dollars chasing scientific shadows, I give high marks to anyone that can strike the right kind of partnerships and push them in the right direction.
Sanofi has devoted considerable effort and cash to make the Regeneron deal work, as it is doing with Alnylam and a host of other companies. If you want to know how Zerhouni thinks of it in chart format, here's the schematic he drew up: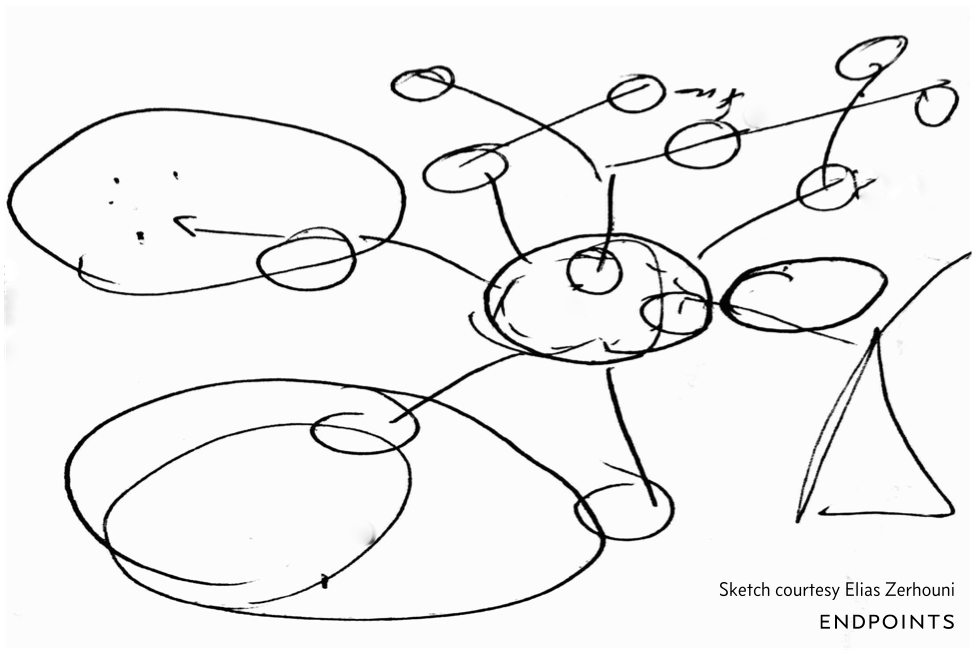 ---
In Zerhouni's world, he sits in the middle of a host of relationships with big and small companies that have plenty of innovative platform work going on. He doesn't want to buy and kill any of it. He does want to foster it and profit from the work.
In Medivation, Sanofi has a perfect mix of late-stage and commercialized products. There's no platform to kill. And it speaks to the pharma company's intent when its executive crew say they're determined to complete the merger. Medivation, or a company just like it, fits neatly into Zerhouni's view of the biopharma food chain.
---
The best place to read
Endpoints News

? In your inbox.

Comprehensive daily news report for those who discover, develop, and market drugs. Join 47,900+ biopharma pros who read Endpoints News by email every day.

Free Subscription
---
---
---