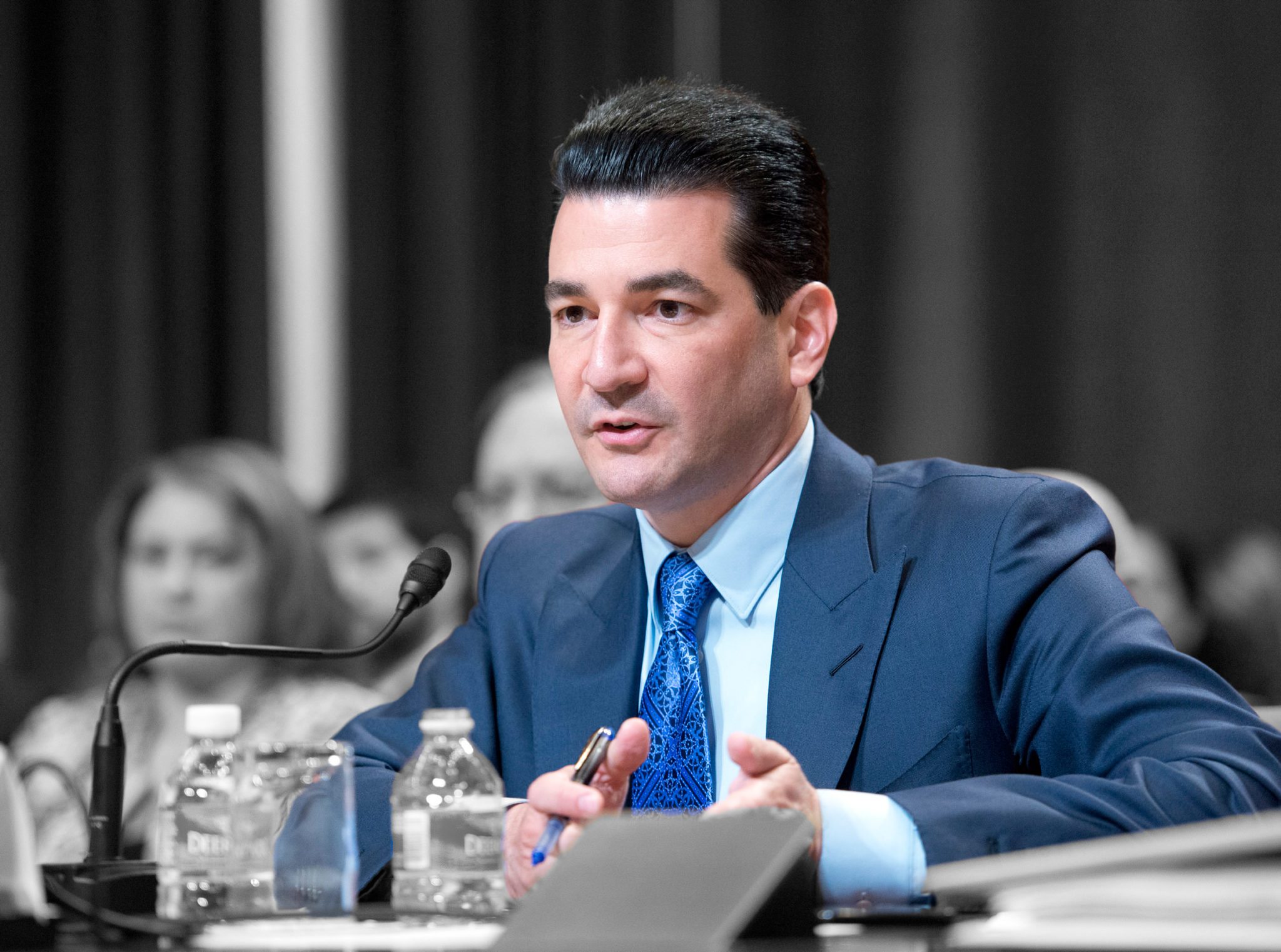 Scott Gottlieb testifies on Capitol Hill in 2017 (Photo: AP Images / Graphics: Endpoints News)
Why Scott Got­tlieb, ven­ture cap­i­tal­ist, sees op­por­tu­ni­ty in an­tibi­otics
A drug de­vel­op­er in­vestor say­ing she's very ex­cit­ed about an­tibi­otics right now is about the equiv­a­lent of a trad­er telling you in 2008 the hous­ing mar­ket looks at­trac­tive. It's not just that al­most no new an­tibac­te­ri­als have been de­vel­oped in decades; the ones that make the mar­ket don't stand to make a lot of mon­ey.
But when a Reuters re­porter asked ex-FDA chief Scott Got­tlieb what he was ex­cit­ed about now that he's back in ven­ture cap­i­tal, Got­tlieb named the long-ne­glect­ed class.
"I'm very in­ter­est­ed in find­ing op­por­tu­ni­ties in the an­ti-in­fec­tive space, par­tic­u­lar­ly around mul­ti-drug re­sis­tant or­gan­isms," Got­tlieb, now at New En­ter­prise As­so­ci­ates, told Reuters. "An­ti-in­fec­tives have been unloved for a very long time. There's a huge clin­i­cal need."
Of course, every­one agrees on the clin­i­cal need. Re­port af­ter re­port con­tin­ues to high­light the risk from the rise of drug-re­sis­tant bac­te­ria and the grow­ing dan­ger they rep­re­sent to pub­lic health. It's how you meet it that's been the ques­tion.
Got­tlieb has had ideas in the past, but as a reg­u­la­tor, not a ven­ture cap­i­tal­ist. Be­fore his April de­par­ture, he used his perch at the FDA to push for new plans that would change the fun­da­men­tal eco­nom­ics that has dis­in­cen­tivized "su­per­bug" re­search: Drug com­pa­nies are paid per drug, and an­tibi­otics are more ef­fec­tive the less you use them. There's just not much de­mand for new an­tibi­otics right now, leav­ing the bulk of the mar­ket to cheap gener­ics.
Fac­ing that log­ic, No­var­tis, As­traZeneca and Sanofi all re­cent­ly jet­ti­soned their an­tibi­otics pro­gram. Bris­tol-My­ers Squibb — one of the three com­pa­nies, along with Mer­ck and Pfiz­er, that orig­i­nal­ly made peni­cillin pos­si­ble in the 1940s – shut­tered their arm in 2006. And small biotechs hop­ing to gain trac­tion have found a fund­ing desert.
Got­tlieb, though, said the van­ish­ing dol­lars have cre­at­ed an op­por­tu­ni­ty. He sin­gled out Achao­gen, the once-promis­ing biotech that spi­raled dra­mat­i­cal­ly af­ter the its new an­tibi­ot­ic Zem­dri won an ap­proval in a high­ly lim­it­ed pa­tient pool and failed to se­cure a la­bel ex­pan­sion. The com­pa­ny went bank­rupt and auc­tioned Zem­dri off in June.
"Af­ter the Achao­gen episode, a lot of val­u­a­tions have been dri­ven down quite dra­mat­i­cal­ly," he said. "I think there's an op­por­tu­ni­ty to try to find some ex­ist­ing as­sets and maybe build a com­pa­ny around those as­sets."
There are still some big play­ers left, in­clud­ing Pfiz­er, which ac­quired As­traZeneca's an­tibi­otics branch in 2016, and Mer­ck. GSK just be­gan Phase III tri­als on a new an­tibi­ot­ic for uri­nary tract in­fec­tion and gon­or­rhea.
Part of what they're hop­ing for is the rise of new re­im­burse­ment mod­els like the ones Got­tlieb had pushed for. In Britain, the gov­ern­ment is test­ing a pro­gram would pay com­pa­nies ac­cord­ing to the val­ue of the drug to the NHS and not the amount doled out. GSK has en­dorsed that mod­el.
As FDA chief, Got­tlieb pushed oth­er mod­els de­signed for the US health­care sys­tem, in­clud­ing an ex­tend­ed patent win­dow grant­ed by Con­gress and a li­cens­ing sys­tem where acute care in­sti­tu­tions paid a flat fee to give out a spec­i­fied num­ber of dos­es of the drug.