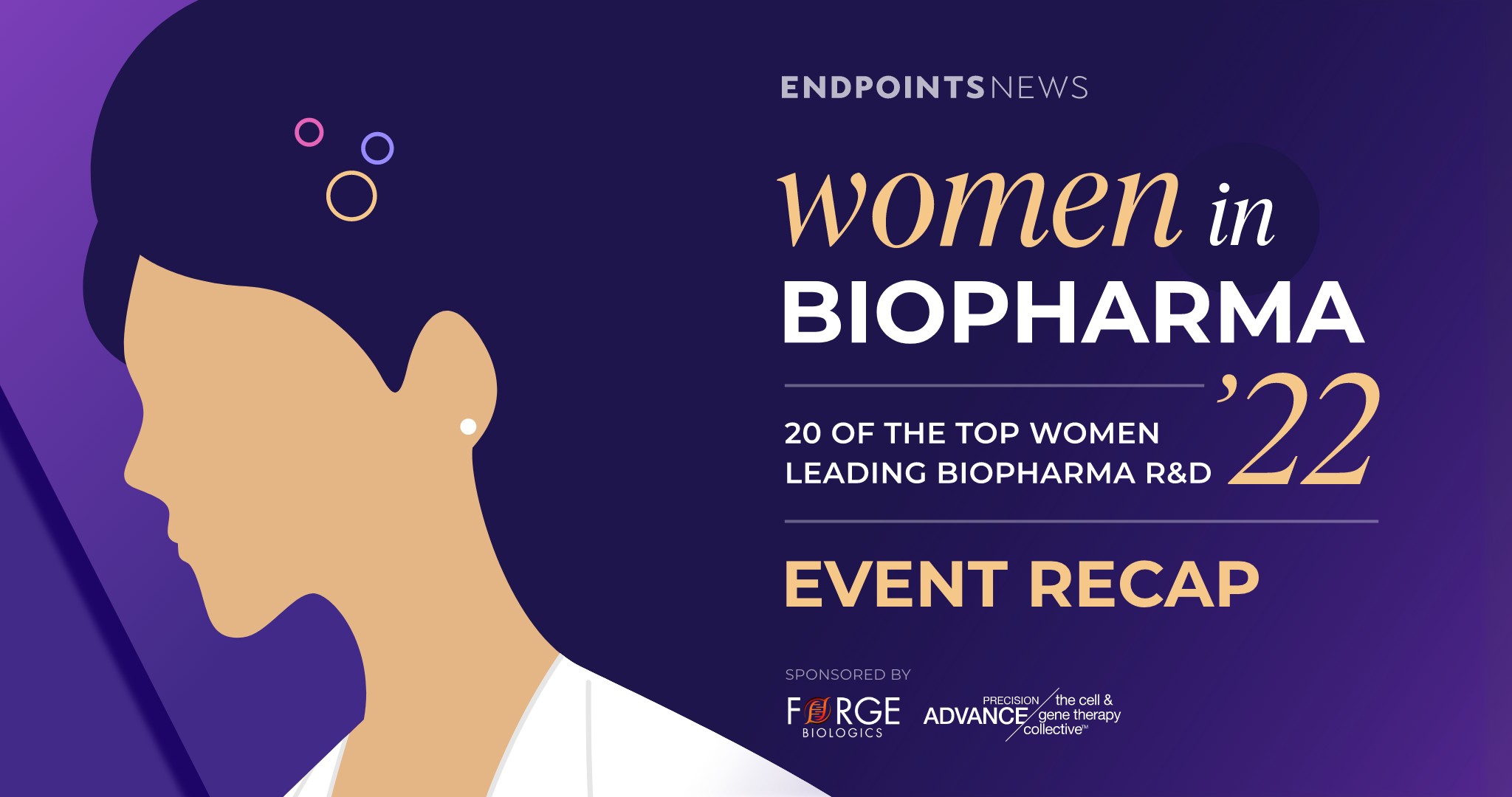 WIB22: Hear from our 2022 Women in Bio­phar­ma R&D hon­orees, and catch our pan­el on em­pow­er­ing women
If we've learned any­thing from our an­nu­al Women in Bio­phar­ma R&D re­port over the last four years, it's that there's much to cel­e­brate.
We re­ceived more than 500 nom­i­na­tions this year high­light­ing ex­tra­or­di­nary women who are blaz­ing trails in drug de­vel­op­ment. While se­lect­ing just 20 hon­orees has be­come in­creas­ing­ly dif­fi­cult, we were thrilled to de­but this year's group with you last week. They're sci­en­tists, CEOs, re­searchers and more who have de­vel­oped new drugs for rare and life-threat­en­ing dis­eases, changed the way we think about com­mon con­di­tions such as mi­graine, and bro­ken bound­aries.
Our team spent time with each hon­oree, craft­ing pro­files which you'll find in our spe­cial re­port pub­lished last week. You can al­so catch a glimpse of those con­ver­sa­tions in the video clips be­low. For the third year, we in­vit­ed a pan­el of ex­perts to dis­cuss the lim­i­ta­tions of ex­ist­ing gen­der di­ver­si­ty ef­forts, and how the in­dus­try can do bet­ter. If you didn't get a chance to see it live, you can re­play this year's en­tire show here:
We ap­plaud this year's hon­orees, and thank our read­ers for help­ing us con­tin­ue the tra­di­tion. We'll see you next year.
—Am­ber Tong and Nicole De­Feud­is
---
Lo­visa Afzelius: Raised in Swe­den, Lo­visa Afzelius be­gan her ca­reer as a com­pu­ta­tion­al chemist at As­traZeneca. In those ear­ly days, she re­mem­bers writ­ing her own al­go­rithms, run­ning her own ex­per­i­ments and de­vel­op­ing the in­ter­faces to vi­su­al­ize the re­sults — an ex­pe­ri­ence that in­grained in her the im­por­tance of un­der­stand­ing bi­ol­o­gy in or­der to de­sign the best com­pu­ta­tion­al tools for mak­ing drugs. Af­ter be­ing re­cruit­ed to lead im­munol­o­gy at Pfiz­er, Afzelius made the leap to the start­up world. She is now the orig­i­na­tion part­ner at Flag­ship Pi­o­neer­ing, launch­ing and lead­ing com­pa­nies push­ing for­ward da­ta-dri­ven drug dis­cov­ery.
---
Sheena Au­ro­ra: When Sheena Au­ro­ra was young, mi­graines were con­sid­ered a dis­or­der suf­fered by hys­ter­i­cal women. But she was among a group of re­searchers to first cap­ture and show that painful episodes of mi­graine with au­ra hap­pen be­cause of an un­der­ly­ing phys­i­o­log­i­cal event, a sem­i­nal find­ing. She went on to lead key tri­als that es­tab­lished Botox as a treat­ment for mi­graine, help launch Eli Lil­ly's CGRP in­hibitor Em­gal­i­ty and, in her cur­rent role, lead Im­pel Phar­ma­ceu­ti­cals' nasal­ly ad­min­is­tered Trud­he­sa. And she's still work­ing to des­tig­ma­tize the dis­ease.
---
Sue Dil­lon: Sue Dil­lon, the for­mer im­munol­o­gy chief at John­son & John­son's Janssen, helped run one of the biggest shows in im­munol­o­gy, work­ing on such well-known drugs as Rem­i­cade, Sim­poni, Ste­lara and Trem­fya. But af­ter more than 16 sto­ried years at the phar­ma gi­ant, Dil­lon joined up with a for­mer col­league, Karyn O'Neil, to launch Aro Bio­ther­a­peu­tics around a new tech­nol­o­gy for ge­net­ic med­i­cine. De­scribed by col­leagues as a pur­pose-dri­ven leader, Dil­lion cred­its her ac­com­plish­ments to the phe­nom­e­nal teams she's built along the way, from dis­cov­ery to de­vel­op­ment and back.
---
Ruxan­dra Draghia-Ak­li: Through­out her ca­reer, Ruxan­dra Draghia-Ak­li has been fo­cused on chang­ing the sys­tem. Af­ter her stud­ies of ge­net­ic sci­ence took her from Ro­ma­nia to France to the US, she was in­spired to join the Eu­ro­pean Com­mis­sion, where she helped launch a pub­lic-pri­vate part­ner­ship to kick­start new re­search. Then in­dus­try came call­ing and she joined Mer­ck as vice pres­i­dent of glob­al vac­cines, be­fore jump­ing to J&J to be­come its head of glob­al pub­lic health R&D, launch­ing re­search cen­ters around the world to ad­dress big chal­lenges.
---
Ruth Gi­meno: Across her 26-year ca­reer, meta­bol­ic dis­ease has been the dom­i­nant theme for Ruth Gi­meno, cur­rent­ly group vice pres­i­dent of di­a­betes, obe­si­ty and car­diometa­bol­ic re­search at Eli Lil­ly. She ini­tial­ly fell in love with re­search as an un­der­grad­u­ate stu­dent in the UK, then moved to the US from her na­tive Ger­many for a post­doc and joined Mil­len­ni­um in her first in­dus­try job, fol­lowed by years at Pfiz­er be­fore mov­ing to Lil­ly. The type 2 di­a­betes drug Moun­jaro, grad­u­at­ed out of Gi­meno's purview, is now in Phase III for obe­si­ty, but Gi­meno and her team are al­ready look­ing ahead to how they can do even bet­ter.
---
Jen­nifer Gor­don: Jen­nifer Gor­don's first in­ter­view af­ter she grad­u­at­ed from col­lege in the ear­ly '90s was the on­ly one she need­ed to set her on a decades-long mis­sion of bring­ing one of the first CRISPR-based treat­ments in­to the clin­ic for HIV. Af­ter meet­ing with the sci­en­tif­ic founder of Ex­ci­sion in that fate­ful in­ter­view, she spent 30 years in acad­e­mia as an NIH-fund­ed in­ves­ti­ga­tor at Tem­ple Uni­ver­si­ty. About two years ago, she made the big leap to be­come se­nior vice pres­i­dent of R&D at Ex­ci­sion, which re­cent­ly be­gan a hu­man tri­al.
---
Ai­da Habtezion: Ai­da Habtezion's path to one of the top jobs in all of bio­phar­ma was not a tra­di­tion­al one. From a young age, she had want­ed to be a pro­fes­sor. She re­al­ized her dream and earned tenure at Stan­ford teach­ing med­i­cine, but al­so wore mul­ti­ple hats, run­ning both a trans­la­tion­al lab and clin­i­cal prac­tice. While she had con­tem­plat­ed a ca­reer change for a while, a call in the mid­dle of the Covid-19 pan­dem­ic, when Pfiz­er was still test­ing its vac­cine, was what ul­ti­mate­ly drew her to phar­ma. From her C-suite perch as Pfiz­er's chief med­ical of­fi­cer, Habtezion is mak­ing health eq­ui­ty a key part of her mis­sion.
---
Jian Irish: Grow­ing up dur­ing the Cul­tur­al Rev­o­lu­tion in Chi­na, Jian Irish re­mem­bered the per­son­al re­la­tion­ships her dad, a sur­geon, de­vel­oped with the pa­tients he treat­ed. While she end­ed up tak­ing a dif­fer­ent ca­reer path, her love for med­i­cine did not abate. Af­ter over­see­ing on­col­o­gy op­er­a­tions and man­u­fac­tur­ing at Am­gen, Irish held a stint at Sanofi be­fore get­ting re­cruit­ed to run Kite Phar­ma's sup­ply chain and man­u­fac­tur­ing as the cell ther­a­py pi­o­neer pre­pared to launch the CAR-T Yescar­ta. As pres­i­dent and COO at Metageno­mi, she is push­ing new bound­aries.
---
Louise Kir­man: From No­var­tis to start­up biotech, Louise Kir­man is look­ing to bring a "par­a­digm shift" to dif­fi­cult can­cer tar­gets that some would call un­drug­gable. Join­ing the Swiss phar­ma gi­ant as a med­i­c­i­nal chemist straight out of school, she worked on a range of projects, start­ing with PI3K in­hibitors at a time she was told ki­nase in­hibitors would nev­er get to mar­ket. And al­though not hav­ing a PhD has at times been a chal­lenge, she did not let it stop her from land­ing a di­rec­tor post at Cedil­la Ther­a­peu­tics, a pre­ci­sion on­col­o­gy com­pa­ny, and lead­ing its top breast can­cer pro­gram.
---
Suma Kr­ish­nan: Af­ter spend­ing time with pa­tients who were di­ag­nosed with what some call "the worst dis­ease you've nev­er heard of," Suma Kr­ish­nan ded­i­cat­ed her­self to find­ing a treat­ment. Kr­ish­nan, who is the co-founder and chief op­er­at­ing of­fi­cer of Krys­tal Biotech, spear­head­ed a gene ther­a­py gel that showed promise in a late-stage clin­i­cal tri­al for a rare ge­net­ic skin dis­or­der called dy­s­troph­ic epi­der­mol­y­sis bul­losa. The FDA is re­view­ing whether to ap­prove the ther­a­py and will de­cide by Feb­ru­ary.
---
Fiona Mar­shall: Like many sci­en­tists, Fiona Mar­shall would tell you that she loved the nat­ur­al world grow­ing up. But bi­ol­o­gy stood out be­cause the sci­ence was chang­ing even as she learned it. A world-renowned ex­pert in G pro­tein-cou­pled re­cep­tors who spent for­ma­tive years at GSK, Mar­shall co-found­ed Hep­tares Ther­a­peu­tics to dis­cov­er GPCR drugs and went on to take up the big re­spon­si­bil­i­ty of re­build­ing Mer­ck's re­search pres­ence in the UK. And she is still hop­ing to stay ahead of the tech­nol­o­gy as the new pres­i­dent of the No­var­tis In­sti­tutes for Bio­Med­ical Re­search.
---
Sab­ri­na Mar­tuc­ci John­son: Sab­ri­na Mar­tuc­ci John­son is out to build a new kind of women's health com­pa­ny. While it was ini­tial­ly chal­leng­ing to con­vince in­vestors, her start­up, Daré Bio­science, played a ma­jor part in at­tract­ing more in­dus­try at­ten­tion and dol­lars to women's health. The port­fo­lio mod­el aims to take prod­ucts from in­no­va­tion to de­vel­op­ment, in con­trast to what John­son saw as frag­men­ta­tion in the mar­ket. Al­though fi­nan­cial chal­lenges re­main, her ef­forts are be­gin­ning to trans­late in­to ap­proved med­i­cines.
---
Chris­tel Menet: De­spite be­ing one of the most pop­u­lar tar­gets in drug de­vel­op­ment, G pro­tein-cou­pled re­cep­tors re­main rather per­plex­ing. Chris­tel Menet was hooked on these re­cep­tors at Faust Phar­ma­ceu­ti­cals, where she got her first ex­pe­ri­ence de­sign­ing drugs, and lat­er joined Gala­pa­gos as one of its first chemists. It was un­der her lead­er­ship that the JAK in­hibitor fil­go­tinib, now ap­proved in the UK and EU, en­tered pre­clin­i­cal tri­als. As chief sci­en­tif­ic of­fi­cer at Con­fo Ther­a­peu­tics, she's re­turn­ing to GPCR re­search, with the new chal­lenge of find­ing un­chart­ed tar­gets.
---
Jane Parnes: Jane Parnes had a big de­ci­sion to make in the sum­mer of 2007. She could re­turn to the pro­fes­sor job she had held for 24 years, or she could ex­tend her stay at Am­gen, where she had tak­en on a role of ex­ec­u­tive med­ical di­rec­tor of ear­ly de­vel­op­ment. Fas­ci­nat­ed with the trans­la­tion­al work she was do­ing, she made the leap to in­dus­try. Over the next 15 years, she de­signed ear­ly stud­ies and played a piv­otal role in the de­vel­op­ment of an an­ti­body that was re­cent­ly ap­proved by the FDA for se­vere asth­ma.
---
Katy Rez­vani: In a small but wide­ly-cit­ed 11-per­son study, sev­en pa­tients saw signs of their can­cer com­plete­ly go away af­ter get­ting a new ther­a­py made from nat­ur­al killer cells, some of the ear­li­est clin­i­cal proof for this nascent tech­nol­o­gy. Katy Rez­vani, whose lab at MD An­der­son de­vel­oped that ther­a­py and lat­er li­censed it to Take­da, pushed through ear­ly skep­ti­cism to val­i­date the ap­proach. Up­root­ed at a young age when her fam­i­ly fled Iran, she plant­ed roots in the UK and now Texas, men­tor­ing the next gen­er­a­tion of sci­en­tists along the way.
---
Am­ber Salz­man: A for­mer IT ex­ec at GSK, Am­ber Salz­man dove in­to gene ther­a­py de­vel­op­ment af­ter her son was di­ag­nosed with a rare and of­ten fa­tal ge­net­ic con­di­tion. Af­ter years of co­or­di­nat­ing re­search ef­forts and clear­ing hur­dles, the re­sult­ing gene ther­a­py snagged an ac­cel­er­at­ed ap­proval. In par­al­lel with be­ing a par­ent and ad­vo­cate, Salz­man is a sea­soned ex­ec­u­tive who led mul­ti­ple biotechs, in­clud­ing epi­ge­net­ic-fo­cused Epic Bio, where she is now CEO.
---
Lau­ra Sepp-Loren­zi­no: Lau­ra Sepp-Loren­zi­no's med­ical ed­u­ca­tion start­ed in her moth­er's phar­ma­cy in 1960s Buenos Aires. Af­ter ex­per­i­ment­ing with every­thing from small mol­e­cule can­cer drugs to vac­cines, from RNA in­ter­fer­ence to nu­cle­ic acid ther­a­pies, she ar­rived at CRISPR gene edit­ing biotech In­tel­lia, head­ing up sci­ence strat­e­gy and re­search and ear­ly de­vel­op­ment.
---
Effie Toz­zo: Born in Greece, ed­u­cat­ed in France and a fol­low­er of the US Big Phar­ma-to-biotech ex­ec­u­tive path, Effie Toz­zo chan­nels her in­stincts as a sailor in her sci­en­tif­ic lead­er­ship at Avi­lar Ther­a­peu­tics, which bets that it can take pro­tein degra­da­tion to the next lev­el. Crit­i­cal to both Avi­lar and sail­ing is the art of com­mu­ni­ca­tion, es­pe­cial­ly as drug R&D amounts to a se­ries of set­backs that re­quire solv­ing a prob­lem to get to the next stage. Through­out her ca­reer, Toz­zo has ini­ti­at­ed and steered dozens of drug dis­cov­ery pro­grams to the clin­ic
---
Bar­bara Wirostko: An oph­thal­mol­o­gist by train­ing, Bar­bara Wirostko was in­spired at a young age by her fa­ther, al­so an oph­thal­mol­o­gist, who worked from home. She went to Cor­nell and stud­ied mi­cro­bi­ol­o­gy be­fore at­tend­ing Co­lum­bia's med­ical school. While Wirostko's re­sume boasts po­si­tions at a hand­ful of phar­ma and biotech com­pa­nies, in­clud­ing Pfiz­er, Al­theos, Jade Ther­a­peu­tics and Eye­Gate Phar­ma­ceu­ti­cals, she's cur­rent­ly chief med­ical of­fi­cer at Qlaris Bio, a com­pa­ny she co-found­ed to de­vel­op nov­el ther­a­pies for se­ri­ous eye dis­eases.
---
Lili Yang: Our fi­nal hon­oree is Lili Yang. As a child of en­gi­neers, Yang's love for sci­ence is root­ed in her back­ground. As a co-founder of Ap­pia Bio, which spun out of her UCLA lab, Yang and a team of in­dus­try ex­perts are look­ing to re-en­gi­neer a rare type of im­mune cell to con­quer ma­lig­nant tu­mors. The team in­cludes some big names, such as No­bel Lau­re­ate David Bal­ti­more, who's worked with Yang since her PhD days back in 1999. If she could give ad­vice to young women en­ter­ing the field, she would tell them not to lim­it them­selves, and to think big.