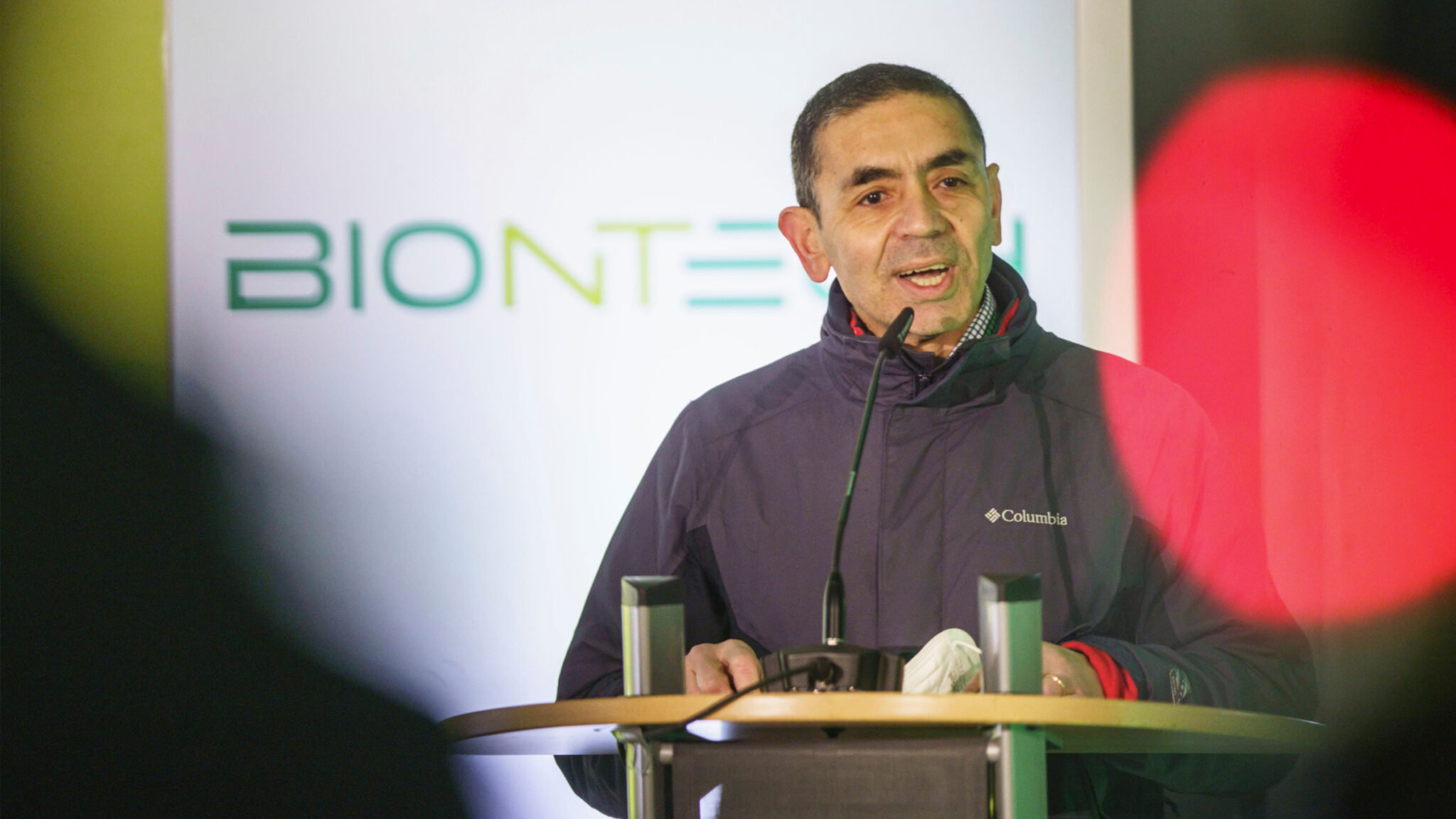 Uğur Şahin, BioNTech CEO (Frank Rumpenhorst/dpa via AP Images)
Will 'orig­i­nal anti­genic sin' un­der­mine Omi­cron boost­ers? New re­search sug­gests 'no'
Mod­er­na and Pfiz­er-BioN­Tech are now rac­ing to de­vel­op Omi­cron-spe­cif­ic boost­ers, hop­ing to be ready if the new im­mune-eva­sive vari­ant be­comes dom­i­nant glob­al­ly. But it wasn't al­ways clear that vari­ant boost­ers could even work.
Af­ter the first Covid-19 vac­cines were au­tho­rized and talk be­gan of vari­ants and next-gen­er­a­tion vac­cines, sev­er­al vac­ci­nol­o­gists raised con­cerns in the me­dia and the sci­en­tif­ic press about a po­ten­tial­ly dele­te­ri­ous phe­nom­e­non that sounds as if it were born out of the Vat­i­can's im­munol­o­gy wing: Orig­i­nal anti­genic sin.
OAS — or, as less bib­li­cal­ly in­clined re­searchers like to call it, im­print­ing — was first dis­cov­ered by re­searchers study­ing how old­er peo­ple re­spond to flu vac­cines.
There are about 20 dif­fer­ent flu virus­es. Dif­fer­ent strains are dom­i­nant in dif­fer­ent years and each evolves quick­ly. So every fall, man­u­fac­tur­ers try to in­clude the right virus — and the right ver­sion of each of those virus­es — in the an­nu­al shot, hop­ing to in­duce an­ti­bod­ies that match the virus peo­ple are most like­ly to en­counter.
Re­searchers found, though, that re­gard­less of the vac­cine's de­sign, peo­ple pro­duced the best and longest-lived an­ti­bod­ies against the flu strains they were first ex­posed to as kids. It was if, like ba­by ducks per­ma­nent­ly mim­ic­k­ing the first duck or hu­man they saw, our im­mune sys­tems per­ma­nent­ly mold­ed around our first in­fec­tion and got stuck there.
Re­searchers feared the same could hap­pen with Covid-19 vac­cines and in­fec­tions. Al­though it's rel­a­tive­ly straight­for­ward to de­sign an mR­NA vac­cine that codes for a new spike pro­tein, it wasn't clear whether our im­mune sys­tems would be nim­ble enough to adapt to the new in­struc­tions.
In­ject­ed with a vari­ant-spe­cif­ic boost­er, maybe peo­ple would most­ly just churn out copies of the an­ti­bod­ies they made af­ter their first vac­ci­na­tion or in­fec­tion. That would give the world far less lat­i­tude to re­spond to an im­mune-eva­sive vari­ant like Omi­cron.
Da­ta, though, have since come sug­gest­ing that's un­like­ly to be a prob­lem with this virus, en­cour­ag­ing vac­cine de­vel­op­ers that they can re­spond should the Omi­cron-spe­cif­ic boost­ers — or boost­ers for a fu­ture vari­ant — be need­ed.
Rather than a fixed im­mune re­sponse to coro­n­avirus­es, re­searchers have ob­served a far more flex­i­ble, tun­able one.
It's "an im­por­tant sci­en­tif­ic ques­tion," BioN­Tech CEO Uğur Şahin told re­porters Wednes­day. "And the da­ta that we have ob­served — and again this is pre­lim­i­nary — is en­cour­ag­ing that the im­mune re­sponse can be fine tuned."
Sahin and oth­er re­searchers' con­fi­dence come from test runs Mod­er­na and BioN­Tech ran against oth­er vari­ants. Last win­ter, af­ter the first vari­ant that could par­tial­ly evade an­ti­bod­ies from vac­cines, Be­ta, arose in South Africa, Mod­er­na de­signed a new vac­cine con­struct and test­ed it in Phase I.
Al­though Be­ta ul­ti­mate­ly van­ished and Mod­er­na aban­doned the can­di­date, the Phase I study showed that peo­ple giv­en the vari­ant-spe­cif­ic boost­er pro­duced high lev­els of Be­ta-spe­cif­ic an­ti­bod­ies.
"What we've seen sug­gests that anti­genic im­print­ing … is not go­ing to be a prob­lem," said John Mas­co­la, head of the NIH's vac­cine re­search cen­ter. "I shouldn't say it's not go­ing to be a prob­lem, but it hasn't been a prob­lem so far."
BioN­Tech has its own, less pub­li­cized stud­ies on vari­ant-spe­cif­ic boost­ers. In Au­gust, the Ger­man biotech launched a 1,245-per­son study to test four types of boost­ers: A boost­er of the orig­i­nal vac­cine; an Al­pha-spe­cif­ic boost­er; a Delta-spe­cif­ic boost­er; and a mul­ti-va­lent boost­er that codes for both the Al­pha spike pro­tein and the Delta spike pro­tein.
Un­re­leased da­ta from those stud­ies, Şahin said, have made the com­pa­ny con­fi­dent they could al­so make a boost­er that com­bines mul­ti­ple vari­ants and con­fers broad­er pro­tec­tion, should that even­tu­al­ly be need­ed.
"One op­tion, which I be­lieve is not very like­ly, could be an Omi­cron-Delta vari­ant," he said.
Of­fi­cials and ex­ec­u­tives are still track­ing Omi­cron's spread to see whether spe­cif­ic boost­ers will be need­ed. But if they are, it would be an­oth­er case where the world has man­aged to avoid a po­ten­tial im­muno­log­i­cal bul­let from a virus that, for all the ways it's sur­prised re­searchers, has proven "stu­pid easy" to vac­ci­nate against.
Ear­ly in the pan­dem­ic, for in­stance, promi­nent im­mu­nol­o­gists and vac­ci­nol­o­gists warned about the risk of an­ti­body-de­pen­dent en­hance­ment, in which the an­ti­bod­ies pro­duced by vac­ci­na­tion or pri­or in­fec­tion ac­tu­al­ly help the virus in­fect more cells. There was ev­i­dence that SARS could do this, but for­tu­nate­ly the vac­cines ul­ti­mate­ly proved to do quite the op­po­site in Covid-19, pow­er­ful­ly sup­press­ing in­fec­tion and dis­ease.
Of course, no one is mak­ing any promis­es yet about Omi­cron boost­ers. Al­though the stud­ies so far point away from orig­i­nal anti­genic sin, they have been com­par­a­tive­ly small and on­ly cov­ered a cou­ple vari­ants.
If Omi­cron boost­ers are need­ed, com­pa­nies will need to run im­muno­log­i­cal stud­ies on the new shots be­fore they'll be con­fi­dent they work.
"The Phase I tri­al da­ta, and NHP ex­per­i­ments, gen­er­al­ly in­di­cate that the vari­ant-spe­cif­ic boost­ers are not (se­ri­ous­ly) af­fect­ed by OAS. It may be part of the pic­ture, but there does still seem to be ben­e­fit," John Moore, a vac­ci­nol­o­gist at Weill Cor­nell, said in an email." Whether that changes re­gard­ing Omi­cron? Slaugh­ter a sheep and in­spect the en­trails … (Make sure you get an­i­mal study ap­provals first of course)."