Over the last 6 weeks we've seen the Nasdaq biotech index surge 21%, an early-stage company just upsized its IPO and stuck to the range, secondary offerings are doing better and a whole slate of big biotechs and pharmas have made it plain that they're hunting for significant new deals before the end of this year.
It's the kind of environment that has perennial enthusiasts cheering a rally that the industry hopes has legs needed to continue past the dog days of summer. And it has some big implications for the deal teams bartering over biotech assets.
While Medivation $MDVN is definitely in play, rumors abound that big outfits like AstraZeneca $AZN and Biogen $BIIB continue to attract takeover interest. Most buyers these days, though, are looking to follow up on strategies adopted by the likes of Allergan or Gilead. Allergan likes bit-sized deals – "stepping stones," if you ask CEO Brent Saunders — targeting late-stage assets that fit neatly into its core development areas. Gilead has been stalking licensing efforts that require big upfront payments. AbbVie $ABBV may have set the standard on over-eagerness when it paid $9.8 billion for Stemcentrx in April. And Biogen execs have been talking about deals for a solid year now.
But big game hunts have been sparse, more smoke than fire.
Valuations, of course, are still well off the heights scaled a year ago, which may also help concentrate efforts at the deal table. But they're climbing, allowing companies like BioMarin (also regularly featured in the rumor mill) to raise more money. If sellers have more options than taking anything that's put on the table, that can only drive deal values further north.
For all the constant chatter about M&A, though, the reality is that plunging stocks have yet to trigger a much discussed wave of acquisitions.
Dealogic tracked $45 billion in U.S. pharma and biotech M&A in the first half, a first-half low we haven't seen since 2012, when the biotech boom was just starting to take off.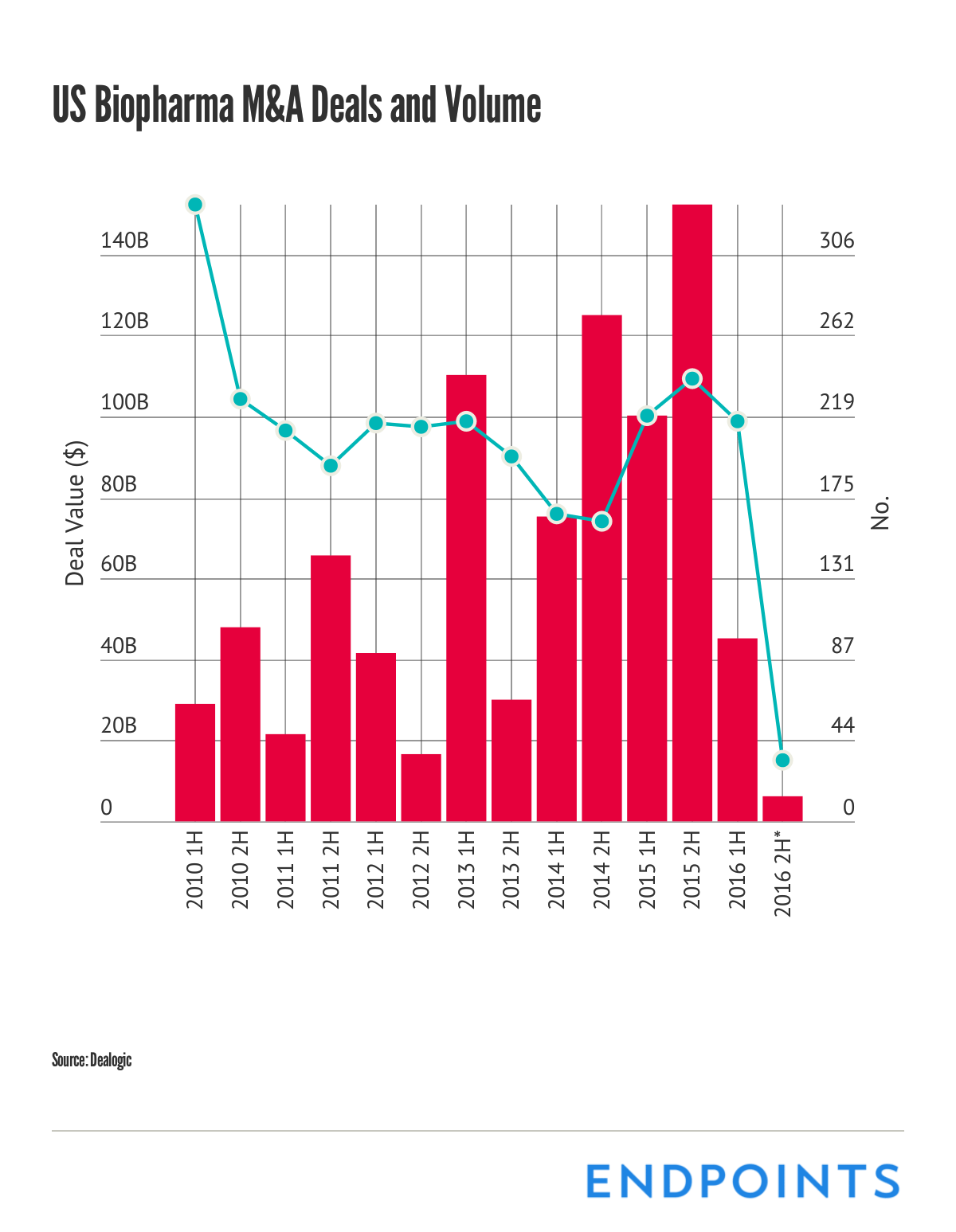 Another bit of food for thought: EP Vantage just listed the most valuable assets in the pipeline, based on sell-side analysis, topping it with Axovant's $AXON late-stage drug for Alzheimer's. In-licensed from GlaxoSmithKline for $5 million in cash plus promises of more if it makes the grade, the billions in value attributed to such high-risk efforts underscores that there may not be as many great deals available as you might believe.
---
The best place to read
Endpoints News

? In your inbox.

Comprehensive daily news report for those who discover, develop, and market drugs. Join 44,800+ biopharma pros who read Endpoints News by email every day.

Free Subscription
---
---
---