Will some pent-up deal pres­sure amp up a biotech ral­ly?
Over the last 6 weeks we've seen the Nas­daq biotech in­dex surge 21%, an ear­ly-stage com­pa­ny just up­sized its IPO and stuck to the range, sec­ondary of­fer­ings are do­ing bet­ter and a whole slate of big biotechs and phar­mas have made it plain that they're hunt­ing for sig­nif­i­cant new deals be­fore the end of this year.
It's the kind of en­vi­ron­ment that has peren­ni­al en­thu­si­asts cheer­ing a ral­ly that the in­dus­try hopes has legs need­ed to con­tin­ue past the dog days of sum­mer. And it has some big im­pli­ca­tions for the deal teams bar­ter­ing over biotech as­sets.
While Medi­va­tion $MD­VN is def­i­nite­ly in play, ru­mors abound that big out­fits like As­traZeneca $AZN and Bio­gen $BI­IB con­tin­ue to at­tract takeover in­ter­est. Most buy­ers these days, though, are look­ing to fol­low up on strate­gies adopt­ed by the likes of Al­ler­gan or Gilead. Al­ler­gan likes bit-sized deals – "step­ping stones," if you ask CEO Brent Saun­ders — tar­get­ing late-stage as­sets that fit neat­ly in­to its core de­vel­op­ment ar­eas. Gilead has been stalk­ing li­cens­ing ef­forts that re­quire big up­front pay­ments. Ab­b­Vie $AB­BV may have set the stan­dard on over-ea­ger­ness when it paid $9.8 bil­lion for Stem­cen­trx in April. And Bio­gen ex­ecs have been talk­ing about deals for a sol­id year now.
But big game hunts have been sparse, more smoke than fire.
Val­u­a­tions, of course, are still well off the heights scaled a year ago, which may al­so help con­cen­trate ef­forts at the deal ta­ble. But they're climb­ing, al­low­ing com­pa­nies like Bio­Marin (al­so reg­u­lar­ly fea­tured in the ru­mor mill) to raise more mon­ey. If sell­ers have more op­tions than tak­ing any­thing that's put on the ta­ble, that can on­ly dri­ve deal val­ues fur­ther north.
For all the con­stant chat­ter about M&A, though, the re­al­i­ty is that plung­ing stocks have yet to trig­ger a much dis­cussed wave of ac­qui­si­tions.
Dealog­ic tracked $45 bil­lion in U.S. phar­ma and biotech M&A in the first half, a first-half low we haven't seen since 2012, when the biotech boom was just start­ing to take off.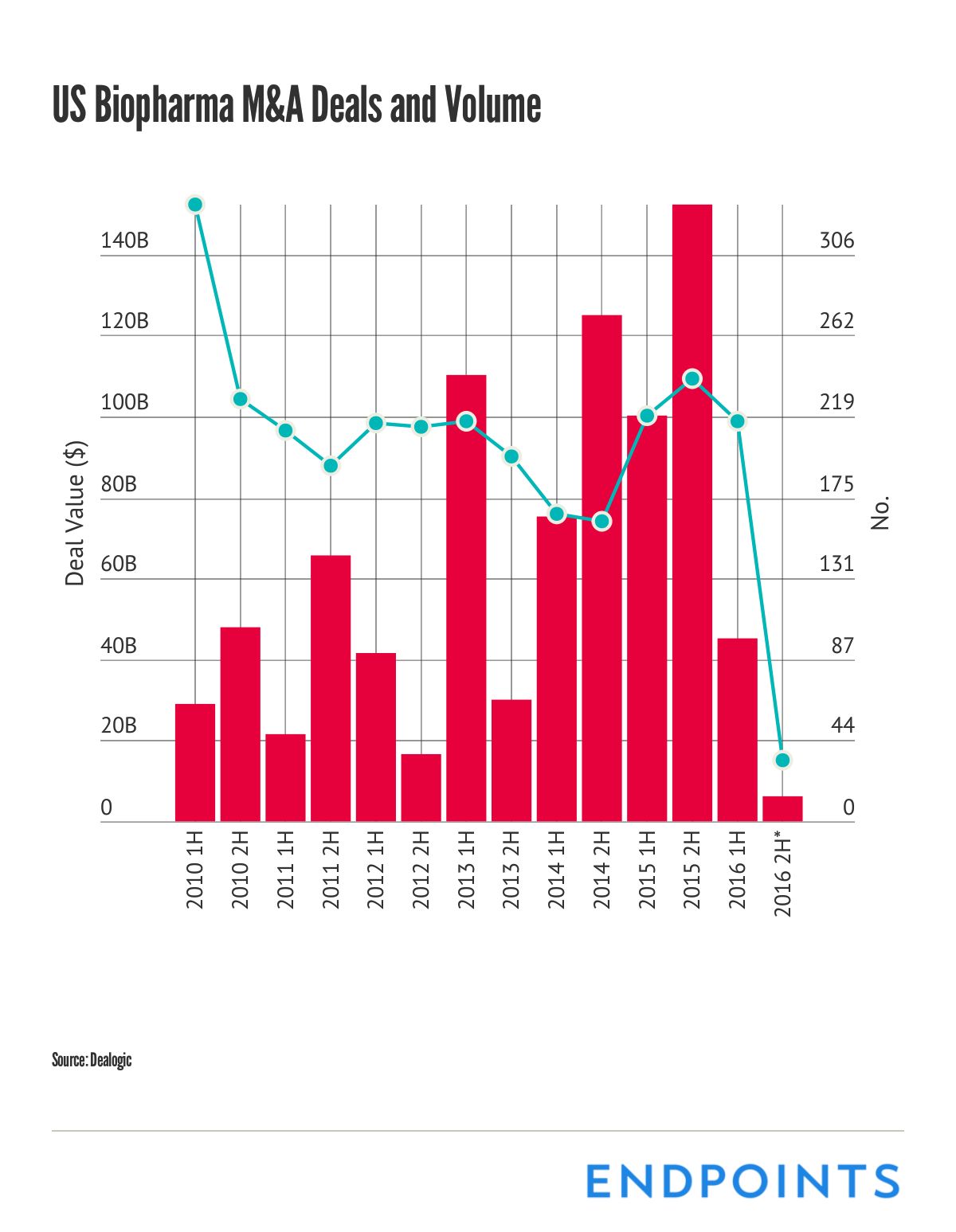 An­oth­er bit of food for thought: EP Van­tage just list­ed the most valu­able as­sets in the pipeline, based on sell-side analy­sis, top­ping it with Ax­o­vant's $AX­ON late-stage drug for Alzheimer's. In-li­censed from Glax­o­SmithK­line for $5 mil­lion in cash plus promis­es of more if it makes the grade, the bil­lions in val­ue at­trib­uted to such high-risk ef­forts un­der­scores that there may not be as many great deals avail­able as you might be­lieve.