With an FDA de­ci­sion loom­ing, Flex­ion touts new da­ta spot­light­ing a safe­ty edge for os­teoarthri­tis drug
Now that Flex­ion $FLXN is less than four months away from an FDA de­ci­sion on its new os­teoarthri­tis drug Zil­ret­ta (FX006), the biotech has float­ed some new da­ta from a tiny mid-stage study that it's hop­ing will find its way in­to the la­bel.
The Burling­ton, MA-based group turned up at the ADA meet­ing in San Diego over the week­end to say that it now has da­ta to prove that its drug is not as­so­ci­at­ed with the same spikes in blood glu­cose that di­a­bet­ics com­mon­ly ex­pe­ri­ence when they get a steroid shot in an aching joint. And they're look­ing to use it to gain a leg up in a siz­able mar­ket.
Steroid shots are well known for push­ing up blood glu­cose in­to the dan­ger zone, how­ev­er briefly, so it was to be ex­pect­ed that re­searchers could chart a dis­tinc­tive break be­tween Flex­ion's drug and the in­jec­tions known to de­liv­er fast and cheap re­lief to pa­tients who suf­fer from os­teoarthri­tis.
Re­searchers on­ly re­cruit­ed 33 pa­tients for this, find­ing that Zil­ret­ta had sig­nif­i­cant­ly less im­pact on blood glu­cose lev­els (14.7 mg/dL) com­pared with steroids (33.9 mg/dL).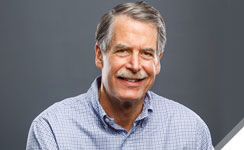 Mike Clay­man
"You don't have to be a sci­en­tist to see there is a dif­fer­ence," says Flex­ion CEO Michael Clay­man, point­ing to their chart track­ing the im­pact of steroid shots vers­es their late-stage ther­a­py. "The full study re­port was filed with the NDA. We pro­pose ref­er­ence to these da­ta in Zil­ret­ta not be­ing as­so­ci­at­ed with a spike in glu­cose."
The pa­tient groups are tiny in this study, but the mar­ket num­bers Clay­man has in mind are huge. More than 4 mil­lion peo­ple suf­fer­ing from os­teoarthri­tis get these steroid shots, he adds, and 20% of them have di­a­betes — about 800,000 pa­tients. Hav­ing some da­ta that il­lus­trates the dif­fer­en­ti­a­tion in the blood glu­cose pro­file, — where hy­per­glycemia, even quick­ly flushed away as it is with steroids, is to be avoid­ed wher­ev­er pos­si­ble —could help per­suade vig­i­lant pay­ers to opt for a much more ex­pen­sive brand­ed ther­a­py.
Flex­ion has been fo­cused more and more on their Oc­to­ber PDU­FA date for Zil­ret­ta. The biotech's been steadi­ly build­ing out a com­mer­cial op­er­a­tion, Clay­man tells me, lin­ing up job of­fers for 80 to 100 sales reps as they keep their fin­gers crossed that the FDA will come through with an ap­proval.
Close to three months ago, Fier­cePhar­ma re­port­ed that Sanofi was an­gling for a Flex­ion buy­out, look­ing to bag a drug now un­der re­view. The con­nec­tion made sense, con­sid­er­ing Sanofi's work in di­a­betes and a big need to beef up the port­fo­lio of drugs. But so far, noth­ing has hap­pened on that front and Flex­ion raised more cash re­cent­ly, sell­ing shares in a move that cast doubt on the prospects of a deal.
I asked Clay­man about the re­port, which I fol­lowed up on, but he on­ly told me the same thing he's told every­one else who has asked: The com­pa­ny doesn't com­ment on mar­ket ru­mors.
Com­pa­ny ex­ecs, though, are hap­py to dis­cuss its prospects for crack­ing a big mar­ket, with its stock trad­ing be­low where it was ahead of the buy­out buzz. And that's where we will leave it — for to­day.