With biosim­i­lar threat un­der con­trol (for now), Roche sa­vors de­mand for its new drugs
Roche $RHB­BY un­veiled a cheer­ful up­date on its per­for­mance in the first nine months of this year, with de­mand for its new­er drugs — pri­mar­i­ly in on­col­o­gy/im­munol­o­gy — dri­ving sales, par­tic­u­lar­ly in Chi­na where can­cer is on the rise. In its press re­lease, the Swiss drug­mak­er men­tioned its pend­ing $4.3 bil­lion ac­qui­si­tion of Spark Ther­a­peu­tics $ONCE, promis­ing the deal — which has seen de­lay af­ter de­lay due to un­re­lent­ing scruti­ny by com­pe­ti­tion reg­u­la­tors — will be con­sum­mat­ed by the end of the year.
The com­pa­ny — the world's largest can­cer drug­mak­er — lift­ed its full-year sales fore­cast, spurred by a 12% jump to about $36.7 bil­lion in phar­ma­ceu­ti­cal sales. Sales were fu­eled by de­mand for Roche's mul­ti­ple scle­ro­sis drug Ocre­vus, he­mo­phil­ia treat­ment Hem­li­bra, and its on­col­o­gy prod­ucts: check­point in­hibitor Tecen­triq and mon­o­clon­al an­ti­body Per­je­ta and old­er Avastin — which more than off­set de­clines in the sales of its can­cer drugs Her­ceptin and MabThera/Rit­ux­an.
Sales in Eu­rope were down 1% due to Her­ceptin (-44%) and MabThera/Rit­ux­an (-33%), but the strong growth of new­er treat­ments al­most stead­ied the ship.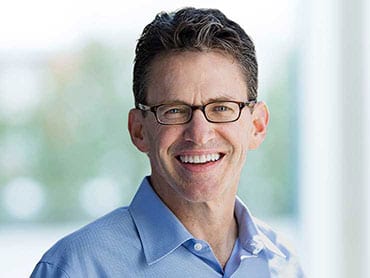 Bill An­der­son Roche
"The im­pact of biosim­i­lars (in Eu­rope) is tail­ing off," not­ed Roche's head of phar­ma­ceu­ti­cals Bill An­der­son in a post-earn­ings con­fer­ence call on Wednes­day. Her­ceptin biosim­i­lars launched in Eu­rope about two years ago, while MabThera biosim­i­lar ero­sion in the re­gion kicked off last year.
Roche's three lega­cy on­col­o­gy drugs — Rit­ux­an, Her­ceptin, and Avastin — are ripe for biosim­i­lar com­pe­ti­tion in the Unit­ed States — and ear­li­er this year the com­pa­ny saw the launch of the first Her­ceptin and Avastin biosim­i­lar. (Al­though if oth­er biosim­i­lar launch­es are any kind of barom­e­ter, the ero­sion of drug fran­chis­es in the Unit­ed States is fair­ly mut­ed com­pared to Eu­rope.)
Still, An­der­son preached cau­tion. "We do ex­pect there to be sig­nif­i­cant im­pact from biosim­i­lars in the US, be­cause there will be biosim­i­lars to all three of our lega­cy on­col­o­gy prod­ucts — but al­so be­cause there's a need for ad­di­tion­al com­pe­ti­tion, and we've been ex­pect­ing it."
He pre­dict­ed the first five biosim­i­lars for Rit­ux­an will come some­time over the next quar­ter, with at least a cou­ple of more Her­ceptin biosim­i­lars in the next six months, and an­oth­er Avastin biosim­i­lar at the end of the year and/or ear­ly 2020.
In­ter­na­tion­al sales grew a healthy 20% main­ly due to a strong up­take in Chi­na, where rates of can­cer are high due to pol­lu­tion and smok­ing. At some point the com­pa­ny will see lim­it­ed biosim­i­lar com­pe­ti­tion in Chi­na, al­though "there may be some ques­tions about the qual­i­ty of some of those ear­ly biosim­i­lars so I think will we see our­selves as able to com­pete," An­der­son said. "In fact, one of the ways that will be com­pet­ing in Chi­na is get­ting drugs like Per­je­ta and Hem­li­bra added to the na­tion­al drug re­im­burse­ment list."
As is the tra­di­tion, the com­pa­ny al­so culled a num­ber of ex­per­i­men­tal drugs across its pipeline: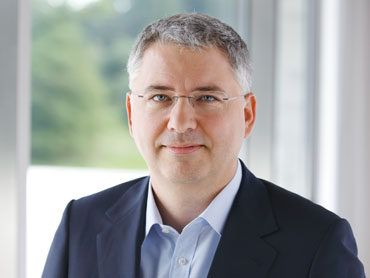 Sev­erin Schwan Roche
One of the key cuts is pe­tesi­cat­ib (RG7625), which was be­ing de­vel­oped to treat celi­ac dis­ease and au­toim­mune dis­or­ders, in­clud­ing Sjö­gren's syn­drome and pso­ri­a­sis. The oral com­pound was en­gi­neered to tar­get cathep­sin-S. Years ago, Mer­ck had tout­ed the com­mer­cial po­ten­tial of its cathep­sin-K in­hibitor for os­teo­poro­sis, al­though it was forced to ter­mi­nate the pro­gram af­ter it was linked to an in­creased risk of car­dio­vas­cu­lar events.
At the tail end of the con­fer­ence call, the ques­tion of the Spark ac­qui­si­tion fi­nal­ly cropped up. Roche chief Sev­erin Schwan did not go in­to specifics but re­it­er­at­ed that he was con­fi­dent the deal would be com­plet­ed by year-end.
So­cial im­age: Roche