With CAR-T mar­ket­ing loom­ing, ear­ly study high­lights po­ten­tial of TCR en­gi­neer­ing
With the first gen­er­a­tion of CAR-Ts like­ly head­ed to a near-term ap­proval for blood can­cers, the clin­i­cal work on new adop­tive TCR-en­gi­neered cell ther­a­pies that can work in sol­id tu­mors is un­der­way.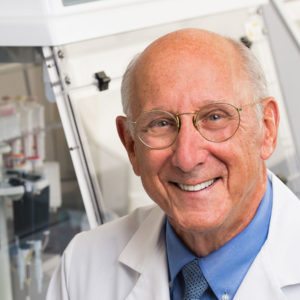 Steven Rosen­berg
This week, a re­search team led by the NIH's Steven Rosen­berg — whose work has been used as a ba­sis of Kite Phar­ma's pi­o­neer­ing CAR-T — rolled out ear­ly proof-of-con­cept da­ta from a small hu­man study us­ing a CD4+ T cell adapt­ed with a T cell re­cep­tor that ze­roes in on MAGEA3, or melanoma-as­so­ci­at­ed anti­gen A3.
Prepped with a lym­phode­ple­tion reg­i­men and in­fused with a pu­ri­fied batch of cell ther­a­py, the re­searchers treat­ed 17 pa­tients. One pa­tient ex­pe­ri­enced a com­plete re­sponse which is on­go­ing at 29 months. Of 9 pa­tients treat­ed at the high­est dose, three suf­fer­ing from esophageal can­cer, urothe­lial can­cer, and os­teosar­co­ma had par­tial re­spons­es.
Rosen­berg and his team con­clud­ed that the PoC da­ta was en­cour­ag­ing for this ap­proach, a point which Kite ex­ec­u­tives were quick to en­dorse.
KITE-718 is al­ready in the clin­ic, and it's been de­signed along the same TCR en­gi­neer­ing that Rosen­berg was try­ing out at the NIH.
There are num­ber of com­pa­nies work­ing on TCR ther­a­pies, in­clud­ing Adap­ti­m­mune $ADAP, which is close­ly al­lied with Glax­o­SmithK­line as the phar­ma gi­ant looks at be­com­ing much more ac­tive in the on­col­o­gy field. While CAR-Ts have had a big im­pact on liq­uid can­cers, sol­id tu­mors have re­mained a chal­lenge, in­spir­ing these next-gen ap­proach­es.
There are some key con­cerns about off-tar­get tox­i­c­i­ty here, un­der­scored by two deaths four years ago in one of Adap­ti­m­mune's TCR stud­ies aimed at MAGEA3. They both died of heart fail­ure, which was sub­se­quent­ly tied to an un­ex­pect­ed im­pact on car­diac mus­cle cells.
There were no signs of such tox­i­c­i­ty in the NIH study, but you can bet that af­ter the big safe­ty is­sues that af­flict­ed ear­ly CAR-T stud­ies, it will be a ma­jor fo­cus for all con­cerned.
"We are very ex­cit­ed by the re­sults of this study con­duct­ed by our col­lab­o­ra­tors at the NCI, demon­strat­ing the po­ten­tial of TCR en­gi­neered T-cell ther­a­py in com­mon sol­id tu­mors," said David Chang, Kite's CMO. "The KITE-718 pro­gram is built up­on this proof of con­cept study and in­cor­po­rates Kite's next gen­er­a­tion T-cell man­u­fac­tur­ing tech­nol­o­gy that is de­signed to en­hance cell ex­pan­sion and per­sis­tence. The find­ings from the NCI study will help in­form us as we ad­vance KITE-718 for the treat­ment of metasta­t­ic sol­id can­cers, for which there is a great un­met med­ical need."