With eye on rev­enue sta­bi­liza­tion, Gilead takes 4.9% hike on a bas­ket of drugs
Once the hep C ti­tan, Gilead is now for­ti­fy­ing its still dom­i­nant HIV busi­ness with a round of list price hikes it took over the week­end un­der new chief Daniel O'Day, as the drug­mak­er looks to stem more than two years of shrink­ing sales rev­enue.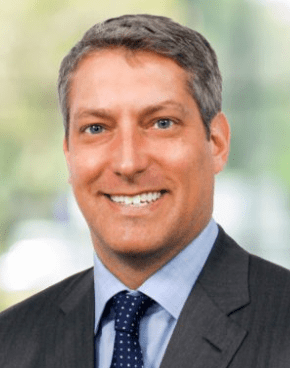 Phil Nadeau
The biotech has hiked prices on its big tick­et prod­ucts — in­clud­ing its ar­se­nal of HIV drugs, but ex­clud­ing its HCV fran­chise and CAR-T ther­a­py Yescar­ta — by 4.9%, which is in line his­tor­i­cal­ly with its prac­tice of rais­ing prices an­nu­al­ly in the first quar­ter, ac­cord­ing to Cowen's Phil Nadeau.
The hikes come at a time when pres­sure to rein in drug prices is mount­ing, with Con­gress con­duct­ing hear­ings to un­pack the role drug­mak­ers and phar­ma­cy ben­e­fit man­agers play in sky­rock­et­ing out-of-pock­et costs. Mean­while, the Trump ad­min­is­tra­tion has is­sued a string of pro­pos­als to curb prices, in­clud­ing im­port­ing prices from over­seas, and HHS sec­re­tary Azar has im­plied "nam­ing and sham­ing" tac­tics will be em­ployed against drug­mak­ers who raise prices.
The price in­creas­es are no­table as var­i­ous big drug­mak­ers — in­clud­ing Roche, Pfiz­er $PFE, No­var­tis $NVS and Mer­ck $MRK — had pledged not to raise prices un­til the end of 2018, af­ter Trump's drug pric­ing blue­print was un­veiled in the sec­ond quar­ter of 2018.
"Gilead's price in­creas­es would seem to sig­nal a re­turn to its his­tor­i­cal prac­tices with the cal­en­dar's turn to 2019," Nadeau said. "Gilead will not rec­og­nize the full mag­ni­tude of the price in­creas­es be­cause of dis­counts, re­bates, and reg­u­la­tions. The price to Med­ic­aid, for ex­am­ple, can on­ly in­crease by an amount re­lat­ed to in­fla­tion. Nonethe­less, these price in­creas­es give us ad­di­tion­al con­fi­dence in our 2019 U.S. HIV fran­chise es­ti­mates, which project 16% Y/Y growth in rev­enue."
Gilead's 2019 fore­cast — is­sued last month — im­plied "prod­uct sales growth of -2% to +0.5%, sug­gest­ing that over­all Gilead's busi­ness has fi­nal­ly plateaued," Nadeau added.
So new­ly crowned O'Day has his work cut out for him: Gilead's hep C fran­chise is melt­ing away, its $12 bil­lion buy­out of Kite (and its CAR-T ther­a­py Yescar­ta) re­mains an open ques­tion mark and its big bet on late-stage NASH drug selon­sert­ib has hit a ma­jor road­block. What re­mains is its sta­ble, foun­da­tion­al HIV busi­ness — which may have post­poned its best-be­fore date with new, eas­i­er-to-use ther­a­pies — and piles of cash in its cof­fers ly­ing around for the next meaty buy­out deal.
"We be­lieve the HIV busi­ness' fun­da­men­tals are sound. The rapid con­ver­sion of pa­tients from TDF to TAF-based reg­i­mens plus Bik­tarvy's strength in the treat­ment naïve set­ting should keep Gilead the mar­ket leader de­spite emerg­ing com­pe­ti­tion and patent ex­pi­ra­tions start­ing in 2021," BMO's Matthew Lu­chi­ni wrote in an ini­ti­a­tion note last week.
The 2019 price in­creas­es in­clude "Atripla (to $2,857.55/month), Bik­tarvy (to $3,089.99/month), Com­plera (to $2,812.13/month), De­scovy (to $1,757.90/month), Gen­voya (to $3,089.99/month), Odef­sey (to $2,812.13/month), Stri­bild (to $3,241.40/month), Tru­va­da (to $1,757.90/ month), Letairis (to $9,708.09/month), Ranexa (to $614.60/month), Vem­lidy (to $1,118.88/ month), Viread (to $1,196.09/month), Zy­delig (to $1,0717.14/month) and Hep­sera (to $1,484.35/month)," ac­cord­ing to Nadeau.
These 14 drugs — in­clud­ing 6 block­buster treat­ments — ac­count­ed for a bulk of Gilead's 2018 rev­enue.
"Gilead has in­creased list prices of these med­i­cines…to re­flect the ris­ing costs of goods and ser­vices nec­es­sary to pro­duce ground­break­ing med­i­cines. This in­crease is low­er than the stan­dard mea­sure of health care in­fla­tion, based on an in­de­pen­dent es­ti­mate of growth in health ex­pen­di­tures, and is low­er than price in­creas­es in pre­vi­ous years," a Gilead spokesper­son told End­points News.
"These prices al­so do not im­pact the price freeze that Gilead es­tab­lished for state AIDS Drug As­sis­tance Pro­grams (ADAPs) in 2008, which is ef­fec­tive through 2019."
The hikes come at a time when Gilead's ex­ec­u­tive team is in a state of in­flux. O'Day's first week as new CEO was marked by the de­par­ture of one of the com­pa­ny's top re­search sci­en­tists, ex­ec­u­tive VP of on­col­o­gy Alessan­dro Ri­va. The ex­ec­u­tive team has suf­fered some­what of an ex­o­dus re­cent­ly, with the ex­its of CEO John Mil­li­gan, Chair­man John Mar­tin and R&D chief Nor­bert Bischof­berg­er. Bischof­berg­er's re­place­ment, An­drew Cheng, stepped up as chief med­ical of­fi­cer be­fore he left as well to run his own biotech.