While you may have dealt with VCs during your pre-IPO life, public investors are a whole new level of scrutiny. Of course your development programs need to be well positioned, and of course your CMO needs to be credible and yes your CFO needs to be experienced – but in addition to all that YOU as CEO need to be rock solid. Public investors will push you, test you, diligence the heck out of you and will only invest if they can look you in the eye and see conviction. Tell them why you believe in the company and show them how you will execute. Bottom line: IPOs are a very public referendum about the CEO of a biotech company. Welcome to the big leagues. — Hamza Suria, CEO of AnaptysBio, writing for Endpoints News earlier this year.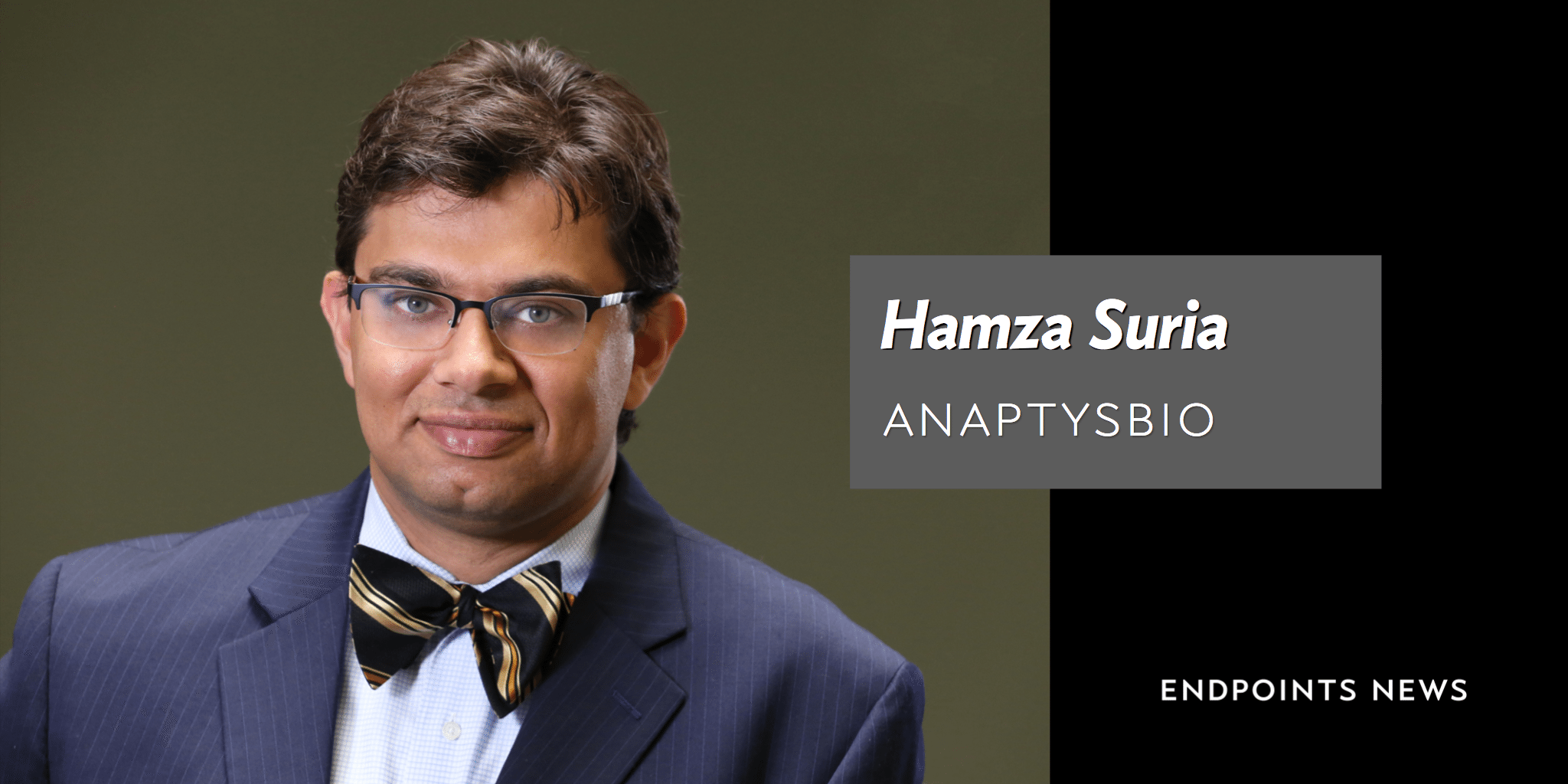 ---
Hamza Suria's turn in the big leagues since going public early this year has met with considerable success.
He priced his IPO shares $ANAB at $15, the middle of the range, and then watched them climb. Yesterday, they doubled in value, up 101% on the back of a small proof-of-concept trial for their drug for eczema — a field that has been dominated by biopharma giants like Regeneron/Sanofi. And the shares started this morning at $70.40, edging upward as Suria assessed a market cap for his company of $1.4 billion — a 370% rise.
Naturally, with the market being a sizzling hot skillet of passion for upbeat biopharma news, Suria immediately cashed in with plans to sell 3.45 million shares, now worth around a quarter of a billion dollars.
The data from his 12-patient eczema study of the IL-33 drug ANB020 were impressive, but also more than a little fragile, as in any PoC study. Investigators found that:
After a single dose of ANB020, 75% of patients achieved an Eczema Area Severity Index (EASI) score improvement of 50 percent relative to enrollment baseline (EASI-50) at day 15, 83% of patients achieved EASI-50 at day 29 and 75 percent of patients achieved EASI-50 at day 57. All 12 patients achieved EASI-50 at one or more time points through Day 57 post-ANB020 administration.
Baird analysts gave it a quick thumbs up for a drug that is being tested for a variety of conditions. They noted:
Based on these results, we're raising our probability of success in all study indications, atopic dermatitis (from 20% to 40%), peanut allergy (15% to 20%), and asthma (20% and 30%). As a result, we're raising our price target to $69. We continue to believe that atopic dermatitis and asthma represent the biggest potential opportunities for the drug.
In a statement, Suria said he was "very encouraged."
That's a great proof-of-concept study, but when you only have 12 patients in it, the percentages can be greatly affected by a single outcome. AnaptysBio has a much bigger test in mind, with plans to recruit up to 300 patients for a Phase IIb that is scheduled to start next year.
With IPOs shooting up for many players, follow-ons coming fast and most boats rising in a red-hot biotech market, we're getting a flash of the kind of oversized rewards that ran through all of the 2014 boom.
Once again, there's no telling this time how long it will last. But look for lots more stock market action before the bloom comes off the biotech rose.
---
The best place to read
Endpoints News

? In your inbox.

Comprehensive daily news report for those who discover, develop, and market drugs. Join 51,200+ biopharma pros who read Endpoints News by email every day.

Free Subscription
---
---
---