With just a lit­tle en­cour­age­ment, biotech in­vestors are ready to fall in love again
While you may have dealt with VCs dur­ing your pre-IPO life, pub­lic in­vestors are a whole new lev­el of scruti­ny. Of course your de­vel­op­ment pro­grams need to be well po­si­tioned, and of course your CMO needs to be cred­i­ble and yes your CFO needs to be ex­pe­ri­enced – but in ad­di­tion to all that YOU as CEO need to be rock sol­id. Pub­lic in­vestors will push you, test you, dili­gence the heck out of you and will on­ly in­vest if they can look you in the eye and see con­vic­tion. Tell them why you be­lieve in the com­pa­ny and show them how you will ex­e­cute. Bot­tom line: IPOs are a very pub­lic ref­er­en­dum about the CEO of a biotech com­pa­ny. Wel­come to the big leagues. — Hamza Suria, CEO of Anap­tys­Bio, writ­ing for End­points News ear­li­er this year.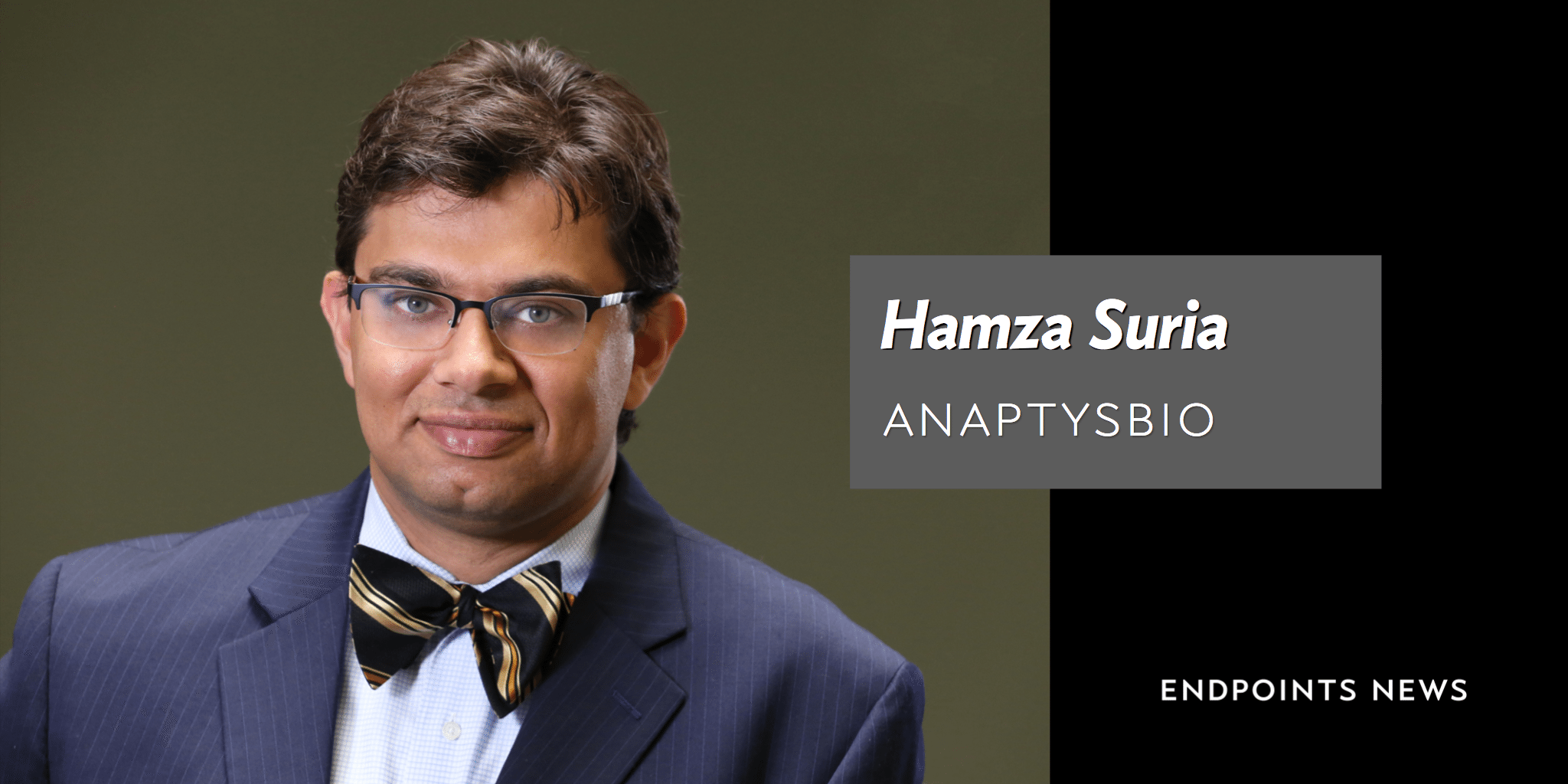 ---
Hamza Suria's turn in the big leagues since go­ing pub­lic ear­ly this year has met with con­sid­er­able suc­cess.
He priced his IPO shares $ANAB at $15, the mid­dle of the range, and then watched them climb. Yes­ter­day, they dou­bled in val­ue, up 101% on the back of a small proof-of-con­cept tri­al for their drug for eczema — a field that has been dom­i­nat­ed by bio­phar­ma gi­ants like Re­gen­eron/Sanofi. And the shares start­ed this morn­ing at $70.40, edg­ing up­ward as Suria as­sessed a mar­ket cap for his com­pa­ny of $1.4 bil­lion — a 370% rise.
Nat­u­ral­ly, with the mar­ket be­ing a siz­zling hot skil­let of pas­sion for up­beat bio­phar­ma news, Suria im­me­di­ate­ly cashed in with plans to sell 3.45 mil­lion shares, now worth around a quar­ter of a bil­lion dol­lars.
The da­ta from his 12-pa­tient eczema study of the IL-33 drug ANB020 were im­pres­sive, but al­so more than a lit­tle frag­ile, as in any PoC study. In­ves­ti­ga­tors found that:
Af­ter a sin­gle dose of ANB020, 75% of pa­tients achieved an Eczema Area Sever­i­ty In­dex (EASI) score im­prove­ment of 50 per­cent rel­a­tive to en­roll­ment base­line (EASI-50) at day 15, 83% of pa­tients achieved EASI-50 at day 29 and 75 per­cent of pa­tients achieved EASI-50 at day 57. All 12 pa­tients achieved EASI-50 at one or more time points through Day 57 post-ANB020 ad­min­is­tra­tion.
Baird an­a­lysts gave it a quick thumbs up for a drug that is be­ing test­ed for a va­ri­ety of con­di­tions. They not­ed:
Based on these re­sults, we're rais­ing our prob­a­bil­i­ty of suc­cess in all study in­di­ca­tions, atopic der­mati­tis (from 20% to 40%), peanut al­ler­gy (15% to 20%), and asth­ma (20% and 30%). As a re­sult, we're rais­ing our price tar­get to $69. We con­tin­ue to be­lieve that atopic der­mati­tis and asth­ma rep­re­sent the biggest po­ten­tial op­por­tu­ni­ties for the drug.
In a state­ment, Suria said he was "very en­cour­aged."
That's a great proof-of-con­cept study, but when you on­ly have 12 pa­tients in it, the per­cent­ages can be great­ly af­fect­ed by a sin­gle out­come. Anap­tys­Bio has a much big­ger test in mind, with plans to re­cruit up to 300 pa­tients for a Phase IIb that is sched­uled to start next year.
With IPOs shoot­ing up for many play­ers, fol­low-ons com­ing fast and most boats ris­ing in a red-hot biotech mar­ket, we're get­ting a flash of the kind of over­sized re­wards that ran through all of the 2014 boom.
Once again, there's no telling this time how long it will last. But look for lots more stock mar­ket ac­tion be­fore the bloom comes off the biotech rose.