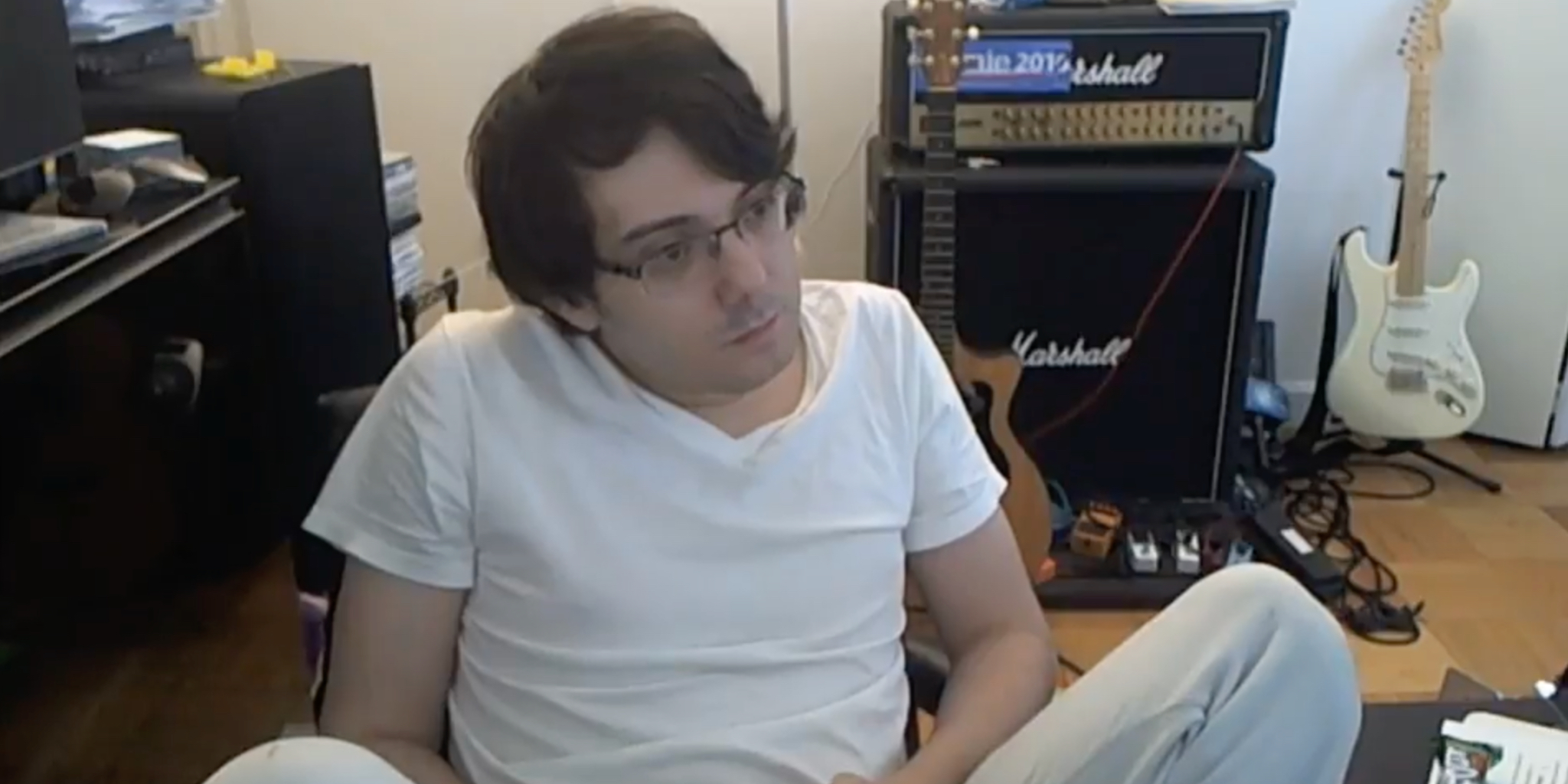 A judge or­ders Mar­tin Shkre­li to zip it -- af­ter Twit­ter shuts down his lat­est on­line ac­count
A fed­er­al judge told Mar­tin Shkre­li to shut up about his se­cu­ri­ties fraud case while he's in and around the cour­t­house. And just be­fore lawyers ar­gued over a prospec­tive gag or­der, Twit­ter shut and locked the back door Shkre­li had ev­i­dent­ly found to worm his way back on­to the so­cial me­dia plat­form.
Ear­ly this morn­ing I no­ticed that@BLM­Bro is now miss­ing in ac­tion, sus­pend­ed by the pow­ers that be at Twit­ter, which had banned Shkre­li af­ter he be­gan ha­rass­ing a free­lance jour­nal­ist.
Over the week­end, The New York Times iden­ti­fied @BLM­Bro as his lat­est Twit­ter han­dle, where he has en­joyed roast­ing crit­ics and be­ing praised by his fans for his opin­ions on vir­tu­al­ly every­thing. The 34-year-old is on tri­al for de­fraud­ing in­vestors, but he's far bet­ter known for jack­ing the price of a gener­ic drug by more than 5000%.
Shkre­li man­aged to sur­prise just about every­one by am­bling in­to the press area on Fri­day to chat with re­porters cov­er­ing his tri­al, slam­ming the pros­e­cu­tors as "ju­nior var­si­ty," mock­ing the first wit­ness for the pros­e­cu­tion and shred­ding the air of qui­et that the de­fense ex­pects from their clients dur­ing the course of a tri­al. Pros­e­cu­tors want it to stop, de­mand­ing that the de­fen­dant be gagged — some­thing that no one has yet man­aged to do.
"Un­for­tu­nate­ly, de­spite the as­sur­ances of de­fense coun­sel pri­or to tri­al—as well as ef­forts by de­fense coun­sel to con­trol Shkre­li—once the ju­ry was se­lect­ed and em­pan­eled, Shkre­li em­barked on a cam­paign of dis­rup­tion by com­ment­ing on tri­al ev­i­dence and wit­ness­es to the press and on so­cial me­dia, and by mak­ing a spec­ta­cle of him­self and the tri­al di­rect­ly on the cour­t­house grounds," pros­e­cu­tors ar­gued, ac­cord­ing to The Dai­ly Beast.
Shkre­li's at­tor­ney al­ready has pushed back against the gag or­der, ac­cord­ing to CN­BC, ar­gu­ing that the ex-Retrophin CEO isn't try­ing to harm the in­tegri­ty of the pro­ceed­ings.
"Rather his com­ments are the some­what nat­ur­al, though un­for­tu­nate, con­se­quence of a young man with a demon­strat­ed his­to­ry of sig­nif­i­cant anx­i­ety be­ing at the cen­ter of a supreme­ly dif­fi­cult time in his life," Ben­jamin Braf­man wrote, ac­cord­ing to CN­BC. Shkre­li feels he's been un­fair­ly tar­get­ed by the feds, adds the at­tor­ney, and jour­nal­ists fre­quent­ly fo­cus on the neg­a­tive when it comes to their cov­er­age. "Hav­ing said that, we al­so note that Mr. Shkre­li is un­der enor­mous pres­sure that is com­pound­ed by his clear­ly frail emo­tion­al state."
Pros­e­cu­tors al­so re­vealed this morn­ing that Shkre­li's de­fense team had asked about a plea deal, the lat­est in a se­ries of con­tra­dic­tions Shkre­li has faced in the court­room.
Shkre­li, for his part, still rou­tine­ly takes to live streams and any oth­er pub­lic stages to ex­pound on the case, in­vest­ing, news cov­er­age of his tri­al and more.
But Twit­ter is once again off lim­its.
For now.