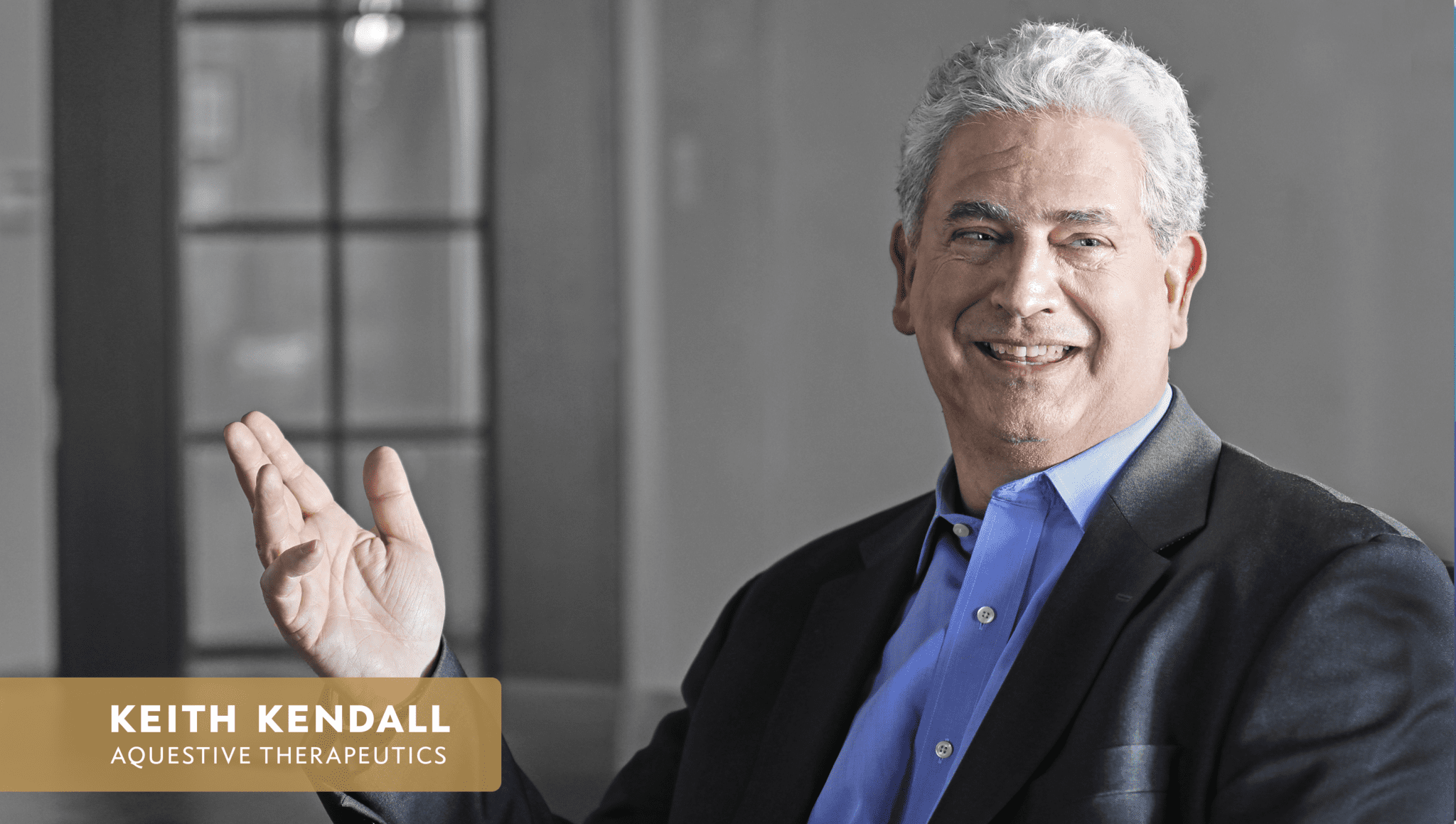 Former Aquestive Therapeutics CEO Keith Kendall
With seizure drug held up at FDA again, Aque­s­tive re­places long­time CEO
The C-suite mu­si­cal chairs re­ver­ber­at­ing through biotech the last few months con­tin­ued Tues­day af­ter­noon with an­oth­er small cap com­pa­ny an­nounc­ing a tran­si­tion at the top.
Long­time Aque­s­tive Ther­a­peu­tics CEO Kei­th Kendall will leave the com­pa­ny ef­fec­tive im­me­di­ate­ly, the biotech an­nounced late Tues­day, bring­ing an end to his sev­en-and-a-half year tenure. Kendall will re­main a con­sul­tant through the end of the year and be re­placed by Daniel Bar­ber, the com­pa­ny's COO since May 2019, on a per­ma­nent ba­sis.
Aque­s­tive did not an­nounce a rea­son for the change, on­ly say­ing the move was "un­re­lat­ed to the Com­pa­ny's strat­e­gy, op­er­a­tions, fi­nan­cial con­di­tion, re­port­ed fi­nan­cial re­sults, in­ter­nal con­trols or dis­clo­sure con­trols and pro­ce­dures."
Much like the rest of the sec­tor, Aque­s­tive has fall­en on hard times dur­ing the cur­rent bear mar­ket, as its stock $AQST is down more than 70% since the start of 2020. It's a slide that's con­tin­ued for most of its pub­lic trad­ing life as well, with Aque­s­tive shares down about 90% from its IPO price back in 2018.
The biotech's most re­cent strug­gles stem from an oft-trou­bled drug ap­pli­ca­tion for oral film to treat seizures. Orig­i­nal­ly sub­mit­ted in late 2019, the drug can­di­date was re­ject­ed in Sep­tem­ber 2020 due to what the FDA said was low­er-than-de­sired ex­po­sure lev­els in cer­tain weight groups, per Aque­s­tive's re­count­ing.
Though the com­pa­ny re­sub­mit­ted its ap­pli­ca­tion in 2021 and re­ceived a PDU­FA date for that De­cem­ber, the FDA no­ti­fied Aque­s­tive that it could not make a fi­nal de­ci­sion at that time. Per an Aque­s­tive news re­lease, agency of­fi­cials were still "con­sid­er­ing the reg­u­la­to­ry is­sues" re­lat­ed to the drug's ap­prov­abil­i­ty, though the com­pa­ny did not get in­to more specifics.
It's not en­tire­ly clear whether this will amount to a sec­ond CRL or when the is­sue would be re­solved. In its first quar­ter earn­ings re­port ear­li­er this month, Aque­s­tive said fur­ther com­mu­ni­ca­tion with the agency re­vealed the de­lay stems from "or­phan-drug ex­clu­siv­i­ty is­sues re­lat­ed to" the NDA, sug­gest­ing a patent con­flict.
Aque­s­tive's drug, brand­ed Liber­vant, is an oral for­mu­la­tion of di­azepam, self-ad­min­is­tered as a film and placed in­side the cheek.
The chal­lenge now falls on Bar­ber to try to re­solve this is­sue. He joins sev­er­al new chief ex­ec­u­tives in try­ing to right the ship at their re­spec­tive com­pa­nies with the bear mar­ket show­ing no signs of abat­ing, in­clud­ing Zen­tal­is ear­li­er this week.