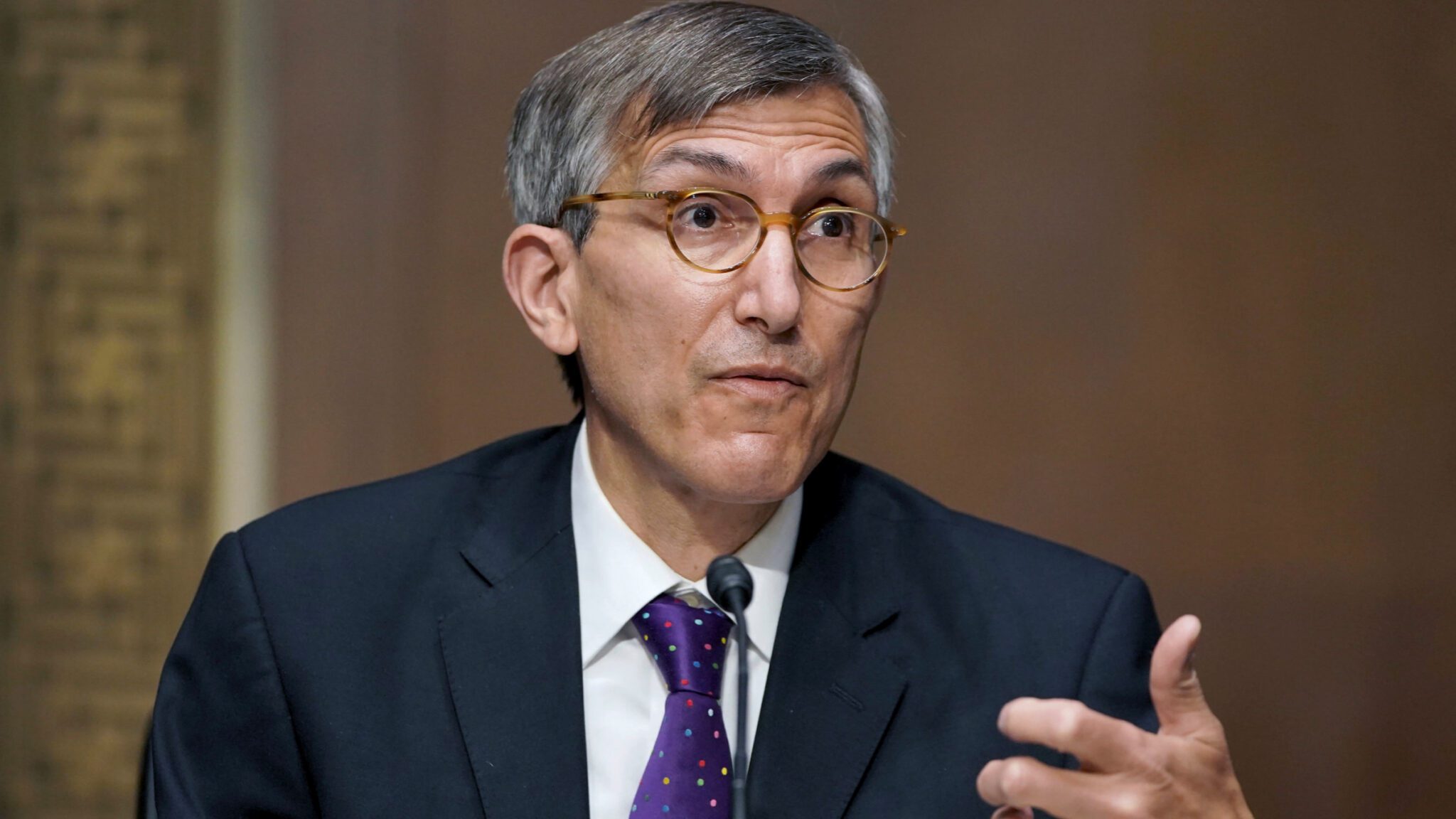 Peter Marks (Jim Lo Scalzo/Pool via AP Images)
With­out an ad­comm, FDA signs off on sec­ond Covid-19 boost­er for those over 50
The FDA on Tues­day au­tho­rized a sec­ond boost­er shot of both the Pfiz­er-BioN­Tech and Mod­er­na Covid-19 vac­cines for all adults over the age of 50 at least 4 months af­ter re­ceipt of a first boost­er dose.
Al­though the agency re­lied on re­al world ev­i­dence from Is­rael to make its de­ci­sion, and it did not seek the opin­ion of an ad­vi­so­ry com­mit­tee of out­side ex­perts be­fore the au­tho­riza­tion, Pe­ter Marks, di­rec­tor of the FDA's Cen­ter for Bi­o­log­ics Eval­u­a­tion and Re­search, didn't think it was a con­tro­ver­sial de­ci­sion.
"I think when you see our re­view memo, we'll be able to point to the pieces of da­ta such as the sur­vival ben­e­fits and re­duc­tion in hos­pi­tal­iza­tion that let us take these ac­tions," Marks said on a me­dia call Tues­day. "We de­cid­ed we would open it up to the 50-plus be­cause there's a sig­nif­i­cant amount peo­ple who are high risk in the 50 and up group."
The safe­ty ev­i­dence for the au­tho­riza­tion is based on an Is­raeli study show­ing a fourth dose was safe among 600,000 peo­ple in Is­rael over the age of 60 who re­ceived the Pfiz­er vac­cine. But Marks said that the FDA low­ered the age rec­om­men­da­tion be­cause that would be in­clu­sive for many who are con­sid­ered high-risk, and would elim­i­nate con­fu­sion.
"If it were my rel­a­tives, I would be send­ing them out to get this again be­cause of the high­er lev­el of pro­tec­tion," he said.
Marks al­so ex­plained how the FDA did not want to wait for an Omi­cron vari­ant-spe­cif­ic vac­cine be­cause it ap­pears that sci­en­tists are "months" away from fin­ish­ing, de­spite both Mod­er­na and Pfiz­er ini­tial­ly say­ing that they could de­vel­op an Omi­cron-di­rect­ed vac­cine in 100 days (to­day is 99 days since Omi­cron was in every state).
As it's un­known how long the pro­tec­tion from this sec­ond boost­er might last, Marks al­so didn't rule out the pos­si­bil­i­ty of an­oth­er boost­er shot gain­ing au­tho­riza­tion come the fall, es­pe­cial­ly af­ter see­ing ma­jor waves of the virus take out a num­ber of peo­ple in the UK and Asia, and if the US needs to shift over to a dif­fer­ent vari­ant cov­er­age.