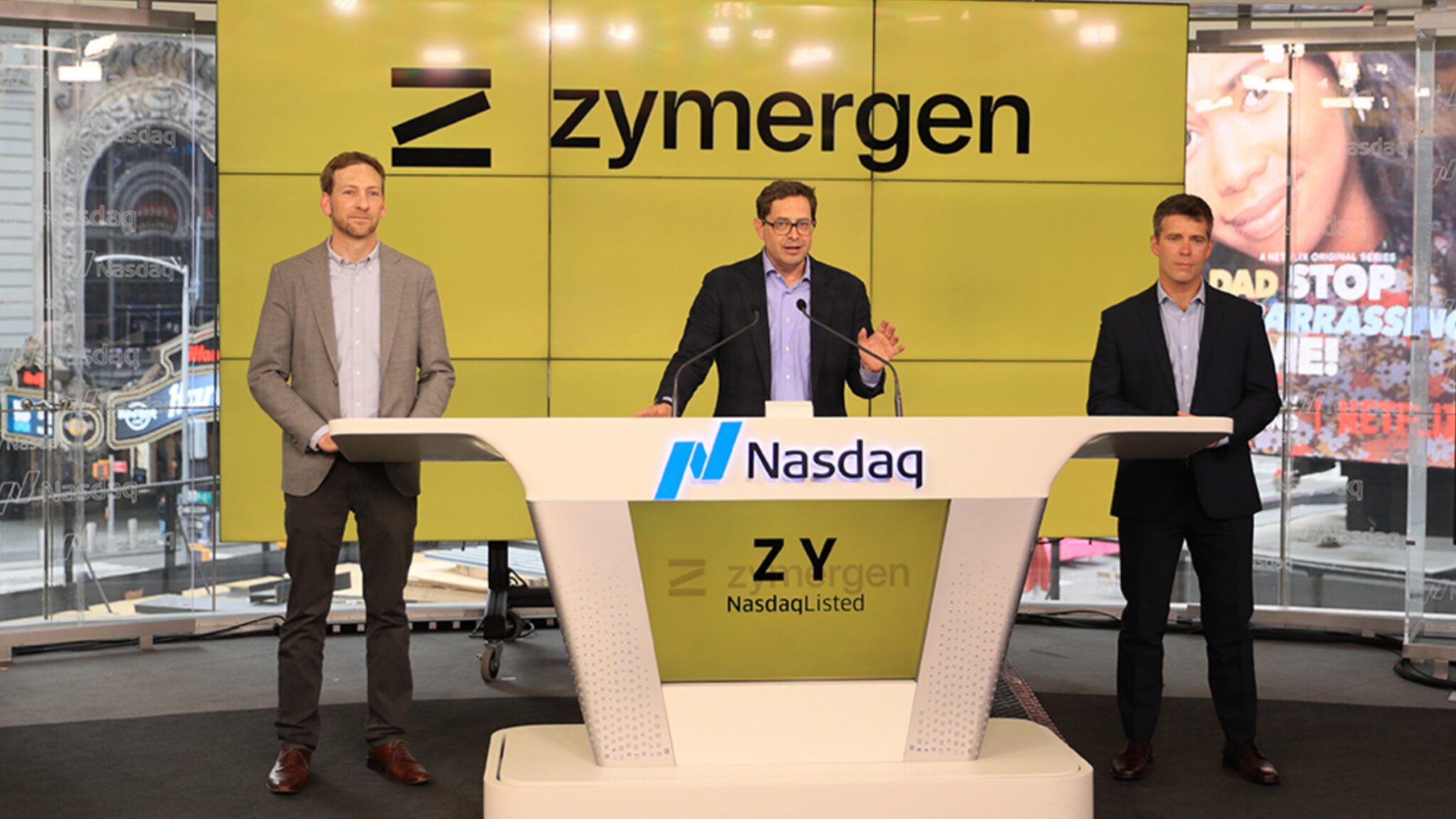 Zymergen co-founders Zach Serber, Josh Hoffman, and Jed Dean (Zymergen via website)
Zymer­gen's sud­den im­plo­sion shocked biotech. A lin­ger­ing loan could make things even worse
As for­mer syn­bio uni­corn Zymer­gen picks up the pieces from its spec­tac­u­lar im­plo­sion Tues­day, an out­stand­ing loan from Per­cep­tive Ad­vi­sors — the on­ly blue-chip biotech crossover in­vestor to touch Zymer­gen's fundrais­ing ef­forts — could make the sit­u­a­tion worse, ac­cord­ing to pub­lic doc­u­ments.
In De­cem­ber 2019, more than a year be­fore Zymer­gen filed for what would even­tu­al­ly be­come a $500 mil­lion IPO, the "bio­fac­tur­ing" firm signed a $100 mil­lion cred­it fa­cil­i­ty with Per­cep­tive to help sup­ple­ment the near­ly $700 mil­lion the com­pa­ny had raised across four VC rounds.
That loan came with a se­ries of covenants — in­clud­ing month­ly rev­enue tar­gets — against which Zymer­gen lever­aged "sub­stan­tial­ly all of our as­sets, in­clud­ing our in­tel­lec­tu­al prop­er­ty," the com­pa­ny said in its amend­ed S-1.
It was a big bet for Zymer­gen and one that didn't im­me­di­ate­ly al­le­vi­ate the com­pa­ny's woes: By De­cem­ber 2020, with "sub­stan­tial doubt about our abil­i­ty to con­tin­ue as a go­ing con­cern," Zymer­gen had al­ready run afoul of the loan's terms due to a March 2020 ac­qui­si­tion of mi­cro­bial screen­ing firm EnEvolv, which it said didn't meet the agree­ment's de­f­i­n­i­tion of a "per­mit­ted trans­ac­tion." Zymer­gen ran through a se­ries of de­fault waivers be­fore set­tling the is­sue with Per­cep­tive and be­lieved as of May that it was in line with all the re­stric­tive covenants on the deal.
But now, with Zymer­gen fac­ing an un­cer­tain fu­ture and rev­enue streams not a guar­an­tee, a dead­line looms: Jan­u­ary 2024. That's when the loan ma­tures and comes due, and the biotech is on the hook to pay re­gard­less of whether it can meet its ends.
In its S-1, Zymer­gen not­ed the loom­ing dead­line as po­ten­tial risk for in­vestors, say­ing if the com­pa­ny con­tin­ues to ac­cu­mu­late debt with­out grow­ing rev­enue, it could have a hard time meet­ing its pay­ments.
"We may be re­quired to gen­er­ate cash from op­er­a­tions or raise ad­di­tion­al work­ing cap­i­tal through fu­ture fi­nanc­ings to en­able us to re­pay this in­debt­ed­ness as it be­comes due," the com­pa­ny said at the time. "There can be no as­sur­ance that we will be able to do so. If we do not gen­er­ate ad­di­tion­al cash or work­ing cap­i­tal, we may be re­quired to de­lay, lim­it, re­duce or ter­mi­nate our prod­uct de­vel­op­ment or op­er­a­tions or grant to oth­ers rights to de­vel­op and mar­ket prod­ucts that we would oth­er­wise pre­fer to de­vel­op and mar­ket our­selves, to en­able us to re­pay this in­debt­ed­ness as it be­comes due."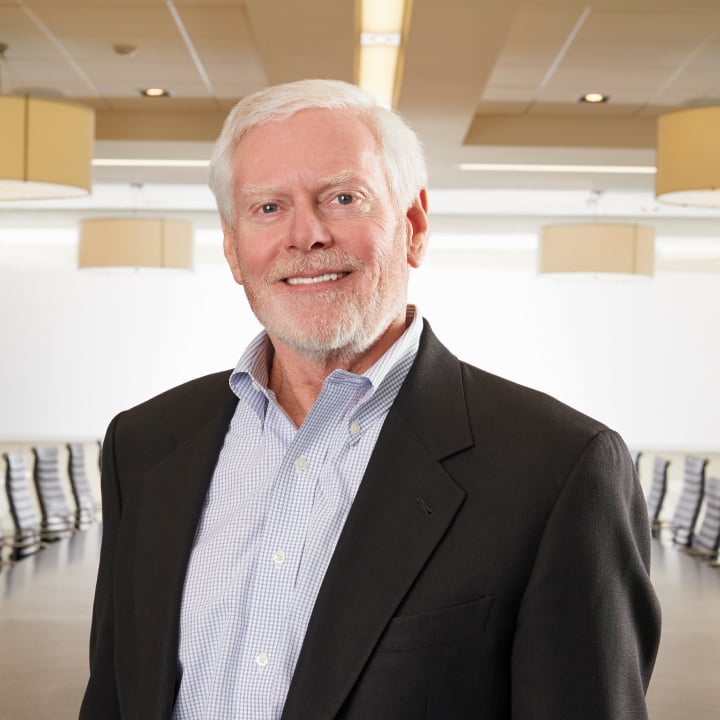 Jay Flat­ley
The agree­ment al­so in­clud­ed lan­guage mak­ing "ma­te­r­i­al ad­verse events" a po­ten­tial cat­a­lyst for de­fault, which could come in­to play now that Zymer­gen has sig­nif­i­cant­ly cut back its rev­enue fore­casts across its port­fo­lio and has no guid­ance for be­yond 2022, as act­ing CEO Jay Flat­ley told an­a­lysts on a Tues­day af­ter­noon call.
A Zymer­gen spokesman de­clined to com­ment on the sta­tus of the cred­it fa­cil­i­ty and oth­er ques­tions on the com­pa­ny's cur­rent po­si­tion. On Tues­day, that spokesman told End­points News that mem­bers of Zymer­gen's se­nior lead­er­ship team weren't be­ing made avail­able for in­ter­views.
Per­cep­tive de­clined to com­ment on the mat­ter.
So far, Zymer­gen has ac­tu­al­ly on­ly seen $85 mil­lion of that loan with an ad­di­tion­al $15 mil­lion due be­fore Sept. 30, sub­ject to two undis­closed mile­stones, Zymer­gen said in a fil­ing. The cash would like­ly come in handy as Zymer­gen post­ed a $241 mil­lion loss in 2020 af­ter a $237 mil­lion loss in 2019. Flat­ley said Tues­day the com­pa­ny planned to ad­just its burn rate sig­nif­i­cant­ly to ex­tend its run­way as it con­ducts a pipeline-wide re­view of its tar­get mar­kets and rev­enue po­ten­tial.
As first re­port­ed by Forbes, Zymer­gen's mar­ket po­ten­tial has been a sub­ject of close scruti­ny since the biotech filed its first draft reg­is­tra­tion form back in Jan­u­ary. In a se­ries of cor­re­spon­dence, reg­u­la­tors asked for more de­tail on Zymer­gen's mar­ket plans and po­ten­tial com­pe­ti­tion, in one case ask­ing Zymer­gen to stop com­par­ing its in­ter­nal prod­uct de­vel­op­ment to the ex­am­ple of Kevlar, which it did not deem a mean­ing­ful com­peti­tor.
One key point of con­tention ear­ly on was Zymer­gen's use of third-par­ty ad­vi­sors to out­line key mar­ket op­por­tu­ni­ties, an area Flat­ley not­ed the com­pa­ny had lit­tle in­sight in­to its cus­tomers' needs and thus over­in­flat­ed po­ten­tial rev­enue.
In its re­sponse to that ini­tial let­ter, Zymer­gen not­ed: "The da­ta re­gard­ing the Com­pa­ny's mar­ket op­por­tu­ni­ty are man­age­ment's es­ti­mates based on a bot­tom-up, in­dus­try-by-in­dus­try, ap­pli­ca­tion-by-ap­pli­ca­tion analy­sis. Man­age­ment es­ti­mat­ed the to­tal op­por­tu­ni­ty for its plat­form us­ing IHS Mark­it and sim­i­lar mar­ket da­ta. The Com­pa­ny al­so con­sult­ed in­dus­try ex­perts to cor­rob­o­rate mar­ket analy­ses, es­pe­cial­ly where less gran­u­lar mar­ket da­ta were avail­able."
Zymer­gen would then go on to amend its S-1 to in­clude that lan­guage, as­suag­ing the SEC's con­cerns on that point.
The ear­li­est cor­re­spon­dence al­so pumped Zymer­gen for more de­tails on its cred­it fa­cil­i­ty with Per­cep­tive, in­clud­ing whether the com­pa­ny was still in vi­o­la­tion of the re­stric­tive covenants of the loan and whether it in­tend­ed to pur­sue fur­ther de­fault waivers. Zymer­gen in­di­cat­ed it had solved the ear­li­er is­sues and did not plan to pur­sue oth­er waivers pend­ing the IPO.
Zymer­gen's down­fall will like­ly cast a spot­light on Josh Hoff­man's tenure as CEO. In his re­marks to an­a­lysts Tues­day, Flat­ley not­ed the launch of an in­ter­nal "cul­tur­al as­sess­ment" at Zymer­gen to "en­sure broad-based ac­count­abil­i­ty," an in­di­ca­tion that pri­or man­age­ment wasn't on the same page in terms of ex­e­cut­ing the busi­ness plan.
In an email, Jen­ny Rooke, the founder of Genoa Ven­tures and an ear­ly in­vestor in Zymer­gen, said she "nev­er heard any­thing but pos­i­tive com­ments about Josh" dur­ing her time work­ing with the com­pa­ny dur­ing its seed and Se­ries A rounds. De­spite be­ing re­moved from the pipeline and man­age­ment for years, Rooke said she still saw val­ue in the com­pa­ny's ef­forts out­side of lead prod­uct Hya­line:
A vi­sion this large and po­ten­tial­ly im­pact­ful will take time to achieve, and not with­out chal­lenges along the way. This de­lay does not af­fect my be­lief in Zymer­gen's enor­mous long-term val­ue cre­ation po­ten­tial, and I am ex­cit­ed to track the com­pa­ny's progress in the years ahead.
Late Tues­day, shares in $ZY were trad­ing down around 76% at $8.20 per share.