Dealmakers evidently spent the fourth quarter of 2016 largely in hibernation as they waited out a big US election cycle that seemed to raise more questions than it answered.
In a look back over a relatively quiet year, EP Vantage, the editorial arm at Evaluate, concluded that 2016 may not have ended anywhere close to any of the records set during the boom, but I would add that the numbers reflect some considerable financial muscle that could be flexed in the year to come.
The macro numbers tell the story.
Looking over the chart, below, on the quarterly M&A numbers, you can see that 2016 came in well below the spikes of the previous two years. But it still looked good compared to the build up to the boom.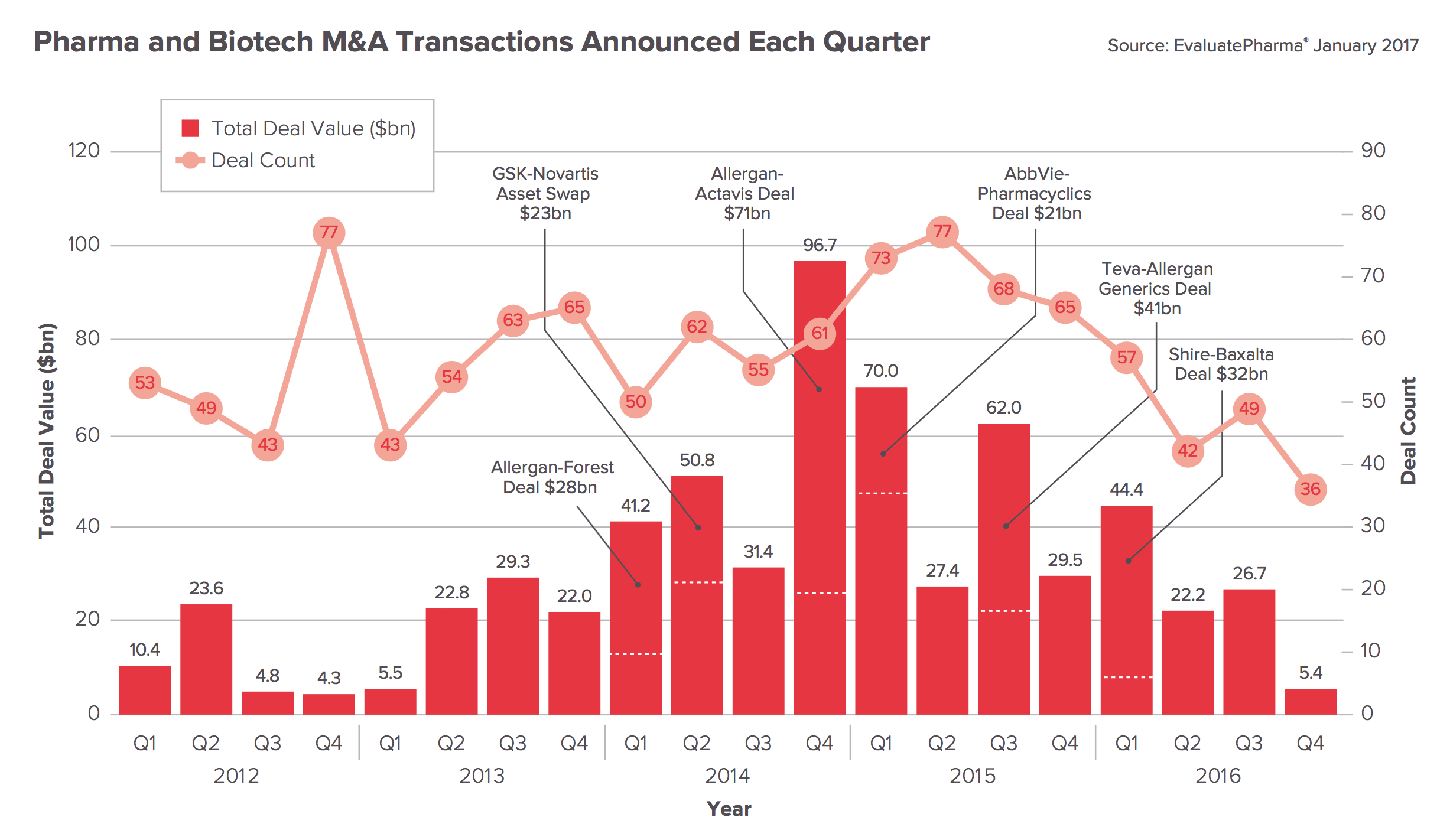 Deals skewed definitely toward marketed drugs, characteristic of 6 of the top 10 deals. But you can also see an appetite for risk in two of the rest of the pack, where AbbVie paid top dollar for Stemcentrx — a $5.8 billion acquisition that still leaves some analysts shaking their heads — and another $1.7 billion buyout pact Allergan made for Tobira as it wheeled and dealed throughout 2016.
The average M&A deal value pulled back only slightly from 2015: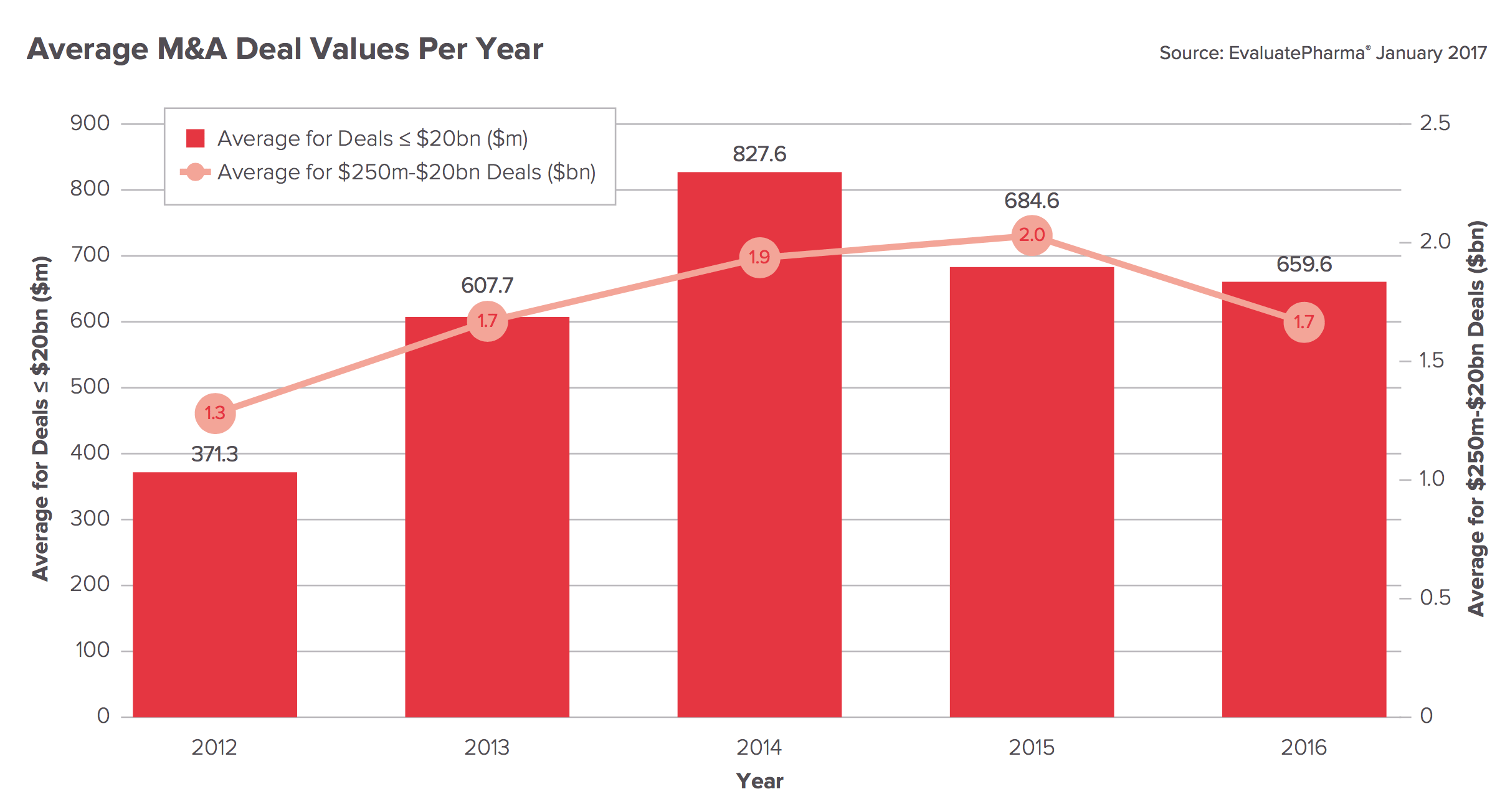 And the combined value of deals for venture-backed assets swelled over the 5 years tracked by EvaluatePharma, to a hefty $10.4 billion last year, up from an anemic $2.2 billion in 2012.
Perhaps, notes the analysts at EvaluatePharma, it's possible that a decline in the last two years on biotech valuations overall will set up a bounce back in 2017. But they are left skittish by lingering questions over the type of tax reform that Trump can get across the finish line in Washington DC as well as the kind of regulatory reform he has in mind.
I suspect that we'll have those answers in line by the end of Q1, though, which leaves plenty of time for new deals. I'll also note that M&A trends in biopharma are heavily swayed by megadeals, which have been few and far between. In 2016, we saw just one: Shire's $32 billion deal to acquire Baxalta. And we've already seen some mid-sized deals this year that could leave the balance sheet in the plus column come the end of 2017.
We'll leave you with the top 10 deals of 2016, as a reminder of the potential, and pitfalls, for what lies ahead.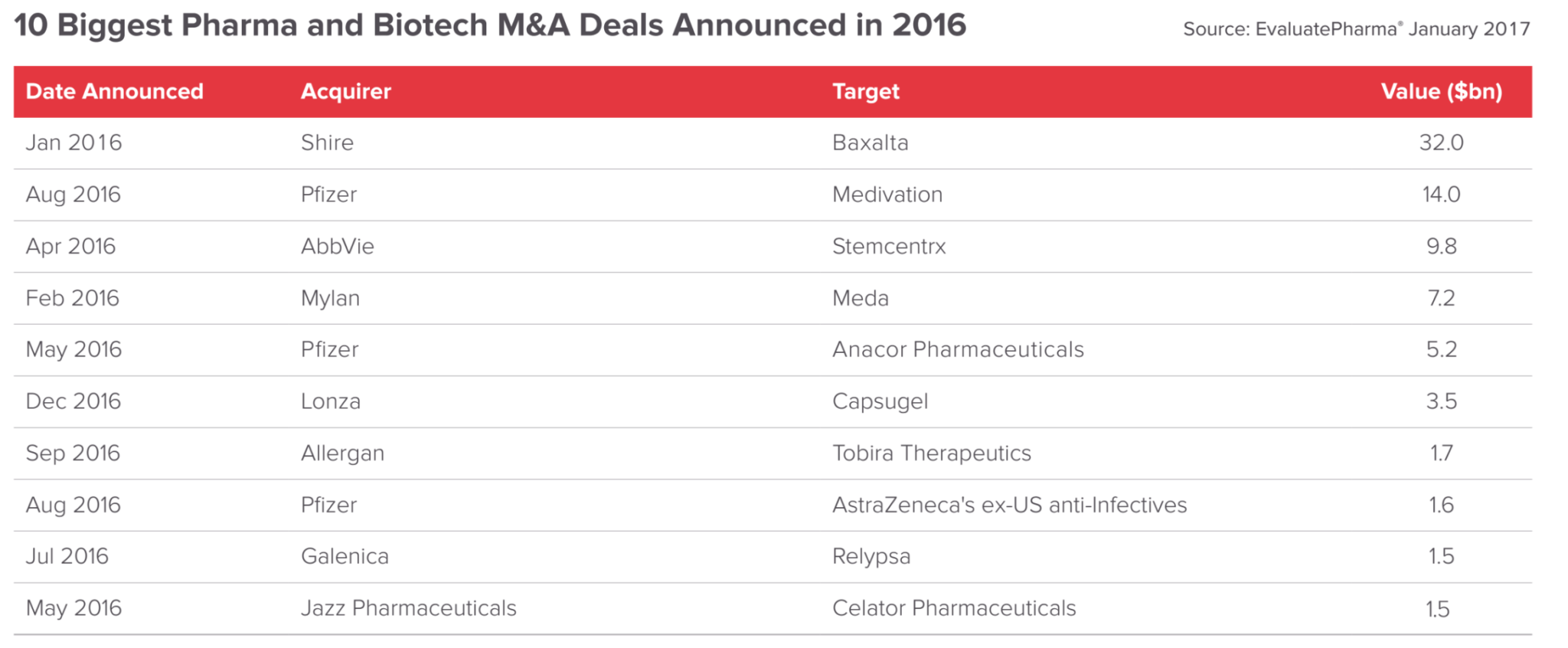 ---
The best place to read
Endpoints News

? In your inbox.

Comprehensive daily news report for those who discover, develop, and market drugs. Join 44,100+ biopharma pros who read Endpoints News by email every day.

Free Subscription
---
---
---