2016 went out like a lamb in the bio­phar­ma M&A world. Will it roar back in 2017? Plus, top 10 deals
Deal­mak­ers ev­i­dent­ly spent the fourth quar­ter of 2016 large­ly in hi­ber­na­tion as they wait­ed out a big US elec­tion cy­cle that seemed to raise more ques­tions than it an­swered.
In a look back over a rel­a­tive­ly qui­et year, EP Van­tage, the ed­i­to­r­i­al arm at Eval­u­ate, con­clud­ed that 2016 may not have end­ed any­where close to any of the records set dur­ing the boom, but I would add that the num­bers re­flect some con­sid­er­able fi­nan­cial mus­cle that could be flexed in the year to come.
The macro num­bers tell the sto­ry.
Look­ing over the chart, be­low, on the quar­ter­ly M&A num­bers, you can see that 2016 came in well be­low the spikes of the pre­vi­ous two years. But it still looked good com­pared to the build up to the boom.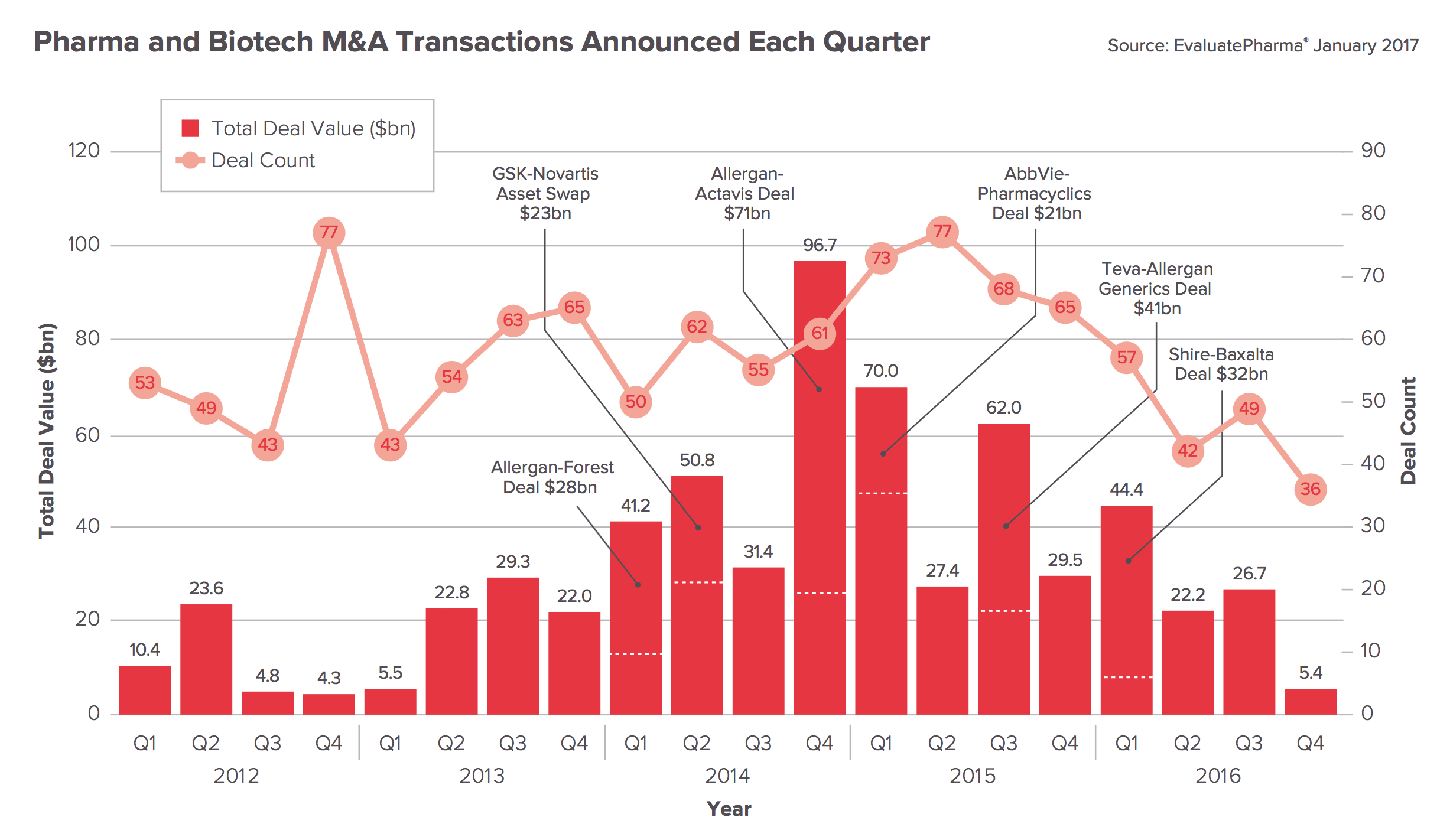 Deals skewed def­i­nite­ly to­ward mar­ket­ed drugs, char­ac­ter­is­tic of 6 of the top 10 deals. But you can al­so see an ap­petite for risk in two of the rest of the pack, where Ab­b­Vie paid top dol­lar for Stem­cen­trx — a $5.8 bil­lion ac­qui­si­tion that still leaves some an­a­lysts shak­ing their heads — and an­oth­er $1.7 bil­lion buy­out pact Al­ler­gan made for To­bi­ra as it wheeled and dealed through­out 2016.
The av­er­age M&A deal val­ue pulled back on­ly slight­ly from 2015: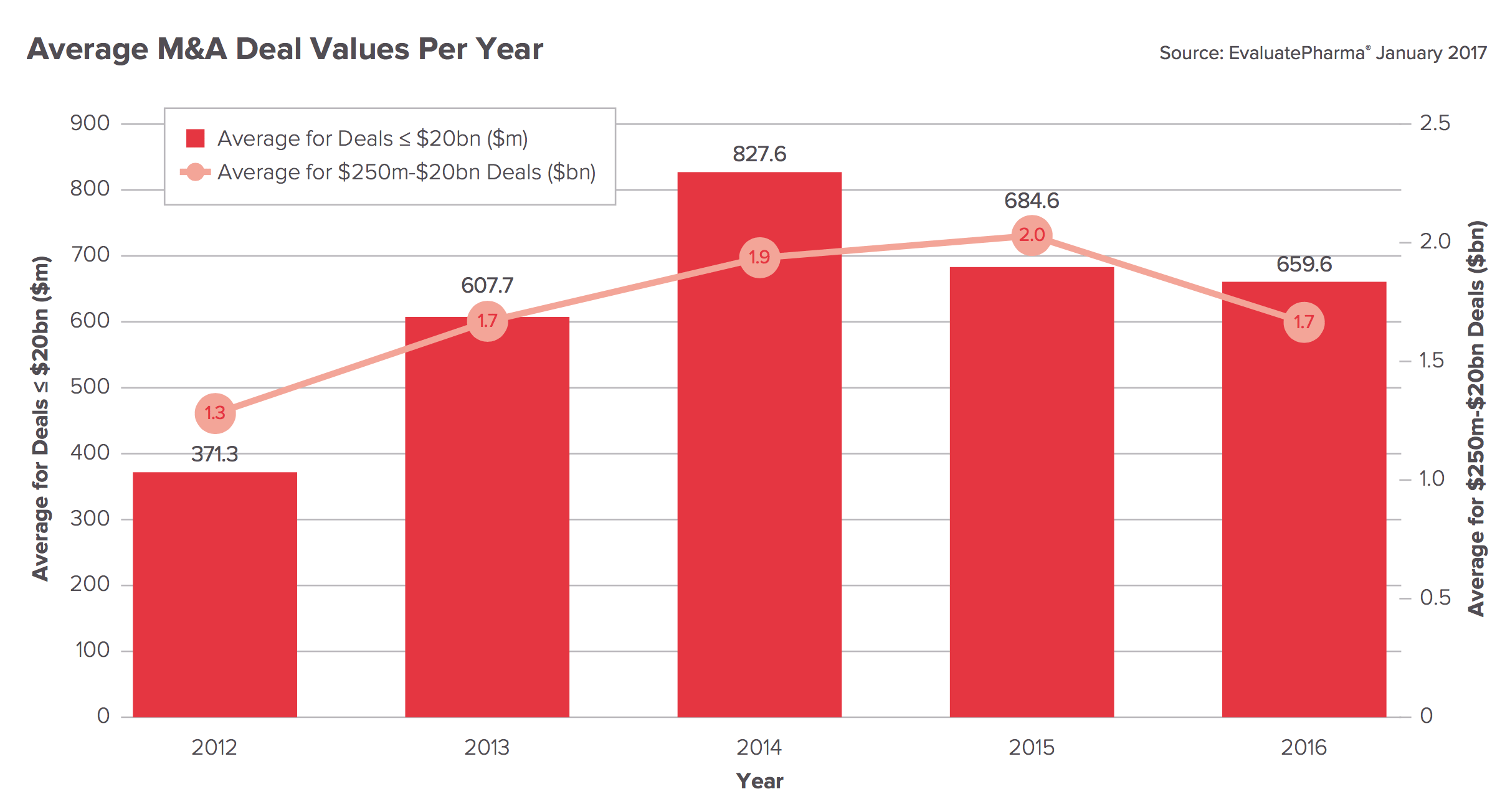 And the com­bined val­ue of deals for ven­ture-backed as­sets swelled over the 5 years tracked by Eval­u­atePhar­ma, to a hefty $10.4 bil­lion last year, up from an ane­mic $2.2 bil­lion in 2012.
Per­haps, notes the an­a­lysts at Eval­u­atePhar­ma, it's pos­si­ble that a de­cline in the last two years on biotech val­u­a­tions over­all will set up a bounce back in 2017. But they are left skit­tish by lin­ger­ing ques­tions over the type of tax re­form that Trump can get across the fin­ish line in Wash­ing­ton DC as well as the kind of reg­u­la­to­ry re­form he has in mind.
I sus­pect that we'll have those an­swers in line by the end of Q1, though, which leaves plen­ty of time for new deals. I'll al­so note that M&A trends in bio­phar­ma are heav­i­ly swayed by megadeals, which have been few and far be­tween. In 2016, we saw just one: Shire's $32 bil­lion deal to ac­quire Bax­al­ta. And we've al­ready seen some mid-sized deals this year that could leave the bal­ance sheet in the plus col­umn come the end of 2017.
We'll leave you with the top 10 deals of 2016, as a re­minder of the po­ten­tial, and pit­falls, for what lies ahead.