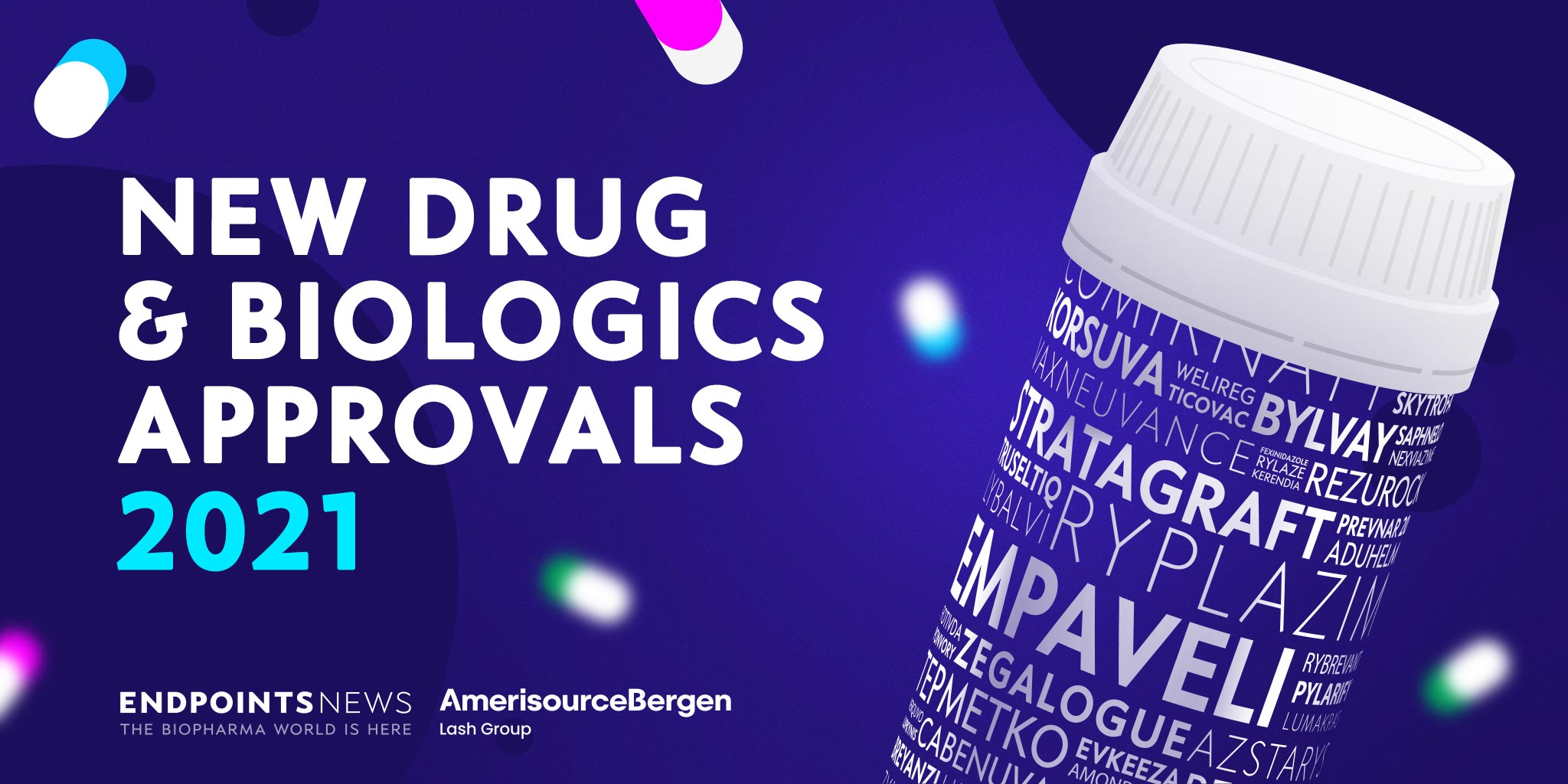 2021's NDA list in­cludes some ex­tra­or­di­nary ac­com­plish­ments in year #2 of the pan­dem­ic
All the big R&D trends are on display in this new list of drug approvals for 2021. Plus one.
Add up everything OK'd from CDER and CBER, and you have 60 new drug approvals for last year, topping the 59 in 2020. That's a close second to the 64 OKs that came out of the FDA in 2018. The dark days of the early 2000s are a distant memory now, with a host of hungry upstarts promising to make their own entries one day as Big Pharmas double down on innovation.
There's the new list of small biotechs that nailed down their first drug approvals, expressing nothing but eagerness to get out there and start marketing — something they all have much to learn about. Not all of these drugs are tipping the scales on the commercial side, but that doesn't mean they aren't important to the small orphan populations that set this trend in motion more than a decade ago.
In the meantime the list of smaller players making the leap now include biotechs like Apellis and ADC Therapeutics. Kadmon hit, then sold to Sanofi. Can they perform like the analysts have promised? Hopes and forecasts during development are one thing, but as Biogen execs can tell you, sales is an unforgiving, hard-numbers game.
There are the late arrivals in the win column, often showing up at the regulatory finish line well past schedule, sometimes cuffed and bruised by CMC issues that continue to plague the field. The FDA has shown time and again that it isn't in a forgiving mood over suspect manufacturing problems. That trend looks embedded into the fabric of the drug approval process, for big and small companies alike.
Novartis dealt with that, before getting their approval of Leqvio (inclisiran) and will now put its colossal shoulder behind the commercial wheel in the LDL market.
The major players, of course, tended to dominate the list of potential blockbusters. That's another industry tradition. So AstraZeneca and Amgen made notable contributions to the list, for breakthrough asthma as well as impressive cancer drugs. AbbVie made its mark with migraines, which is seeing a new wave of therapies enter the market.
As always, sheer grit counts for much of the success. SeaGen's success with next-gen ADCs is an example of that. AstraZeneca's R&D staff almost never gives up, but just keeps battling ahead, changing trial designs, persisting. In that sense, finally finishing its world headquarters in Cambridge, UK in 2021 was a fitting symbol for the company's stubbornness. They may not wow you with speed every time, but they get to the regulatory goal posts.
But amid all the hard work and endurance, let's not overlook the year's triumphs, topped by Albert Bourla's Pfizer. Faced with a pandemic, Pfizer took its partnership with BioNTech to legend status. Its mRNA vaccine provided an instant burst of sales worth tens of billions of dollars. They got there first, breaking development and regulatory barriers, and set up a franchise that will help transform the multinational for the decade ahead. And let's not forget that they did it in a year in which they brought through Prevnar 20, a next-gen approach that is expected to safeguard one of its biggest franchises.
Premium subscription required
Unlock this article along with other benefits by subscribing to one of our paid plans.