$33M in hand, Rigontec opens an of­fice in Cam­bridge and sets sights on its first im­muno-on­col­o­gy tri­al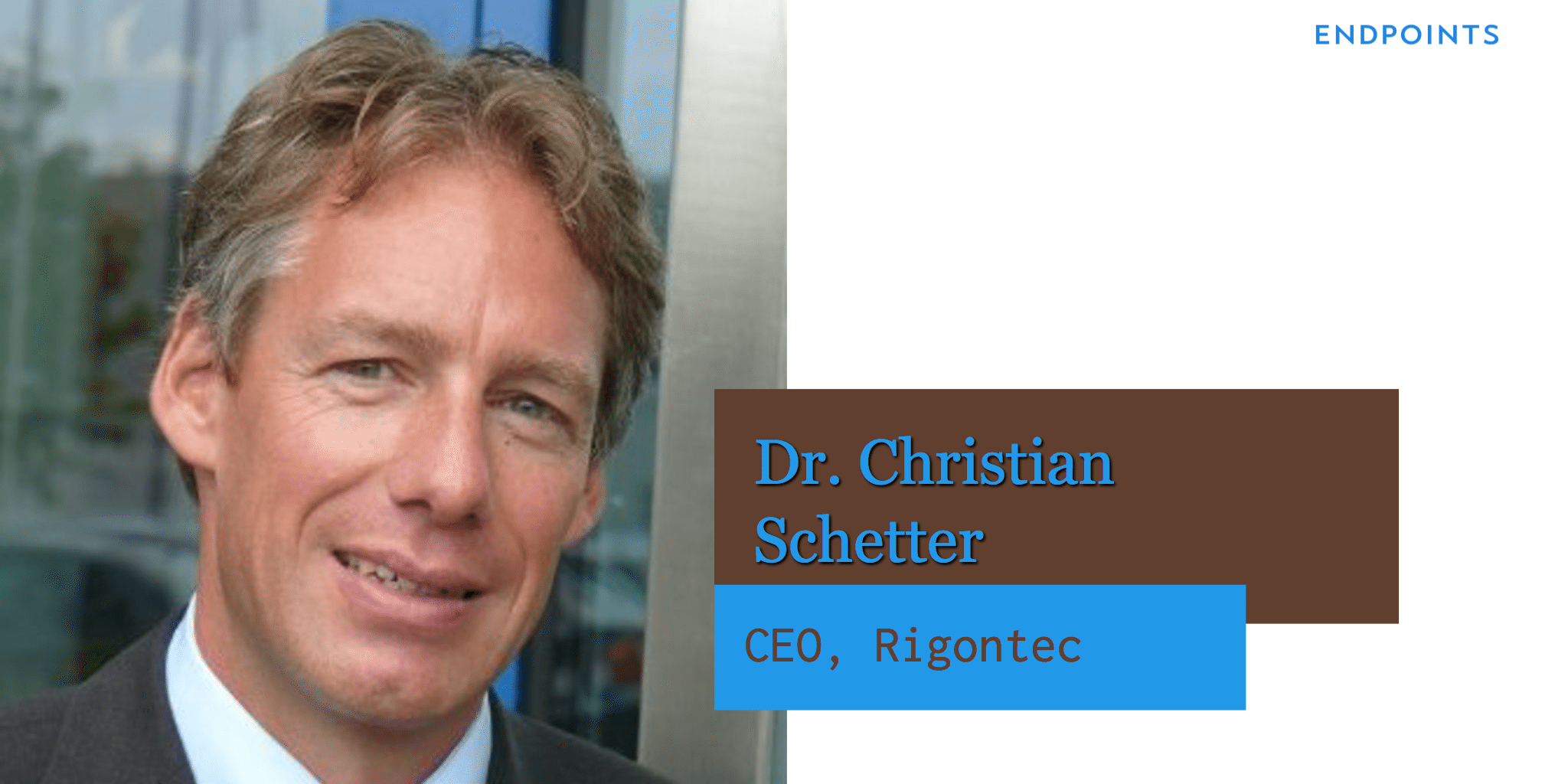 ---
The Ger­man start­up Rigontec has nailed an ad­di­tion­al $16.5 mil­lion in fi­nanc­ing, dou­bling their Se­ries A as the RNA up­start opens a new of­fice in Cam­bridge, MA and preps for its first clin­i­cal study in the red-hot im­muno-on­col­o­gy are­na ear­ly next year.
The biotech is a pi­o­neer of the RIG-I path­way, look­ing to ramp up an im­mune sys­tem at­tack on tu­mor cells by stick­ing with a route that has been at­tract­ing at­ten­tion for the role it plays in the in­nate im­mune sys­tem. And the com­pa­ny owes a lot to the ear­ly re­search of Gunter Hart­mann at the Uni­ver­si­ty of Bonn, who stud­ied how RIG-I works nat­u­ral­ly in ac­ti­vat­ing an at­tack on vi­ral pathogens.
The com­pa­ny is run by Chris­t­ian Schet­ter, a biotech vet who has had se­nior po­si­tions at a cou­ple of de­vel­op­ers; Co­ley Phar­ma­ceu­ti­cals, where he was a se­nior vice pres­i­dent, and Neovii Biotech, where he was CEO un­til 2014. Dur­ing his ca­reer, he spent years study­ing the role of toll-like re­cep­tors in trig­ger­ing an im­mune re­sponse, but in RIG-I Schet­ter be­lieves he's found a path­way that will be much more ef­fi­cient for de­vel­op­ing a safe and more ef­fec­tive im­munother­a­py.
The key here, he tells me, is de­vel­op­ing a "high­ly spe­cif­ic ac­ti­va­tor," trig­ger­ing a nat­ur­al killer cell re­sponse to tu­mor cells while then me­di­at­ing "longterm im­mune mem­o­ry against tu­mor cells." The op­por­tu­ni­ty in can­cer is fair­ly ob­vi­ous, says the CEO, with a chance to try out new ap­proach­es for check­point com­bos and oth­er match ups — a space where new deals keep com­ing at a steady pace. But he's al­so map­ping plans for a sec­ond pipeline for in­fec­tious dis­eases, where he says the same tech can have a big im­pact.
The new fund­ing brings the to­tal raised at Rigontec since it was found­ed in ear­ly 2014 to just about $33 mil­lion. The com­pa­ny has about 15 staffers now, says the CEO, and will prob­a­bly see that grow to about 20-25 by the end of next year.
Their syn­di­cate in­cludes Boehringer In­gel­heim Ven­ture Fund, For­bion Cap­i­tal Part­ners, High-Tech Grün­der­fonds, NRW.BANK, MP Health­care Ven­ture Man­age­ment, Sun­stone Cap­i­tal and Welling­ton Part­ners Life Sci­ences.