$354M ex­it pack­age in hand, Medi­va­tion CEO David Hung com­pletes a mas­ter class in biotech auc­tions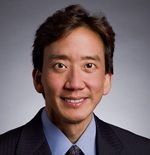 David Hung, Medi­va­tion CEO
Now that Medi­va­tion CEO David Hung has com­plet­ed the deal of a life­time with a stratos­pher­ic buy­out, he's grab­bing a $35 mil­lion gold­en para­chute that is sched­uled to burst open in about a month and car­ry him back down to earth in style. And that's part of a $354 mil­lion pack­age of stock and op­tions he can now cash out of.
The de­tails on the gold­en para­chute — along with a blow-by-blow ac­count of the bid­ding process that led up to Pfiz­er's $14 bil­lion win­ner — were all in­clud­ed in an SEC fil­ing on Tues­day. And it makes for re­quired read­ing for any biotech ex­ec look­ing to make the big score some sun­ny day.

Oliv­er Brandi­court, Sanofi CEO
The game got start­ed in late March, when new Sanofi CEO Olivi­er Brandi­court con­tact­ed Hung and asked for a call. Days lat­er, the sto­ry was leaked to the busi­ness press, and Medi­va­tion was in play.
The re­view of what fol­lowed over the next few months in­cludes some in­ter­est­ing de­tails on Medi­va­tion's re­sponse to Sanofi's ini­tial low­ball of­fer. Nev­er hap­py with the open­ing bid, Medi­va­tion had an ace in the hole: Pfiz­er ex­ecs al­most im­me­di­ate­ly be­gan to ea­ger­ly vol­un­teer their in­ter­est to get in­to the auc­tion. And de­ter­mined to get top dol­lar, Medi­va­tion in­vit­ed more com­pa­nies to join Pfiz­er and Sanofi at the bar­gain­ing ta­ble.
To keep them en­gaged as the num­bers raced high­er, Medi­va­tion drew up a set of long range fi­nan­cial fore­casts for three dif­fer­ent sce­nar­ios in­volv­ing Xtan­di, its ap­proved can­cer drug, as well as its PARP in­hibitor ta­la­zoparib and an­oth­er mys­tery drug in the pipeline called pidilizum­ab, a can­cer treat­ment that Medi­va­tion ini­tial­ly thought was a check­point ther­a­py un­til it was forced to con­clude it wasn't sure ex­act­ly what the mech­a­nism of ac­tion was. By the time the of­fers be­gan to fly, though, it bare­ly war­rant­ed a men­tion.
Un­der Medi­va­tion's three sce­nar­ios, the com­pa­ny pro­ject­ed that its ex­pect­ed 2016 rev­enue of $922 mil­lion could peak at be­tween $5.7 bil­lion and $8.5 bil­lion in 2027, a lit­tle more than a decade away. And mean­while, he and the Medi­va­tion team con­duct­ed a pub­lic cam­paign to per­suade the in­dus­try that ta­la­zoparib was a cer­tain block­buster-to-be, ca­pa­ble of gen­er­at­ing more rev­enue than Xtan­di it­self.
It was all wild­ly over the top, but Hung was pulling out all the stops.
Near­ing the close of the auc­tion, Medi­va­tion set an Au­gust 20 dead­line for all fi­nal of­fers, net­ting Pfiz­er's win­ning $81.50 bid along with two oth­ers for $80.25 and $80. For the mas­ter deal­mak­er, known for bag­ging ma­jor league col­lab­o­ra­tions that didn't al­ways pan out, it was an un­mis­tak­able win.
For Pfiz­er, there are still years of ex­plain­ing ahead as it at­tempts to jus­ti­fy pay­ing a price many an­a­lysts thought was way too high.