$95M mega-round in hand, Elaine Sul­li­van sets out to build a Eu­ro­pean on­col­o­gy play­er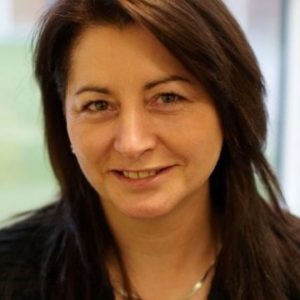 Elaine Sul­li­van, CEO, Car­rick Ther­a­peu­tics
A trans-At­lantic in­vest­ment syn­di­cate that in­cludes Google has come to­geth­er to bankroll a Eu­ro­pean on­col­o­gy start­up with a $95 mil­lion mega-round. And the biotech, helmed by ex­pe­ri­enced phar­ma R&D ex­ec Elaine Sul­li­van, has al­ready lined up three de­vel­op­ment pro­grams with plans to add more in the very near fu­ture.
The big idea here has less to do with any one pro­gram and sci­en­tif­ic founder than it has to do with the con­ti­nen­tal-sized part­ner­ing as­pi­ra­tions at Car­rick Ther­a­peu­tics.
"I want­ed to set up a Eu­ro­pean on­col­o­gy com­pa­ny," Sul­li­van tells me this morn­ing, with­out a hint of brag­gado­cio. "The whole con­cept of the com­pa­ny was to link a num­ber of in­ves­ti­ga­tors to­geth­er to cre­ate a syn­er­gy around the com­pa­ny."
That's the kind of big-pic­ture think­ing that Arch Ven­ture Part­ners, in par­tic­u­lar, loves to en­gage in. Neil Wood­ford's Wood­ford In­vest­ments, which co-led the round with Arch, was found­ed on the no­tion that Eu­rope in gen­er­al and the UK in par­tic­u­lar has been bet­ter at sci­ence than the art of in­vest­ing in sci­ence. And GV (Google Ven­tures to you and me) jumped in along with Cam­bridge En­ter­prise Seed Funds, Cam­bridge In­no­va­tion Cap­i­tal, Evotec AG and Light­stone Ven­tures.
"What we saw, Arch and our­selves," adds Sul­li­van, "was amaz­ing sci­ence in Eu­rope that was un­der­cap­i­tal­ized."
Sul­li­van is stay­ing pur­pose­ful­ly vague right now about the biotech's plans, but that's not for lack of strate­gic think­ing. The As­traZeneca and Eli Lil­ly vet­er­an says the biotech, which will be based in Dublin with R&D ops in Ire­land and Ox­ford, al­ready has close ties with not­ed sci­en­tif­ic in­ves­ti­ga­tor Steve Jack­son at the Uni­ver­si­ty of Cam­bridge and Can­cer Re­search UK. More are be­ing put in place.
On­col­o­gy deals have been all the rage on both sides of the At­lantic for the past three years, as new drugs rip through the clin­ic at record speeds. But Car­rick be­lieves it's in the right spot to put to­geth­er a no­table pipeline in lit­tle time.
The com­pa­ny is work­ing with a staff of 45, says Sul­li­van, which can eas­i­ly be scaled up as the pipeline fills out. And she says she'll be a lot more forth­com­ing af­ter a few more months of col­lab­o­ra­tion build­ing, when the com­pa­ny can de­tail the mech­a­nisms it's fo­cused on as well as the drugs it has in both clin­i­cal as well as pre-clin­i­cal de­vel­op­ment.
I plan to take her up on that of­fer.