A CRISPR/Cas9 start­up launch­es on the R&D fron­tier, work­ing on a one-time fix for Duchenne MD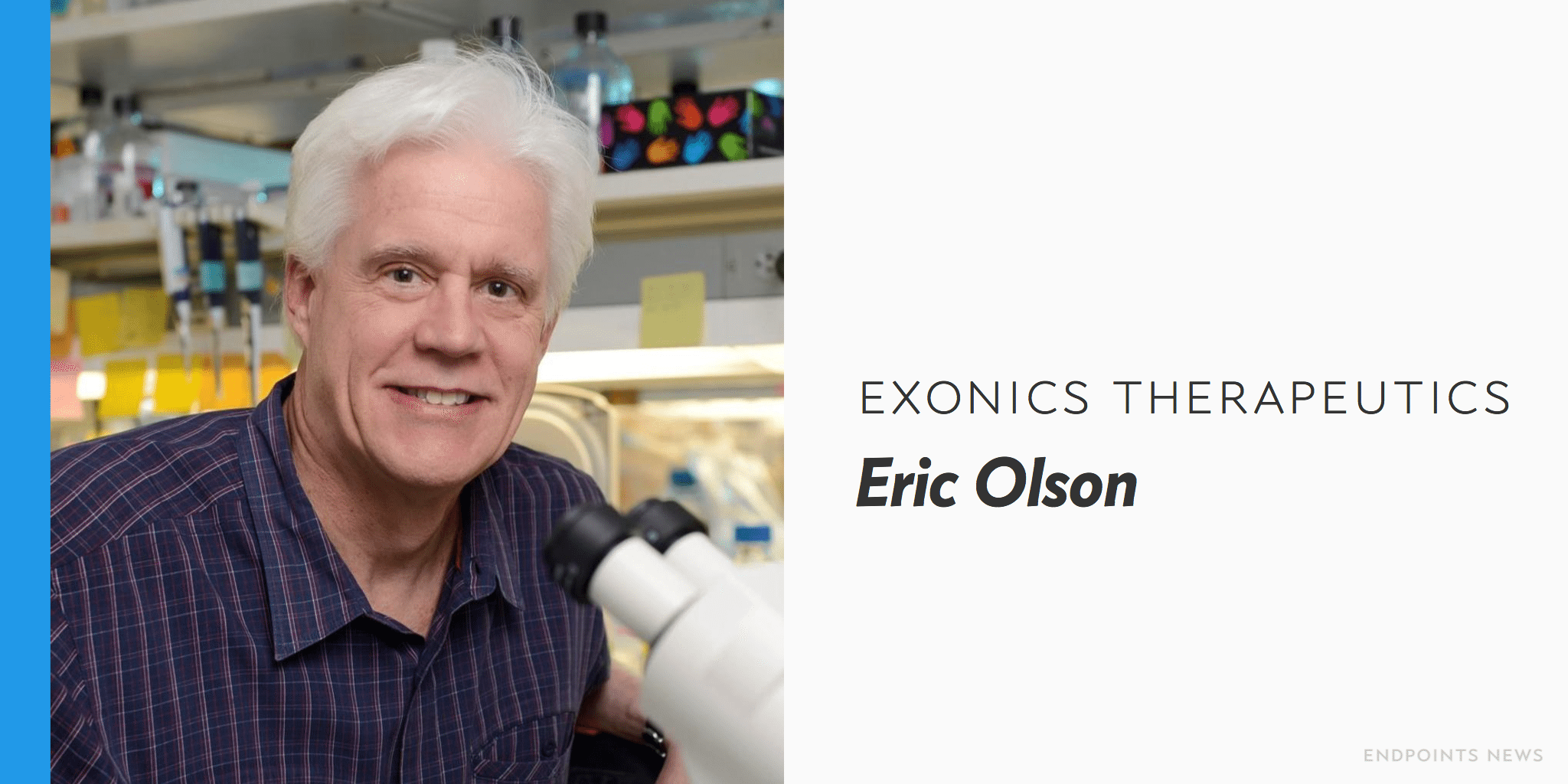 ---
Af­ter ex­per­i­ment­ing with CRISPR/Cas9 tech, per­fect­ing ge­net­ic surgery on mus­cle cells in mice to snip out the faulty ex­ons that are the cause of the lethal mus­cle wast­ing dis­ease, UT South­west­ern's Er­ic Ol­son is ready to move in­to the late pre­clin­i­cal stage of de­vel­op­ment. His work is be­ing spun out in­to a start­up which Ol­son hopes will play a big role in even­tu­al­ly cor­rect­ing the fa­tal ge­net­ic flaws for most of the boys who have this dis­ease.
Cure­Duchenne Ven­tures is bankrolling the start­up — dubbed Ex­on­ics Ther­a­peu­tics — with $5 mil­lion in seed mon­ey. That's not a huge amount in biotech these days. But it is enough to take their pro­gram for Duchenne's in­to large an­i­mals, mon­keys as well as dogs, as they get a bet­ter grasp of the po­ten­tial ef­fi­ca­cy as well as a clean­er safe­ty pro­file on this ther­a­py.
"We've con­tin­ued to op­ti­mize the method for AAV de­liv­ery for cor­rec­tion of Duchenne mu­ta­tions in mouse mod­els," Ol­son tells me. "We're now look­ing at 80% restora­tion of dy­s­trophin."
Even a much small­er, par­tial re­sponse in hu­mans would be a re­mark­able achieve­ment, as the ab­sence of dy­s­trophin is what trig­gers the dis­ease, which first puts these boys in­to a wheel­chair and then kills them.
Keep in mind, ro­dent mod­els can be a poor sub­sti­tute for hu­mans. And no one should think we're right around the sci­en­tif­ic cor­ner from a cure. But Ol­son — who's al­so been test­ing this tech on pa­tients' cells — be­lieves that his hu­man­ized mice are a good in­di­ca­tor of fu­ture suc­cess for an ap­proach po­ten­tial­ly leagues ahead of the con­tro­ver­sial ex­on-skip­ping tech that's been ad­vanced by Sarep­ta and PTC Ther­a­peu­tics.
Both of those ther­a­pies are now be­ing sold in the US and Eu­rope, re­spec­tive­ly, de­spite a lack of ef­fi­ca­cy da­ta. And Ol­son's had a chance to per­fect the de­liv­ery method, to ex­pand the po­ten­tial tar­get group of pa­tients to a num­ber dra­mat­i­cal­ly high­er than the cur­rent ther­a­pies tar­get­ed at spe­cif­ic mu­ta­tions.
"You don't have to have a pre­cise cor­rec­tion," notes Ol­son. "You can use a sim­ple gene-edit­ing strat­e­gy to skip over mu­tant ex­on."
Tai­lor­ing a gene-edit­ing fix for Duchenne seems like a nat­ur­al ear­ly tar­get for the field. If you can use CRISPR to guide Cas9 to ed­it out the ge­net­ic de­fects in pa­tients' DNA, get­ting to a large enough con­cen­tra­tion of mus­cle cells to make a sig­nif­i­cant dif­fer­ence in dy­s­trophin pro­duc­tion, you have the po­ten­tial to cre­ate a once-and-done ther­a­peu­tic that could make a huge dif­fer­ence in the lives of many of the 15,000 boys in the US who have this dis­ease, along with the rest of the world's pa­tients.
Based on his work so far, Ol­son be­lieves the pro­gram could large­ly fix Duchenne MD for 80% of the boys with this dis­ease.
Ol­son is about to pub­lish more about his re­search, fol­low­ing up a re­port in Sci­ence in late 2015 that marked his ear­ly progress and snared broad at­ten­tion in the biotech world for his work.

"Ex­on­ics is clear­ly well po­si­tioned, as we climb the species lad­der," says Cristi­na Csim­ma, the for­mer CEO at Cy­dan who's now ex­ec­u­tive chair­man at Ex­on­ics. And the com­pa­ny can take some time to bal­ance ei­ther a Se­ries A or pur­sue talks with oth­er play­ers in the field.
Jak Knowles, the man­ag­ing di­rec­tor of Cure Duchenne Ven­tures and VP of sci­en­tif­ic af­fairs at Cure­Duchenne, is tak­ing the reins as CEO of the com­pa­ny, now based in Boston near South Sta­tion.

No one is giv­ing out a time­line here on how long it's go­ing to take to get through an IND-en­abling pro­gram and up to the thresh­old of a first-in-man study. But when Ol­son talked to MIT Tech­nol­o­gy Re­view late last year, he told An­to­nio Re­gal­a­do that a clin­i­cal ef­fort could get un­der­way in about two years, not out of line for a pro­gram en­ter­ing the late pre­clin­i­cal stage.
But they might not be alone. Ed­i­tas, one of the three pi­o­neers with CRISPR Ther­a­peu­tics and In­tel­lia to leap in­to the field with hun­dreds of mil­lions of dol­lars each in in­vestors' cash, has point­ed to Duchenne MD as an area of in­ter­est. Ol­son al­so told Re­gal­a­do that he had been in touch with Ed­i­tas — which has been keep­ing its pipeline plans close to the vest — as he ex­plored a com­mer­cial deal with one of the ex­ist­ing play­ers.
One of the time­lines you hear a lot when talk­ing to peo­ple about CRISPR re­search is that it could eas­i­ly take 10 years be­fore you see the first new ther­a­py. And that could be am­bi­tious. This is a new and evolv­ing fo­cus in biotech, where re­searchers are still care­ful­ly look­ing for un­in­tend­ed off-tar­get ef­fects that could raise un­ex­pect­ed safe­ty is­sues. But in a few weeks we'll see a new FDA com­mis­sion­er step in with a man­date to speed new reme­dies like this. Scott Got­tlieb has talked about cre­at­ing a kind of Skunkworks in the FDA for rare dis­eases that might sig­nif­i­cant­ly short­en the de­vel­op­ment time­lines for new drugs to treat lethal rare dis­eases.
So it's con­ceiv­able that it could be done in less than 10 years.
The race is on. We just don't know right now where the fin­ish line is.