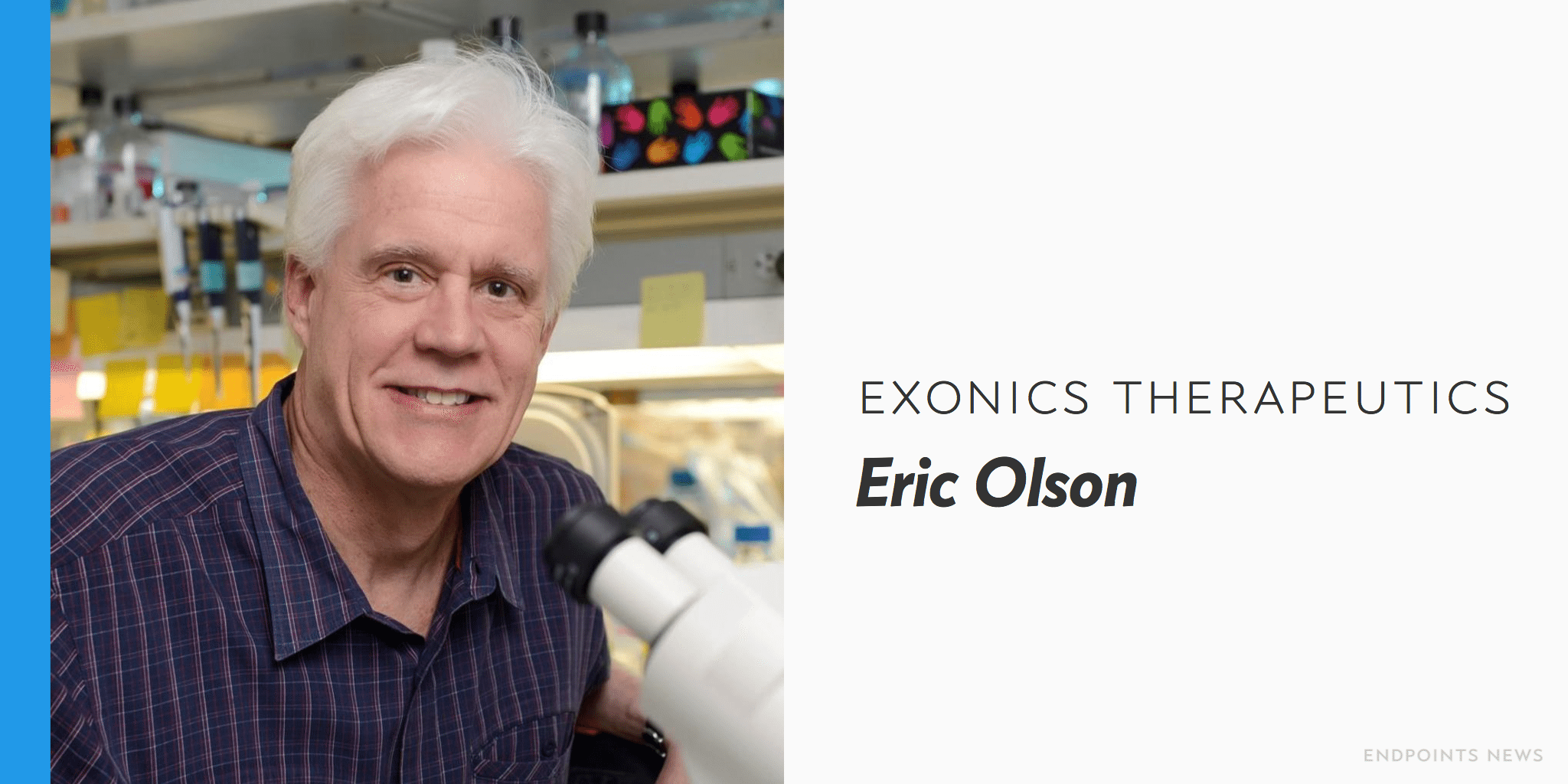 ---
After experimenting with CRISPR/Cas9 tech, perfecting genetic surgery on muscle cells in mice to snip out the faulty exons that are the cause of the lethal muscle wasting disease, UT Southwestern's Eric Olson is ready to move into the late preclinical stage of development. His work is being spun out into a startup which Olson hopes will play a big role in eventually correcting the fatal genetic flaws for most of the boys who have this disease.
CureDuchenne Ventures is bankrolling the startup — dubbed Exonics Therapeutics — with $5 million in seed money. That's not a huge amount in biotech these days. But it is enough to take their program for Duchenne's into large animals, monkeys as well as dogs, as they get a better grasp of the potential efficacy as well as a cleaner safety profile on this therapy.
"We've continued to optimize the method for AAV delivery for correction of Duchenne mutations in mouse models," Olson tells me. "We're now looking at 80% restoration of dystrophin."
Even a much smaller, partial response in humans would be a remarkable achievement, as the absence of dystrophin is what triggers the disease, which first puts these boys into a wheelchair and then kills them.
Keep in mind, rodent models can be a poor substitute for humans. And no one should think we're right around the scientific corner from a cure. But Olson — who's also been testing this tech on patients' cells — believes that his humanized mice are a good indicator of future success for an approach potentially leagues ahead of the controversial exon-skipping tech that's been advanced by Sarepta and PTC Therapeutics.
Both of those therapies are now being sold in the US and Europe, respectively, despite a lack of efficacy data. And Olson's had a chance to perfect the delivery method, to expand the potential target group of patients to a number dramatically higher than the current therapies targeted at specific mutations.
"You don't have to have a precise correction," notes Olson. "You can use a simple gene-editing strategy to skip over mutant exon."
Tailoring a gene-editing fix for Duchenne seems like a natural early target for the field. If you can use CRISPR to guide Cas9 to edit out the genetic defects in patients' DNA, getting to a large enough concentration of muscle cells to make a significant difference in dystrophin production, you have the potential to create a once-and-done therapeutic that could make a huge difference in the lives of many of the 15,000 boys in the US who have this disease, along with the rest of the world's patients.
Based on his work so far, Olson believes the program could largely fix Duchenne MD for 80% of the boys with this disease.
Olson is about to publish more about his research, following up a report in Science in late 2015 that marked his early progress and snared broad attention in the biotech world for his work.

"Exonics is clearly well positioned, as we climb the species ladder," says Cristina Csimma, the former CEO at Cydan who's now executive chairman at Exonics. And the company can take some time to balance either a Series A or pursue talks with other players in the field.
Jak Knowles, the managing director of Cure Duchenne Ventures and VP of scientific affairs at CureDuchenne, is taking the reins as CEO of the company, now based in Boston near South Station.

No one is giving out a timeline here on how long it's going to take to get through an IND-enabling program and up to the threshold of a first-in-man study. But when Olson talked to MIT Technology Review late last year, he told Antonio Regalado that a clinical effort could get underway in about two years, not out of line for a program entering the late preclinical stage.
But they might not be alone. Editas, one of the three pioneers with CRISPR Therapeutics and Intellia to leap into the field with hundreds of millions of dollars each in investors' cash, has pointed to Duchenne MD as an area of interest. Olson also told Regalado that he had been in touch with Editas — which has been keeping its pipeline plans close to the vest — as he explored a commercial deal with one of the existing players.
One of the timelines you hear a lot when talking to people about CRISPR research is that it could easily take 10 years before you see the first new therapy. And that could be ambitious. This is a new and evolving focus in biotech, where researchers are still carefully looking for unintended off-target effects that could raise unexpected safety issues. But in a few weeks we'll see a new FDA commissioner step in with a mandate to speed new remedies like this. Scott Gottlieb has talked about creating a kind of Skunkworks in the FDA for rare diseases that might significantly shorten the development timelines for new drugs to treat lethal rare diseases.
So it's conceivable that it could be done in less than 10 years.
The race is on. We just don't know right now where the finish line is.
---
The best place to read
Endpoints News

? In your inbox.

Comprehensive daily news report for those who discover, develop, and market drugs. Join 50,700+ biopharma pros who read Endpoints News by email every day.

Free Subscription
---
---
---