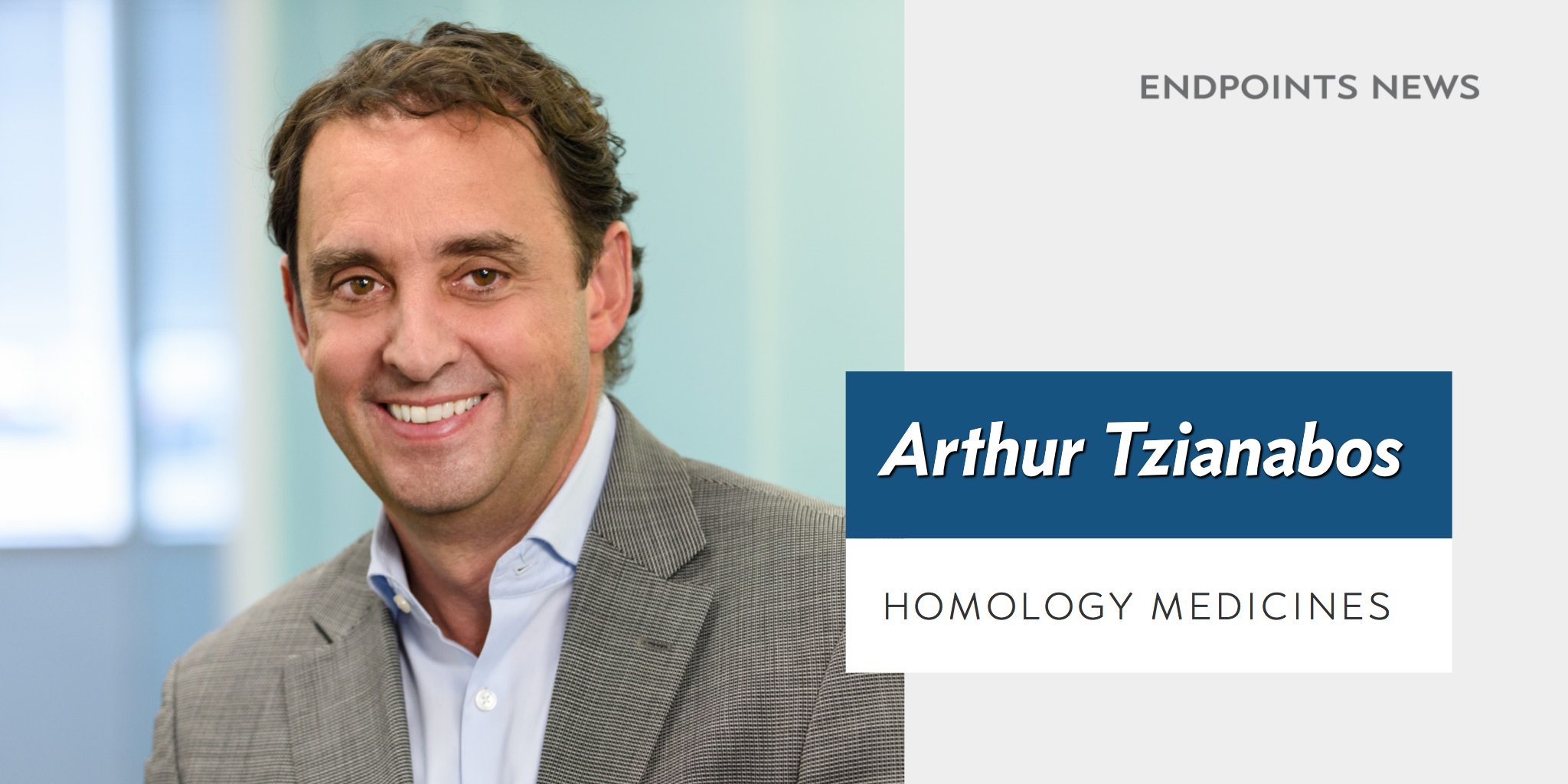 A fast-mov­ing en­try in the gene edit­ing race is speed­ing to the clin­ic, fu­eled by an $83.5M round
The last time I talked to Arthur Tzian­a­bos a lit­tle more than a year ago, the CEO at Ho­mol­o­gy Med­i­cines had a team of about 10 and a new ap­proach to in vi­vo gene trans­fer and gene edit­ing that was still in pre­clin­i­cal liftoff mode. To­day, Tzian­a­bos is whip­ping the cov­er off a whop­ping $83.5 mil­lion ven­ture round with some A-lis­ter sup­port so his team of 40-plus can take their work in­to hu­mans for the first time.
"We re­al­ly have made a tremen­dous amount of progress," Tzian­a­bos tells me by way of catch­ing up.
There's a lead in­di­ca­tion now — an in­born er­ror of me­tab­o­lism in­volv­ing the liv­er is as spe­cif­ic as he wants to get right now — with a long list of pre­clin­i­cal projects in CD34 dis­eases, cys­tic fi­bro­sis, CNS dis­eases, Duchenne mus­cu­lar dy­s­tro­phy and so on. When you're a pre­clin­i­cal biotech work­ing on the foun­da­tion for a plat­form tech that seeks to ed­it and cor­rect genes us­ing your own ade­no-as­so­ci­at­ed virus vec­tors, you can think about what you want to keep and what you want to part­ner.
Ho­mol­o­gy is one of the up­starts trav­el­ing one step be­hind the pi­o­neer­ing crews that boot­ed up gene edit­ing in a big way. That group in­cludes Ed­i­tas, CRISPR Ther­a­peu­tics and In­tel­lia — which all made vir­tu­al­ly overnight de­buts on­to the pub­lic mar­kets with a set of IPOs that at­tract­ed a tremen­dous amount of in­vestor at­ten­tion — and which sagged as the long clin­i­cal road to an ac­tu­al ther­a­py came in­to view.
These days, the pi­o­neers al­so are spend­ing a sig­nif­i­cant amount of time wran­gling over patents as they work to get in­to the clin­ic. It's no easy task birthing a new tech­nol­o­gy, as Ed­i­tas found out when it had to de­lay its time­line re­cent­ly in or­der to work through a de­lay on the man­u­fac­tur­ing side.
Tzian­a­bos and his team are learn­ing from the lead­ers, and may al­so be mov­ing faster to­ward the clin­ic than the out-front ri­vals know.
"We want to be there in a short pe­ri­od of time," says the CEO about hu­man tri­als. (No, he isn't be­ing more spe­cif­ic than that.) He has plen­ty of cash now to get through a proof-of-con­cept tri­al, and a chance to sign up a part­ner or two to help ex­pand the pipeline work more quick­ly.
Tzian­a­bos gives his Bed­ford, MA-based biotech high scores for their pre­clin­i­cal ef­fort on fine tun­ing gene trans­fer and edit­ing, start­ing with a page out of the book of na­ture on the way DNA is re­paired to point to an in vi­vo ap­proach that can be a sim­pler and more di­rect means of po­ten­tial­ly cur­ing ge­net­ic dis­eases.
But he's al­so start­ing to look at what needs to hap­pen on man­u­fac­tur­ing to pre­vent fu­ture foul-ups.
"I think peo­ple got a lit­tle over their skis on that point," he says about the field. And he has built up in­ter­nal and ex­ter­nal man­u­fac­tur­ing ops.
"CMC, bi­o­log­ics man­u­fac­tur­ing is com­pli­cat­ed any­way," says Tzian­a­bos, point­ing to the cri­sis that Gen­zyme went through be­fore Sanofi ac­quired the com­pa­ny. The new gene edit­ing com­pa­nies are com­ing straight out of acad­e­mia, he adds, and that kind of tech al­ways takes time to in­dus­tri­al­ize.
At Ho­mol­o­gy, says the CEO, "that was one of our main fo­cus­es right out of the gate."
Add it all up, he says, and "I would put us not too far be­hind where these guys (the pi­o­neers) are. That's what at­tract­ed this team to the tech­nol­o­gy."
It is al­so what at­tract­ed Deer­field, which led the round. New in­vestors in­clude Fi­deli­ty Man­age­ment and Re­search Com­pa­ny, HBM Health­care In­vest­ments, Mav­er­ick Ven­tures, No­var­tis, Rock Springs Cap­i­tal, Vi­da Ven­tures, Vi­vo Cap­i­tal and Alexan­dria Ven­ture In­vest­ments. Ex­ist­ing in­vestors 5AM Ven­tures, ARCH Ven­ture Part­ners and Temasek al­so jumped back in.
As of now, Ho­mol­o­gy has raised a to­tal of $127 mil­lion in a lit­tle more than a year, of­fer­ing an­oth­er ex­am­ple of the kind of funds that are be­ing spent to pur­sue a rad­i­cal new tech­nol­o­gy. It's still ear­ly stages, with years of clin­i­cal work ahead, but Ho­mol­o­gy is mov­ing fast.