A few key rea­sons why Bio­gen has now be­come a buzzed about takeover tar­get
Strug­gling with rev­enue and keep­ing in­vestors' in­ter­est in its pipeline as its CEO heads for the ex­its, Bio­gen has drawn some in­ter­est from two big play­ers about a pos­si­ble takeover. The Wall Street Jour­nal re­port­ed Tues­day af­ter­noon that Al­ler­gan and Mer­ck have both made over­tures to Bio­gen to sound out their in­ter­est in a deal.
Bio­gen's shares $BI­IB raced up 9%, adding bil­lions in mar­ket cap as the in­vest­ment com­mu­ni­ty looked to jump in­to a pos­si­ble deal in the mak­ing. But by ear­ly Tues­day evening CN­BC was fol­low­ing up with a re­port that Al­ler­gan, which may have had a hard time mak­ing a buy­out work un­der cur­rent tax rules, was un­like­ly to fol­low up.
The Jour­nal piece made it clear that there's no bid on the ta­ble and may not be one. The over­tures were "in­for­mal and pre­lim­i­nary," its re­port­ing team not­ed, not sig­ni­fy­ing much in­ter­est in a hos­tile move if nec­es­sary.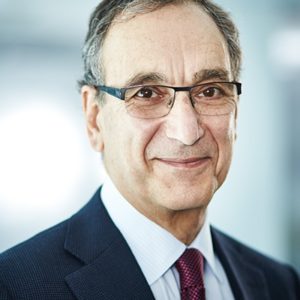 CEO George Scan­gos
The ru­mors come just days af­ter Bio­gen CEO George Scan­gos an­nounced plans to ex­it the com­pa­ny, plan­ning to hand over the reins to a new ex­ec­u­tive ready to tack­le the next phase. Scan­gos him­self has down­played any talk of a po­ten­tial takeover, and an­a­lysts have won­dered why he would be leav­ing if the com­pa­ny was about to go in­to an auc­tion, with big po­ten­tial pay­offs for the top team.
In many ways, Bio­gen would make a tempt­ing ac­qui­si­tion, with a mar­ket cap now sit­ting at about $75 bil­lion. It has sev­er­al fran­chise drugs on the mar­ket and a few close­ly-watched pro­grams in the clin­ic, in­clud­ing a new late-stage pro­gram part­nered with Io­n­is that just cleared a Phase III study for spinal mus­cu­lar at­ro­phy. But on­ly a hand­ful of play­ers in the in­dus­try could pull off a deal that size.
Com­pli­cat­ing any buy­out, Bio­gen's R&D group has made a ma­jor in­vest­ment in fields like Alzheimer's, where its drug ad­u­canum­ab rep­re­sents an­oth­er big swing at a po­ten­tial­ly enor­mous mar­ket. But it's in the high­est risk are­na in biotech, mak­ing a val­u­a­tion dev­il­ish­ly hard to reach with­out a de­vice like a CVR, pay­ing off on mile­stones.
Bio­gen's prob­lem, and the rea­son why it's vul­ner­a­ble now, is that Scan­gos and his team sad­dled the com­pa­ny with an ul­tra high risk pipeline with few near-term cat­a­lysts able to whet Wall Street's ap­petite as its Tec­fidera fran­chise fades. That forced the com­pa­ny to ex­e­cute a ma­jor re­or­ga­ni­za­tion last year to cut costs. And a re­cent set­back in its lat­est at­tempt to come up with a new drug that could po­ten­tial­ly re­verse the ef­fects of mul­ti­ple scle­ro­sis sim­ply high­light­ed the fix it is in now.
For many an­a­lysts, that weak­ened po­si­tion made it all the more like­ly that Bio­gen would have to pull off sev­er­al big deals of its own to re­plen­ish the pipeline. In the words of Baird's Bri­an Sko­r­ney: "We think it's time for Bio­gen to buy or be bought."
Al­ler­gan is run by Brent Saud­ers, a deal-mak­ing CEO who just land­ed a big pay­off now that the Te­va gener­ics deal has gone through. And while Mer­ck has its new check­point drug Keytru­da to boast about, it al­so has plen­ty of rea­sons to find val­ue in a com­pa­ny like Bio­gen.
Every­one loves a ru­mored buy­out deal, so ex­pect lots of smoke as every­one tries to fig­ure out if there's any fire at Bio­gen.
George sure­ly well aligned w/ $BI­IB suc­cess. Class act who does the right thing. @John­Cendpts @jonathanrock­off @Dana­Mat­ti­oli @danacimil­lu­ca

— Bob More (@Bob­morevc) Au­gust 2, 2016