A func­tion­al HIV cure? We have a long way to go, but Hong Kong in­ves­ti­ga­tors find a spot­light for their pre­clin­i­cal an­ti­body
A group of HIV in­ves­ti­ga­tors in Hong Kong is get­ting star treat­ment to­day.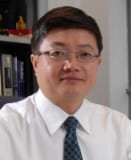 Chen Zhi­wei
Reuters is high­light­ing the pre­clin­i­cal re­search of Pro­fes­sor Chen Zhi­wei at Hong Kong Uni­ver­si­ty's AIDS In­sti­tute, who un­veiled a mouse study last April along­side claims that his team had found a bi-spe­cif­ic an­ti­body that could work as a "func­tion­al cure."
Let's set aside for a mo­ment the idea that you can start claim­ing you've found a cure for any­thing when it's on­ly worked so far in mouse mod­els. The pro­fes­sor and his col­leagues say that their bis­pe­cif­ic an­ti­body ev­i­dent­ly works against all sub­types of HIV-1, mak­ing it uni­ver­sal­ly ap­plic­a­ble. In ad­di­tion, he says they have an­i­mal da­ta to sup­port that the an­ti­body they've de­vel­oped al­so goes af­ter the reser­voir of la­tent virus that the cur­rent gen­er­a­tion of an­ti­retro­vi­rals can't reach.
Root­ing out the la­tent virus has be­come the Holy Grail of re­searchers in the field, who want to see a full cure for a dis­ease that con­tin­ues to af­flict mil­lions of peo­ple.
The in­ves­ti­ga­tors dubbed their an­ti­body Bi­IA-SG, which is de­signed to pro­tect CD4 pos­i­tive cells and pre­vent the pen­e­tra­tion of the virus. It's al­so equipped for pro-longed drug avail­abil­i­ty in vi­vo, with an­i­mal mod­el da­ta to un­der­score that it can guard against HIV for a long stretch.
As a re­sult, re­ports Reuters, the team be­lieves that they may be able to lim­it treat­ments to a quar­ter­ly ba­sis, in­stead of the dai­ly reg­i­mens that are now in use around the world. The re­sults were pub­lished last April in the Jour­nal of Clin­i­cal In­ves­ti­ga­tion.
Next step: Hu­man tri­als. But the pro­fes­sor says that could take 3 to 5 years to get start­ed.