A gene ther­a­py pi­o­neer moves from Bio­gen to Re­genxbio, stay­ing fo­cused on gene ther­a­py 2.0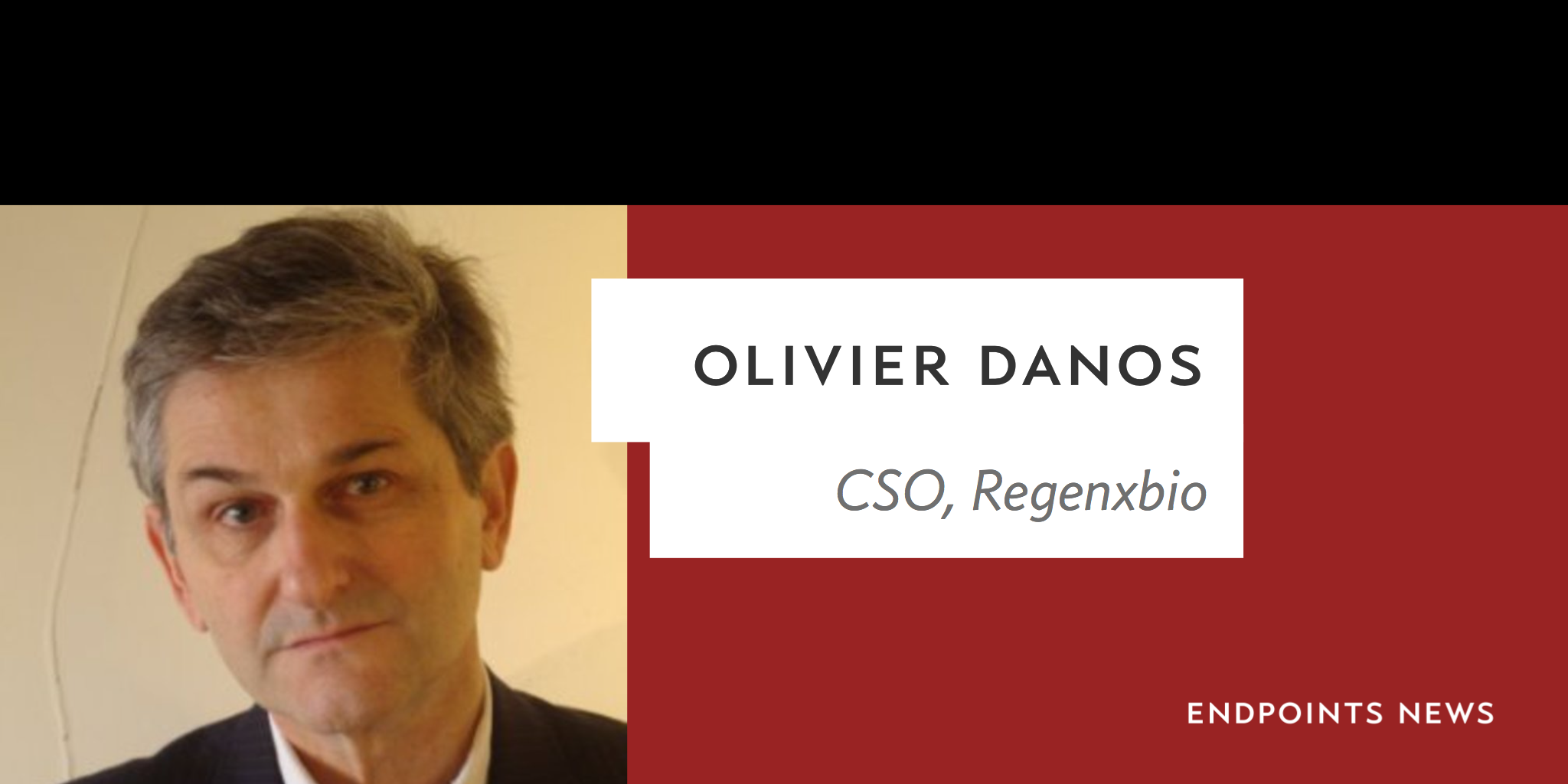 ---
Olivi­er Danos' ar­rival as head of Bio­gen's gene ther­a­py group two-and-a-half years ago sig­naled an im­por­tant shift in the big biotech's R&D fo­cus. In swift or­der Bio­gen ex­e­cut­ed a part­ner­ship with the San Raf­faele-Telethon In­sti­tute for Gene Ther­a­py, inked a $1 bil­lion-plus deal with AGTC and fol­lowed up with a $2 bil­lion pact to work with James Wil­son and Jean Ben­nett at the Uni­ver­si­ty of Penn­syl­va­nia.
Along the way, Danos picked up some tai­lor-made vec­tor tech at Re­genxbio.
On Fri­day, Danos wrapped up his job at Bio­gen. On Mon­day, he was the new CSO at Re­genxbio. But his mis­sion stays re­mark­ably the same.
Danos has spent decades in the field, start­ing out work­ing with Wil­son in Richard Mul­li­gan's Har­vard lab back in the '80s. And while he's left Bio­gen, he'll be work­ing more close­ly than ever with Wil­son, the sci­en­tif­ic founder of Re­genxbio and an­oth­er high pro­file ground­break­er in the field who helped cre­ate the gene ther­a­py vec­tors that Re­genxbio has been li­cens­ing out to a new wave of play­ers in gene ther­a­py.
"Bio­gen was for me a very good en­vi­ron­ment," Danos tells me. He says he was pleased by the trans­la­tion­al sci­ence and in­no­va­tion he found at Bio­gen. "At the same time, I re­al­ized that the fo­cus of a small­er struc­ture en­tire­ly ded­i­cat­ed to gene ther­a­py is in a way a more ef­fi­cient way to go."
"The con­cept (at Bio­gen) evolved a bit re­cent­ly," he adds. "Ba­si­cal­ly all the fo­cus in gene ther­a­py was fo­cus­ing on clin­i­cal pro­grams we had start­ed. That was ex­clud­ing the more up­stream re­search pro­grams I be­lieve are still sore­ly need­ed."
Re­genxbio start­ed out act­ing as a cen­tral ware­house for its vec­tor tech IP, help­ing get a num­ber of new com­pa­nies off the ground as they set out for the clin­ic. But then the com­pa­ny mor­phed, start­ed work on its own pipeline and went pub­lic as in­vestor in­ter­est in gene ther­a­py reached its peak.
To­day, Spark Ther­a­peu­tics is the most ad­vanced in the field, the clos­est to a pos­si­ble FDA ap­proval. But Spark and oth­ers are still grap­pling with im­mune re­spons­es and oth­er chal­lenges that high­lights the need for new ad­vances in the sci­ence.
"The name of the game has al­ways been about de­liv­ery," says Danos. "We are go­ing to keep work­ing on de­liv­ery," he adds, an­swer­ing ques­tions such as how do you de­liv­er genes to the CNS in an op­ti­mal fash­ion.
"The im­por­tant move for me oc­curred a num­ber of years ago when I de­cid­ed to shift from acad­e­mia to in­dus­try," says Danos, who's al­so the sci­en­tif­ic founder of Paris-based Lyso­gene. And while his em­ploy­er may have changed, his sci­en­tif­ic goals re­main in place.
Gene ther­a­py 2.0 is still in the lab.