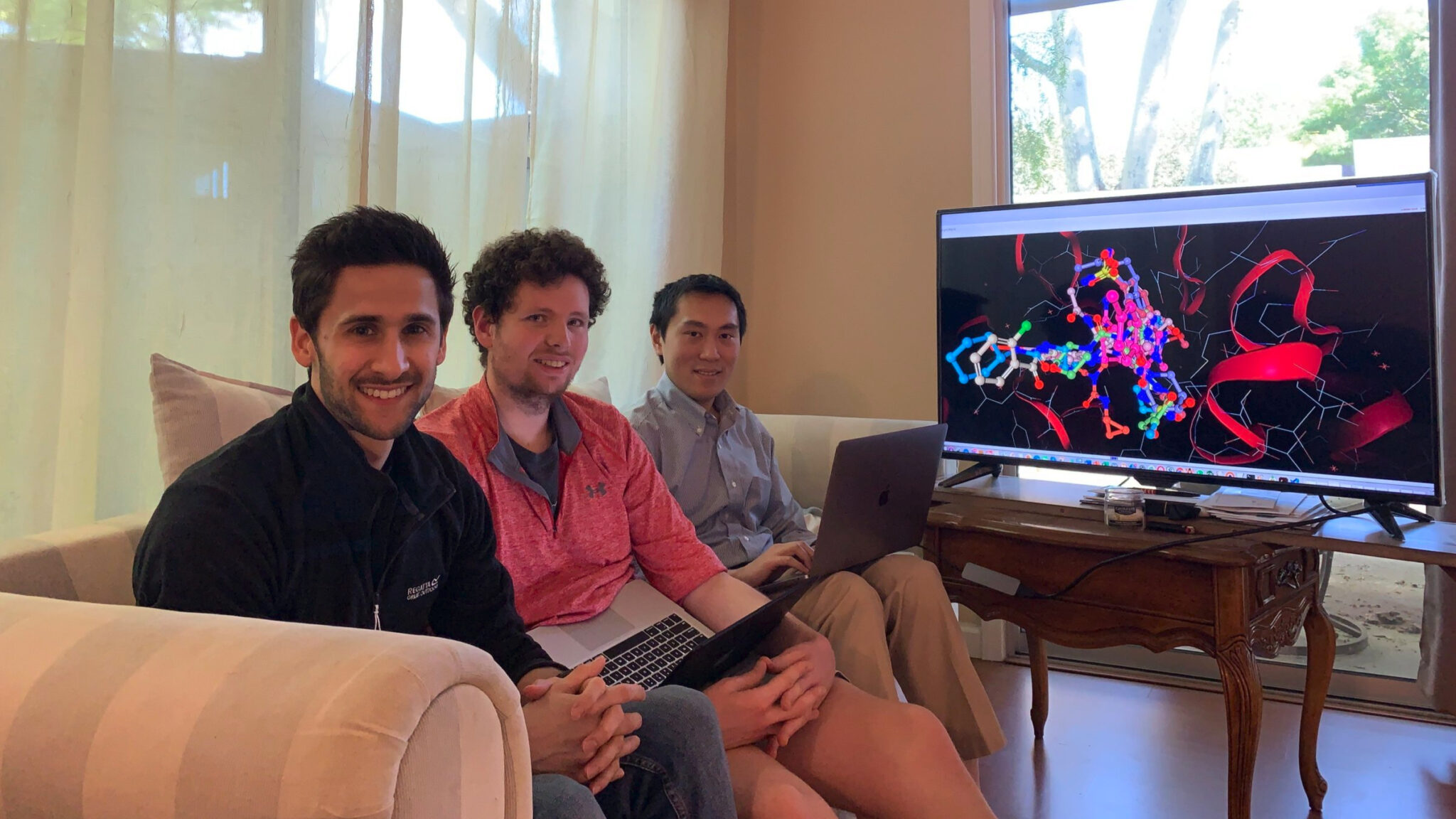 From L-R: Aaron Morris, Matt Robinson and Alpha Lee (PostEra)
A new AI start­up has emerged, and Pfiz­er likes what it sees
Aaron Mor­ris and Al­pha Lee met years ago while study­ing ap­plied math­e­mat­ics at Ox­ford Uni­ver­si­ty. They even­tu­al­ly went their sep­a­rate ways, with Mor­ris div­ing in­to ma­chine learn­ing ap­pli­ca­tions in fi­nance while Lee re­searched how it could trans­form med­i­c­i­nal chem­istry. But some­time around 2019, Mor­ris re­al­ized Lee was on­to some­thing.
"I think we sat down to­geth­er as co-founders in 2019 and said, 'I think there's a kind of suf­fi­cient sci­en­tif­ic depth here to mer­it form­ing a com­pa­ny around it,'" said Mor­ris, who's now CEO of the com­pa­ny, PostEra.
On Tues­day, Mor­ris, Lee and their co-founder Matt Robin­son un­veiled a $24 mil­lion Se­ries A round to kick things off, as well as an ex­pand­ed part­ner­ship deal with Pfiz­er that will bring in an­oth­er $13 mil­lion up­front and up to $248 mil­lion in po­ten­tial mile­stones.
While a whole slate of com­pa­nies has emerged with promis­es to trans­form the drug dis­cov­ery process us­ing AI and ma­chine learn­ing — Mer­ck signed a pair of deals with Ab­sci just last week that could add up to $610 mil­lion in ad­di­tion to roy­al­ties — PostEra thinks it has a dif­fer­en­ti­at­ed ap­proach.
If you crude­ly break down the drug dis­cov­ery process — said Lee, who's now CSO — it starts with find­ing a bi­o­log­i­cal tar­get, then it be­comes a chem­istry prob­lem where you're look­ing for safe and ef­fec­tive small mol­e­cules against that tar­get, and then it be­comes a med­ical prob­lem where you're run­ning clin­i­cal tri­als. PostEra is fo­cused square­ly on chem­istry.
"Now, with­in chem­istry, you have this very well-un­der­stood, de­sign-make-test cy­cle, which is de­sign­ing mol­e­cules, mak­ing them and test­ing them," Lee said. "And many of the com­pa­nies in the space have ad­dressed one or maybe two of these dif­fer­ent com­po­nents of med­i­c­i­nal chem­istry, but PostEra is re­al­ly the first com­pa­ny to in­te­grate all three stages to­geth­er."
Over the last 18 months, PostEra has inked sev­er­al part­ner­ships, most no­tably one with Pfiz­er back in De­cem­ber 2020. It has al­so worked on the de­vel­op­ment of an­tivi­rals in the COVID Moon­shot project, a non-prof­it, open-sci­ence con­sor­tium of sci­en­tists around the world with the goal of cre­at­ing af­ford­able and eas­i­ly-man­u­fac­tured an­tivi­rals against Covid-19.
While PostEra's first part­ner­ship with Pfiz­er was fo­cused on in­no­va­tion around ma­chine learn­ing — as op­posed to push­ing drug dis­cov­ery pro­grams in­to the clin­ic — the ex­pan­sion of that deal will now pave the way for the es­tab­lish­ment of an AI Lab, where PostEra and Pfiz­er will work to­geth­er on mul­ti­ple drug dis­cov­ery pro­grams with an ini­tial fo­cus in on­col­o­gy and Covid-19 an­tivi­rals.
The Se­ries A funds will be used to hunt for new part­ner­ships, ex­pand the com­pa­ny's cur­rent med­i­c­i­nal chem­istry plat­form, and kick off work on the com­pa­ny's own in­ter­nal tar­gets. While the team is cur­rent­ly 10-large, Mor­ris ex­pects to dou­ble it by the end of the year.
"We're re­al­ly try­ing to build a com­pa­ny here that bridges two very dif­fer­ent cul­tures," Mor­ris said. "One of them is con­strued as a kind of com­pu­ta­tion­al en­gi­neer­ing type ap­proach. And then you've got the kind of more tra­di­tion­al med­i­c­i­nal chemists, and of­ten the two are put in an an­tag­o­nis­tic re­la­tion­ship with each oth­er try­ing to prove who's bet­ter. I think what we're try­ing to build at PostEra is a new mod­ern 21st-cen­tu­ry bio­phar­ma com­pa­ny that re­spects both."