A new av­enue for di­et pill mak­ers? UC San Diego re­searchers un­cov­er root of lep­tin re­sis­tance
Let's be hon­est, the mar­ket for weight loss drugs has most­ly been bust. While the in­dus­try has moved on from the fen-phen fi­as­co of decades past, new­er di­et pills like Belviq and Qsymia have still failed to de­liv­er big sales. In the back­ground, how­ev­er, sci­en­tists con­tin­ue to un­pack the com­pli­cat­ed in­ter­nal mech­a­nisms that lead to obe­si­ty. And a team of re­searchers in San Diego say they've dis­cov­ered some­thing that might give drug­mak­ers re­newed hope.
The news comes from a col­lec­tion of re­searchers at the Uni­ver­si­ty of Cal­i­for­nia San Diego (UCSD) who just pub­lished their find­ings in Sci­ence Trans­la­tion­al Med­i­cine. In short, they say they've un­cov­ered a mol­e­c­u­lar mech­a­nism that caus­es lep­tin re­sis­tance, a well-known phe­nom­e­non con­nect­ed to obe­si­ty. In mice stud­ies, they found a high-fat di­et pro­duced an en­zyme named MMP-2. This en­zyme goes around "clip­ping" the hor­mone re­cep­tors for lep­tin on the sur­face of neu­ronal cells. If the re­cep­tor is clipped, then lep­tin nev­er binds to neu­ronal cells in the hy­po­thal­a­mus — mean­ing your brain nev­er gets the sig­nal that your bel­ly is full and you should stop eat­ing.
Cred­it: Uni­ver­si­ty of Cal­i­for­nia San Diego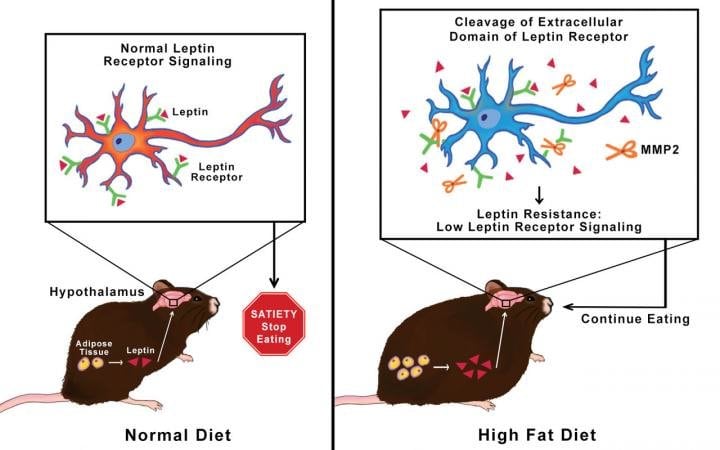 Click on the im­age to see the full-sized ver­sion
---
"We opened a new field of study for meta­bol­ic dis­ease," said Rafi Ma­zor, a re­search sci­en­tist at the UCSD and the pa­per's first au­thor. "We need to ask what oth­er path­ways, in ad­di­tion to lep­tin and its re­cep­tors, un­der­go a sim­i­lar de­struc­tive process and what the con­se­quences might be."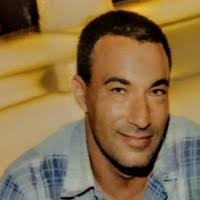 Rafi Ma­zor
Ma­zor is part of a team that in­cludes oth­er UCSD re­searchers, the Salk In­sti­tute for Bi­o­log­i­cal Stud­ies in La Jol­la, Tel Aviv Uni­ver­si­ty in Is­rael, and Monash Uni­ver­si­ty in Aus­tralia.
The team is call­ing for a large-scale clin­i­cal tri­al to see if MMP-2 in­hibitors might help peo­ple lose weight.
The study was led by Ma­zor and UCSD pro­fes­sor Geert Schmid-Schon­bein, which you can see in full here.