A new com­pa­ny en­ters the Tec­fidera fight, of­fer­ing to kill two birds
The rem­e­dy for the most com­mon side ef­fect for one of the most com­mon mul­ti­ple scle­ro­sis drugs is sim­ple: as­pirin.
Tak­ing as­pirin with Bio­gen's Tec­fidera will re­duce the flush, a some­times painful form of red skin ir­ri­ta­tion, many pa­tients ex­pe­ri­ence. The prob­lem is that the as­pirin has to be tak­en at least 30 min­utes be­fore Tec­fidera, turn­ing a sim­ple twice-a-day, one-dose oral drug in­to a stag­gered two-drug reg­i­men.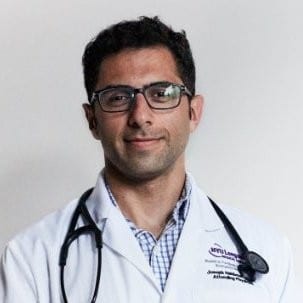 Joseph Hab­boushe
Joseph Hab­boushe watched his fa­ther strug­gle with the same is­sue for high-dose niacin, a cho­les­terol treat­ment that al­so caused a flush that could be pre­vent­ed if you on­ly took as­pirin 30 min­utes to an hour be­fore.
"Most pa­tients, they just won't do that," Hab­boushe told End­points News. "It's re­al­ly hard."
So Hab­boushe, an ER doc, en­tre­pre­neur and aca­d­e­m­ic be­gan work­ing on a way to in­te­grate the two and come up with some­thing that would give as­pirin's an­ti-flush ef­fect at the same time a pa­tient took the main med­i­cine. He filed his first patent in 2012, and to­day he's of­fi­cial­ly an­nounc­ing the com­pa­ny: Vi­tal­is Phar­ma­ceu­ti­cals.
In­for­ma­tion is scant on Vi­tal­is. The com­pa­ny has not dis­closed its in­vestors or how much mon­ey they have, and aside from an 18-per­son pi­lot study that found a 63% flush re­duc­tion, there's lit­tle da­ta to back them up. De­spite that, they're aim­ing to hit the mar­ket in 2021.
They have sev­er­al can­di­dates — in­clud­ing ones for non-opi­oid pain and dys­lipi­demia — but their main pitch is around Tec­fidera, the pill that earned Bio­gen over $4 bil­lion last year. Hab­boushe said that while he be­gan by try­ing to find a way of ward­ing off flush, he emerged with a pill he claims can not on­ly re­duce flush but al­so has bet­ter phar­ma­co­ki­net­ic prop­er­ties and can get around Bio­gen's patents.
The fu­ture of Tec­fidera — which fast beaome the num­ber-one sell­ing MS pill in the US af­ter its ap­proval in 2013 — is cloud­ed by com­peti­tors and a heat­ed patent dis­pute.
Bio­gen's patents are slat­ed to ful­ly ex­pire in 2028, but sev­er­al com­pa­nies have al­ready chal­lenged that, hop­ing to void it ear­li­er. Most no­tably, My­lan is in the midst of a court case to void the patent on the ba­sis of ob­vi­ous­ness, and in 2017, Bio­gen paid $28 mil­lion and promised more in mile­stones to Alk­er­mes to buy­out their chal­lenge.
Any change in the patent out­look would be con­se­quen­tial — both for Bio­gen and for any de­vel­op­er able to then en­ter the mar­ket. Af­ter Bio­gen dis­closed the My­lan threat in Feb­ru­ary, Leerink an­a­lyst Ge­of­frey Porges wrote that a 2020 patent ex­pi­ra­tion would be worth 10-15% Bio­gen's val­ue.
So­cial im­age: Joseph Hab­boushe, NYU Lan­gone Health