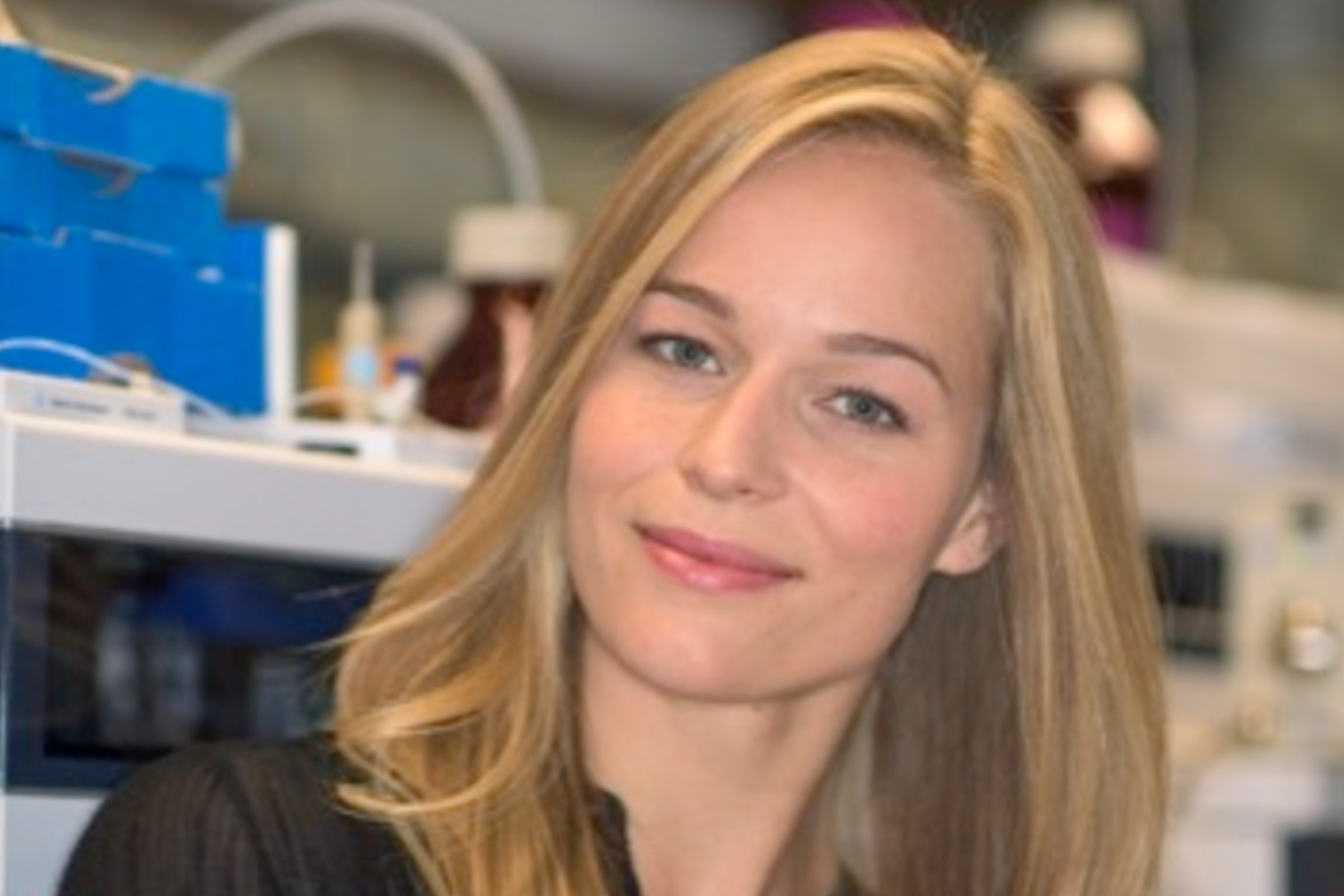 Daisy Robinton, Oviva Therapeutics co-founder and CEO
A new spin­out wades in­to ovar­i­an ag­ing, armed with a seed round and ex­per­i­men­tal drugs from Mass Gen­er­al
There aren't many biotechs em­pha­siz­ing women's health, but a new spin­out is try­ing to change that.
Ovi­va Ther­a­peu­tics, a pipeline com­pa­ny of New York-based Cam­bri­an Bio­phar­ma, emerged from stealth ear­li­er this week to dive in­to the idea of ex­tend­ing women's "healthspans," or what it says is the part of a per­son's life spent in gen­er­al­ly good health, with a spe­cif­ic fo­cus on ovaries. The emer­gence comes both with a seed fi­nanc­ing worth $11.5 mil­lion from Cam­bri­an, and an in-li­cens­ing agree­ment with Mass­a­chu­setts Gen­er­al Hos­pi­tal for a trio of patents.
Co-founder Daisy Robin­ton, a Har­vard-trained mol­e­c­u­lar bi­ol­o­gist, will helm the spin­out as CEO.
She told End­points News that she came on board with Cam­bri­an as a sci­en­tist in res­i­dence in 2020, af­ter hav­ing a chat with CEO James Pey­er about how no one fo­cus­es on the ovaries, de­spite how it's the first or­gan to de­cline with ag­ing. Robin­ton and Pey­er had known each oth­er since around 2014 due to be­ing in sim­i­lar cir­cles at con­fer­ences and the like.
"So when you think about in­ter­ven­ing on the ag­ing process, it's such an ob­vi­ous thing to do. And be­cause of the lack of re­search around fe­male phys­i­ol­o­gy, there's all this low-hang­ing fruit, so huge po­ten­tial for im­pact," Robin­ton re­called telling Pey­er in 2019, which is how she ul­ti­mate­ly start­ed at Cam­bri­an af­ter the CEO asked if she could po­ten­tial­ly build a com­pa­ny around that idea.
When Robin­ton start­ed, though, it was March 2020, right as the Covid-19 pan­dem­ic came in­to full swing. The lock­downs took her at­ten­tion away from her orig­i­nal idea un­til the late sum­mer and fall of 2020, and Ovi­va of­fi­cial­ly launched in March and April of 2021.
Ovi­va is de­vel­op­ing an agent look­ing to lim­it fol­licu­lo­ge­n­e­sis, the process where­in fol­li­cles — hairs in the ovary that each have one egg — ma­ture to ul­ti­mate­ly ovu­late. This process even­tu­al­ly leads to the de­ple­tion of most of a woman's eggs, reach­ing a low thresh­old that can sub­se­quent­ly trig­ger menopause. By lim­it­ing the process, the hope is that it can slow down de­ple­tion of the ovar­i­an re­serve, ex­tend­ing ovar­i­an func­tion and thus, the fe­male healthspan.
The first av­enue is look­ing at An­ti-Mül­ler­ian Hor­mone, or AMH — a hor­mone that plays a key role in sex dif­fer­en­ti­a­tion. This is where Ovi­va's oth­er co-founders come in, two Har­vard pro­fes­sors who work out of Mass­a­chu­setts Gen­er­al Hos­pi­tal: Pa­tri­cia Don­a­hoe and David Pépin. Don­a­hoe heads up the famed hos­pi­tal's pe­di­atric sur­gi­cal re­search lab­o­ra­to­ries, and is the Chief Emeri­ta of Pe­di­atric Sur­gi­cal Ser­vices. Pépin, an ovar­i­an phys­i­ol­o­gist, works out of the hos­pi­tal as an as­so­ciate mol­e­c­u­lar bi­ol­o­gist.
Don­a­hoe, 86, was among one of the ear­li­est re­searchers on AMH, pub­lish­ing as far back as the 1970s. While she fo­cused more on the hor­mone's role in ovar­i­an can­cer over the decades, Pépin looked at the func­tion of the AMH gene in adult women, as they ex­press AMH. The three patents ob­tained in the li­cens­ing agree­ments were de­vel­oped at MGH by Don­a­hoe and Pépin, in­clud­ing ana­log ver­sions of AMH.
As for the biotech's next steps, Robin­ton said Ovi­va is look­ing to start dis­cus­sions with the FDA lat­er this year and go straight for the IND stage with their first pro­gram, look­ing to mir­ror the el­e­va­tion of en­doge­nous AMH. As for more fi­nanc­ing, she added that it's look­ing at clos­ing a Se­ries A late this year or some­time ear­ly next year.