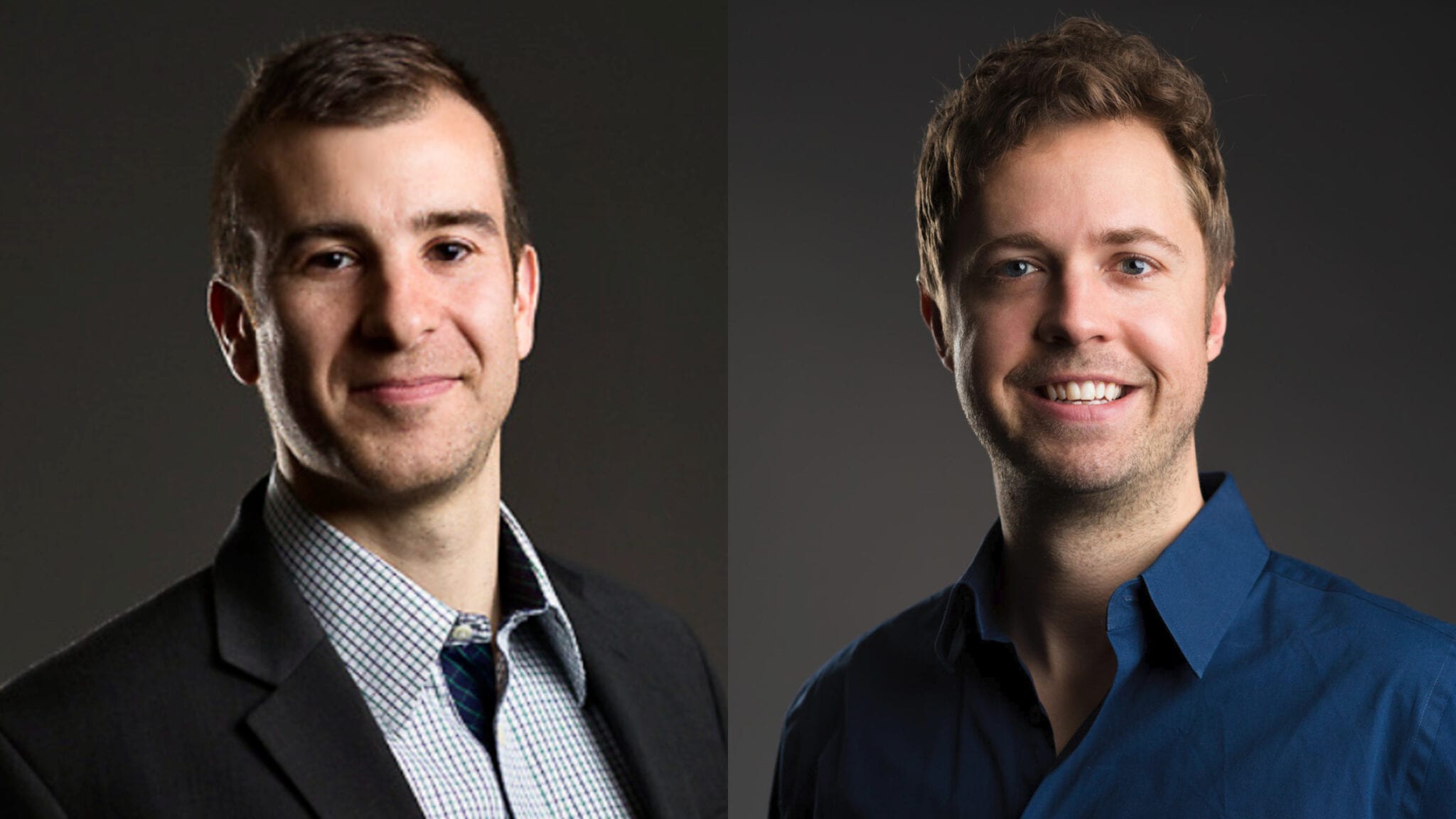 Marc Lajoie (L) and Scott Boyken (Outpace Bio)
A pair of Lyell founders look to shift the cell ther­a­py par­a­digm — and they've got $30M to get their plan off the ground
Rick Klaus­ner's Lyell has tak­en the cell ther­a­py field by storm, re­cruit­ing an All-Star team with the goal of cre­at­ing the first CAR-Ts for sol­id tu­mors. But the com­pa­ny may have been too pro­duc­tive — too good at its job — the­o­riz­ing more po­ten­tial ther­a­pies than it could han­dle alone.
As a re­sult, some of that re­search has been spun out in­to a new biotech called Out­pace Bio, with Lyell founders and for­mer co-di­rec­tors of cell and pro­tein en­gi­neer­ing Marc La­joie and Scott Boyken, get­ting things start­ed with a $30 mil­lion Se­ries A on Wednes­day. Lyell it­self is one of the lead in­vestors in the round and is al­so team­ing up with Out­pace in a col­lab­o­ra­tion for T cell ther­a­pies against sol­id tu­mors.
La­joie is tak­ing the reins as CEO with Boyken fill­ing the CSO role. The duo said they first start­ed think­ing about spin­ning out back in June, got the ini­tial op­er­a­tion up and run­ning last No­vem­ber and closed the fi­nanc­ing last month.
The quick ad­vances point to­ward an ear­ly val­i­da­tion of their ap­proach and a hefty in­vestor ap­petite for their part­ner-fo­cused busi­ness mod­el, La­joie told End­points News.
"It's not a fa­mil­iar pat­tern to a lot of in­vestors, and we're su­per hap­py with our syn­di­cate," La­joie said. "They all see the broad­er vi­sion here that re­al­ly, in or­der for cell ther­a­pies to be suc­cess­ful, we're go­ing to need to make step change in how we can pro­gram cells to be more ef­fi­ca­cious."
Out­pace's big idea is to pi­o­neer the next gen­er­a­tion of cell ther­a­pies through many dif­fer­ent ap­proach­es. One promi­nent area is in de no­vo pro­teins. Where­as pro­teins evolved over mil­lions of years to per­form spe­cif­ic func­tions, de no­vo pro­teins can be pro­grammed to ex­e­cute dif­fer­ent tasks, al­low­ing Out­pace to con­trol bi­ol­o­gy in a way that can't be done nat­u­ral­ly, Boyken said.
Some of the founders' ear­ly re­search here grabbed head­lines, earn­ing a fea­ture in the Wash­ing­ton Post two years ago — the work came from La­joie and Boyken's time in David Bak­er's lab at the Uni­ver­si­ty of Wash­ing­ton.
But de no­vo pro­tein de­sign is just one of the many tools in Out­pace's tool­box. With the in­ter­dis­ci­pli­nary team they've as­sem­bled, La­joie and Boyken hope to shift the line of thought in the cell ther­a­py field in­to one that fo­cus­es more on how cells make de­ci­sions and how they re­spond in the right way at the right time.
"Cells are the unit of co­or­di­nat­ing all func­tions, and when you have these dis­eases like can­cer and au­toim­mu­ni­ty, those are re­al­ly caused by cells mak­ing the wrong de­ci­sions," La­joie said. "What we want to be able to do is har­ness that com­plex­i­ty of cells in or­der to be able to ad­dress those prob­lems, which are re­al­ly just cells telling oth­er cells the wrong thing."
The part­ner­ship with Lyell will keep things close to the orig­i­nal fam­i­ly, but al­so gives Out­pace a promi­nent col­league as it looks to make a name on its own. By lock­ing down this col­lab­o­ra­tion and al­so fo­cus­ing on fu­ture team ups, it lets the biotech "cov­er a lot of ground sci­en­tif­i­cal­ly," La­joie not­ed.
Here, they'll be hon­ing in on the bi­ol­o­gy of cy­tokines, shoot­ing for im­proved ef­fi­ca­cy in can­cer while try­ing to avoid the tox­i­c­i­ty that comes with it. Out­pace is still work­ing on in­ter­nal pipeline de­vel­op­ment, which La­joie says will pro­vide the foun­da­tion of its part­ner­ship mod­el.
And it's that mod­el where Out­pace sees the field go­ing in the fu­ture.
"We re­al­ly think that this tech­nol­o­gy and this mod­el is re­al­ly need­ed for the cell ther­a­py space right now," Boyken said. "In ad­di­tion to the Lyell part­ner­ships, all the con­ver­sa­tions we've been hav­ing as well as our ini­tial Se­ries A has re­al­ly proved that that is the case. And we feel re­al­ly val­i­dat­ed that this is a mod­el that's go­ing to work."
In ad­di­tion to Lyell, Wednes­day's round was al­so led by AR­TIS Ven­tures. Ad­di­tion­al par­tic­i­pa­tion came from Ab­stract Ven­tures, Civ­i­liza­tion Ven­tures, Mubadala Cap­i­tal, Play­ground Glob­al, Sah­sen Ven­tures, and WRF Cap­i­tal.