A spot­light schiz­o­phre­nia drug in Neu­ro­crine's $2B Take­da deal flunks its first ma­jor test. But it's not giv­ing up yet
When Take­da spun out a pipeline of ex­per­i­men­tal psy­chi­a­try drugs to Neu­ro­crine in a $2 bil­lion deal amid a post-merg­er shake­out, R&D chief Andy Plump de­scribed the ther­a­pies as "very in­ter­est­ing but still dif­fi­cult."
On Tues­day, we got some idea of how dif­fi­cult.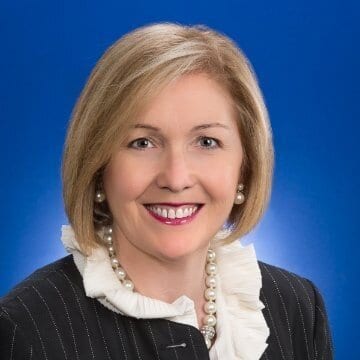 Eiry Roberts
San Diego-based Neu­ro­crine re­vealed that one of the three spot­light clin­i­cal pro­grams they'd ac­quired failed the pri­ma­ry end­point in a Phase II tri­al for schiz­o­phre­nia, reg­is­ter­ing a neg­a­tive out­come on the change from base­line in the pos­i­tive and neg­a­tive syn­drome scale/neg­a­tive symp­tom fac­tor score (PANSS NS­FS).
CMO Eiry Roberts not­ed the IN­TER­ACT study, which en­rolled 256 pa­tients and test­ed three dos­ing lev­els of lu­vadax­i­s­tat in a place­bo-con­trolled set­ting, was "well-de­signed and ex­e­cut­ed" — leav­ing lit­tle room to ma­neu­ver in that end­point. The PANSS score is de­signed to as­sess sever­i­ty of schiz­o­phre­nia symp­toms.
From RBC an­a­lyst Bri­an Abra­hams:
Our sense is that the miss on the pri­ma­ry end­point, the PANSS neg­a­tive score, was like­ly due to a true lack of ef­fi­ca­cy, rather than any con­duct is­sues such as base­line im­bal­ances, glob­al site vari­abil­i­ty or high place­bo ef­fect, though the com­pa­ny has not yet com­plet­ed full analy­sis of PK char­ac­ter­i­za­tion (re­call there is a mod­est food ef­fect). The com­pa­ny is not re­port­ing whether there were any no­table trends or dose de­pen­dent sig­nals, sug­gest­ing there like­ly were none.
There is, though, still a sil­ver lin­ing. The drug — al­so known as TAK-831 — met the sec­ond end­points as­sess­ing cog­ni­tive per­for­mance, and the side ef­fects ap­peared con­sis­tent with pre­vi­ous stud­ies.
All of that backs fur­ther clin­i­cal work with the help of Take­da, Roberts added.
Neu­ro­crine had put down $120 mil­lion up­front to get its hands on a pack­age of three clin­i­cal-stage drugs, plus four more pre­clin­i­cal ther­a­pies. Take­da is then in line for $495 mil­lion in de­vel­op­ment mile­stones plus $1.4 bil­lion in com­mer­cial goal cash as well as roy­al­ties. Or it can trade in some of those mile­stones in fa­vor of a 50:50 prof­it share — should it choose to opt-in.
The deal marked one of the last steps of a ma­jor R&D re­org at Take­da, which was look­ing to shed some weight and earn some cash af­ter pay­ing $62 bil­lion to merge with Shire.
And the turn to fo­cus on sec­ondary end­points was an op­tion baked in­to the lu­vadax­i­s­tat pro­gram, ex­ecs told Stifel an­a­lyst Paul Mat­teis.
"(A)t the out­set of this pro­gram, Take­da had been de­bat­ing on whether to de­vel­op in schiz­o­phre­nia neg­a­tive symp­toms or cog­ni­tion, so a sig­nal on the lat­ter does align with some of the orig­i­nal sci­en­tif­ic hy­pothe­ses," he wrote, adding that they al­so em­pha­sized "cog­ni­tive im­pair­ment in schiz­o­phre­nia is a big un­met need and worth pur­su­ing. That said, there's al­so a lot of opac­i­ty here and ze­ro da­ta to an­a­lyze, so while the sec­ondary end­point sig­nal seems in­ter­est­ing and may cush­ion the hit to the stock, it will take a full pre­sen­ta­tion/pub­li­ca­tion to re­al­ly un­der­stand the prospects of '831."
Shares in Neu­ro­crine $NBIX end­ed up falling 7.05% to $101.71.
We will have to wait for the da­ta. The com­pa­ny says it's eval­u­at­ing the re­sults to de­ter­mine the next steps.
Kevin Gor­man, Neu­ro­crine CEO