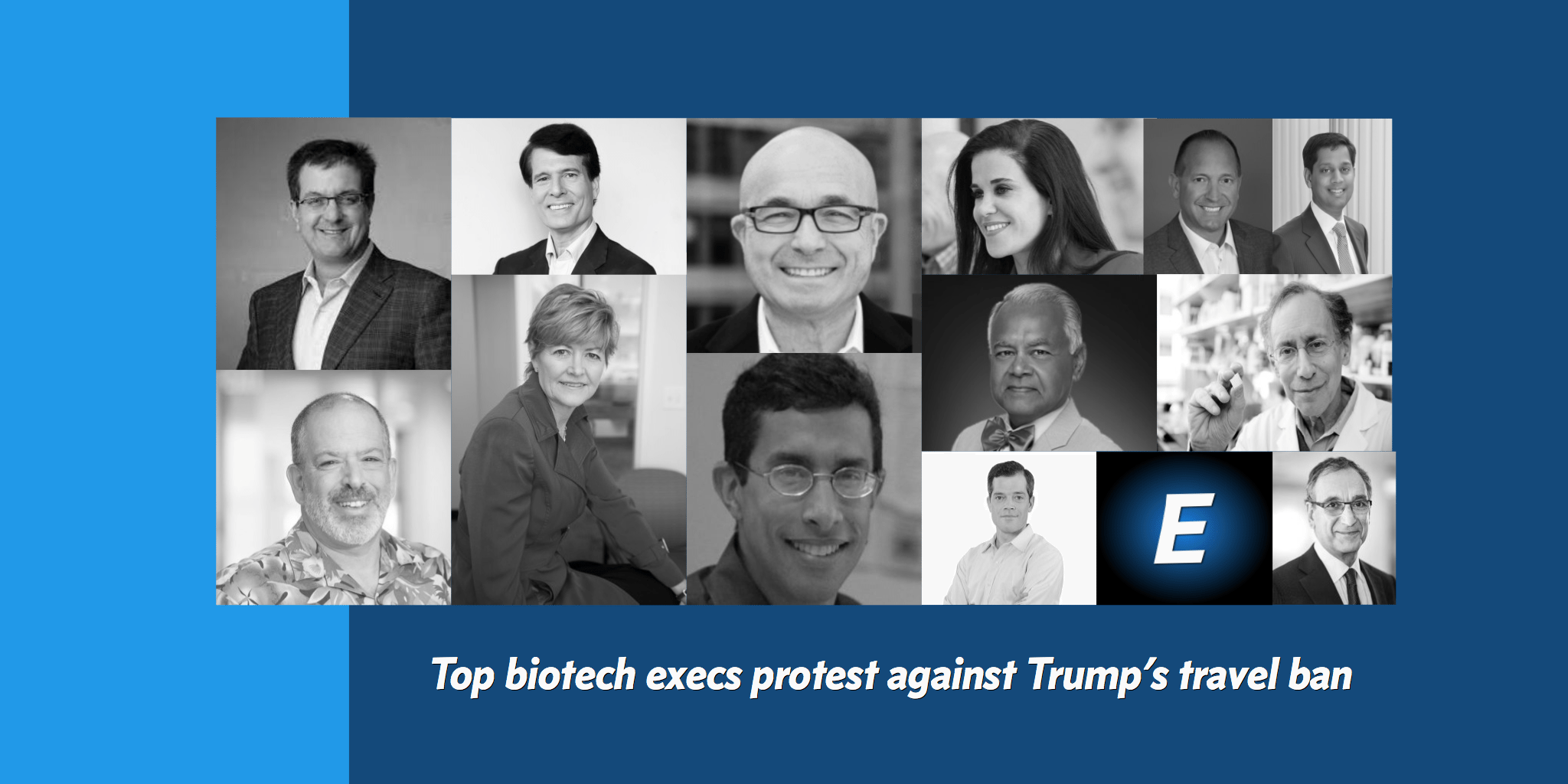 A swarm of top biotech ex­ecs protest against Trump's trav­el ban, say­ing it threat­ens the en­tire in­dus­try
The re­ac­tion against Pres­i­dent Trump's de­ci­sion to ban trav­el from 7 pre­dom­i­nant­ly Mus­lim na­tions drew an in­stant re­ac­tion from the biotech world, gain­ing a quick thumbs-down from a large ma­jor­i­ty of the hun­dreds of in­dus­try ex­ec­u­tives we've been in touch with.
Now the biotech op­po­si­tion is get­ting or­ga­nized.
In a let­ter pub­lished in Na­ture Biotech­nol­o­gy this morn­ing, 166 biotech ex­ecs lev­eled a blast at Trump's trav­el ban, now stayed at least tem­porar­i­ly by a court rul­ing, say­ing that it strikes at the heart of the in­dus­try's abil­i­ty to re­cruit the best and bright­est staff from all over the world while rais­ing deep seat­ed fears among all their staffers from out­side the US.
The let­ter was signed by a long line­up of high-pro­file ex­ec­u­tives drawn from the CEO suite, ven­ture cap­i­tal and acad­e­mia, in­clud­ing Herve Hop­penot, the French CEO of Delaware-based In­cyte, George Scan­gos, the for­mer Bio­gen CEO who's now lead­ing a start­up, and MIT's Bob Langer, a se­r­i­al biotech en­tre­pre­neur with more than 30 star­tups to his cred­it.
"If this mis­guid­ed pol­i­cy is not re­versed," they say, "Amer­i­ca is at risk of los­ing its lead­er­ship po­si­tion in one of its most im­por­tant sec­tors, one that will shape the world in the twen­ty-first cen­tu­ry."
The let­ter un­der­scores the groundswell of op­po­si­tion in the in­dus­try to the ban. It al­so high­lights a grow­ing di­vide be­tween the ex­ec­u­tives who lead this field and BIO, the in­dus­try or­ga­ni­za­tion which lob­bies on their be­half. So far BIO has stayed mum about the trav­el ban.
(Ed­i­tor's note: Late on Tues­day I re­ceived the fol­low­ing state­ment from BIO Chair Ron Co­hen and three board mem­bers, Je­re­my Levin, John Maraganore and Paul Hast­ings, tak­ing ex­cep­tion to that re­mark about BIO.

"We did want to high­light an in­ac­cu­ra­cy in your re­port re­gard­ing spec­u­la­tion that the let­ter re­flects a "grow­ing rift" be­tween BIO and its CEO and com­pa­ny mem­bers. There is no such rift, grow­ing or oth­er­wise; we are choos­ing to speak out on the ban as in­dus­try lead­ers, not as a trade as­so­ci­a­tion. This is not dis­sim­i­lar to how tech in­dus­try CEOs, not their trade as­so­ci­a­tion, have spo­ken out on this mat­ter. In­deed, we be­lieve that BIO is an es­sen­tial or­ga­ni­za­tion for the well-be­ing of our in­dus­try, which is why we all de­vote con­sid­er­able time out of our busy sched­ules to its ac­tiv­i­ties."

My re­ply: Si­lence is a po­si­tion, and it's marked­ly dif­fer­ent from what ex­ecs, in­clud­ing these board mem­bers, have ex­pressed.)
Most of the top CEOs of the Big Phar­ma com­pa­nies, many of whom have been lob­by­ing for tax re­form that would al­low them to repa­tri­ate bil­lions of dol­lars in re­serves held over­seas, have al­so stayed qui­et on this is­sue. But there was at least one ex­cep­tion to the Big Phar­ma rule of si­lence — aside from Al­ler­gan CEO Brent Saun­ders.
"Sci­ence doesn't have any bor­ders, so any­thing that gets in the way of a bor­der­less sci­ence ex­change doesn't help," said As­traZeneca CEO Pas­cal So­ri­ot, quot­ed to­day by Bloomberg. The UK-based phar­ma gi­ant has re­search and man­u­fac­tur­ing sites in Mass­a­chu­setts and Mary­land. "We want to be able to move our peo­ple and our sci­en­tists around the world."
The Bloomberg sto­ry al­so rais­es con­cerns that the Trump ad­min­is­tra­tion's fo­cus on the H-1B visa pro­gram used to bring in sci­en­tists from around the world could be al­tered, mak­ing it hard­er to re­cruit abroad.
Here's a por­tion of the let­ter:
The Unit­ed States has led the world in med­i­cine pro­duc­tion for decades, not on­ly be­cause of its abil­i­ty to fi­nance drug dis­cov­ery, but al­so be­cause, more than any oth­er coun­try, the Unit­ed States rep­re­sents op­por­tu­ni­ty re­gard­less of bor­ders, gen­der, race, sex­u­al ori­en­ta­tion or po­lit­i­cal cast. This has en­abled our in­dus­try to at­tract the best tal­ent, wher­ev­er it is found. This as­pect of our in­dus­try is a core rea­son the Unit­ed States has built its unique strength in bio­phar­ma­ceu­ti­cals.

At a stroke, the new ad­min­is­tra­tion has com­pro­mised years of in­vest­ment in this na­tion­al trea­sure. Our col­leagues who are here on visas or are in glob­al out­posts are now fear­ful and un­cer­tain of their sta­tus. Sci­en­tists based in oth­er coun­tries and em­ployed by our com­pa­nies are afraid to come to the Unit­ed States or are can­cel­ing trips. The par­ents and fam­i­lies of im­mi­grants who live and work in the Unit­ed States are re­luc­tant to at­tempt to trav­el to and from the US.

Though the ban from the Trump ad­min­is­tra­tion is aimed at sev­en coun­tries, our glob­al em­ploy­ees in­ter­pret the un­der­ly­ing mes­sage as, "Amer­i­ca is no longer wel­com­ing of any im­mi­grants, what­so­ev­er." They fear sim­i­lar or­ders could be is­sued for oth­er coun­tries at a mo­ment's no­tice. They fear be­ing stig­ma­tized and dis­crim­i­nat­ed against, sim­ply be­cause of their re­li­gion, ir­re­spec­tive of the na­tion they come from. Sev­er­al among us have heard from em­ploy­ees about their de­por­ta­tion fears, how they do not feel com­fort­able leav­ing the coun­try on busi­ness or how they now feel cut off from their fam­i­ly abroad.

Every na­tion has the right to de­ter­mine who comes across its bor­ders. Every na­tion needs to be vig­i­lant in de­fend­ing it­self against and hunt­ing down ter­ror­ists. The ac­tions tak­en by the Trump ad­min­is­tra­tion, how­ev­er, were poor­ly con­ceived and im­ple­ment­ed; they have raised deep fears and con­cerns across the biotech in­dus­try, in which di­ver­si­ty and the free flow of ideas and peo­ple have cre­at­ed an Amer­i­can pow­er­house of med­i­cine.

If this mis­guid­ed pol­i­cy is not re­versed, Amer­i­ca is at risk of los­ing its lead­er­ship po­si­tion in one of its most im­por­tant sec­tors, one that will shape the world in the twen­ty-first cen­tu­ry. In­deed, it will harm an in­dus­try dom­i­nat­ed by small­er com­pa­nies and star­tups, the very kind of in­dus­try the ad­min­is­tra­tion has said it wants to sup­port. It will slow the fight against the many dis­eases that af­flict us, as well as car­ry neg­a­tive eco­nom­ic con­se­quences for the Unit­ed States.
You can find a PDF with the list of ex­ec­u­tives who signed the let­ter here: Im­mi­gra­tion Let­ter Sig­na­tures