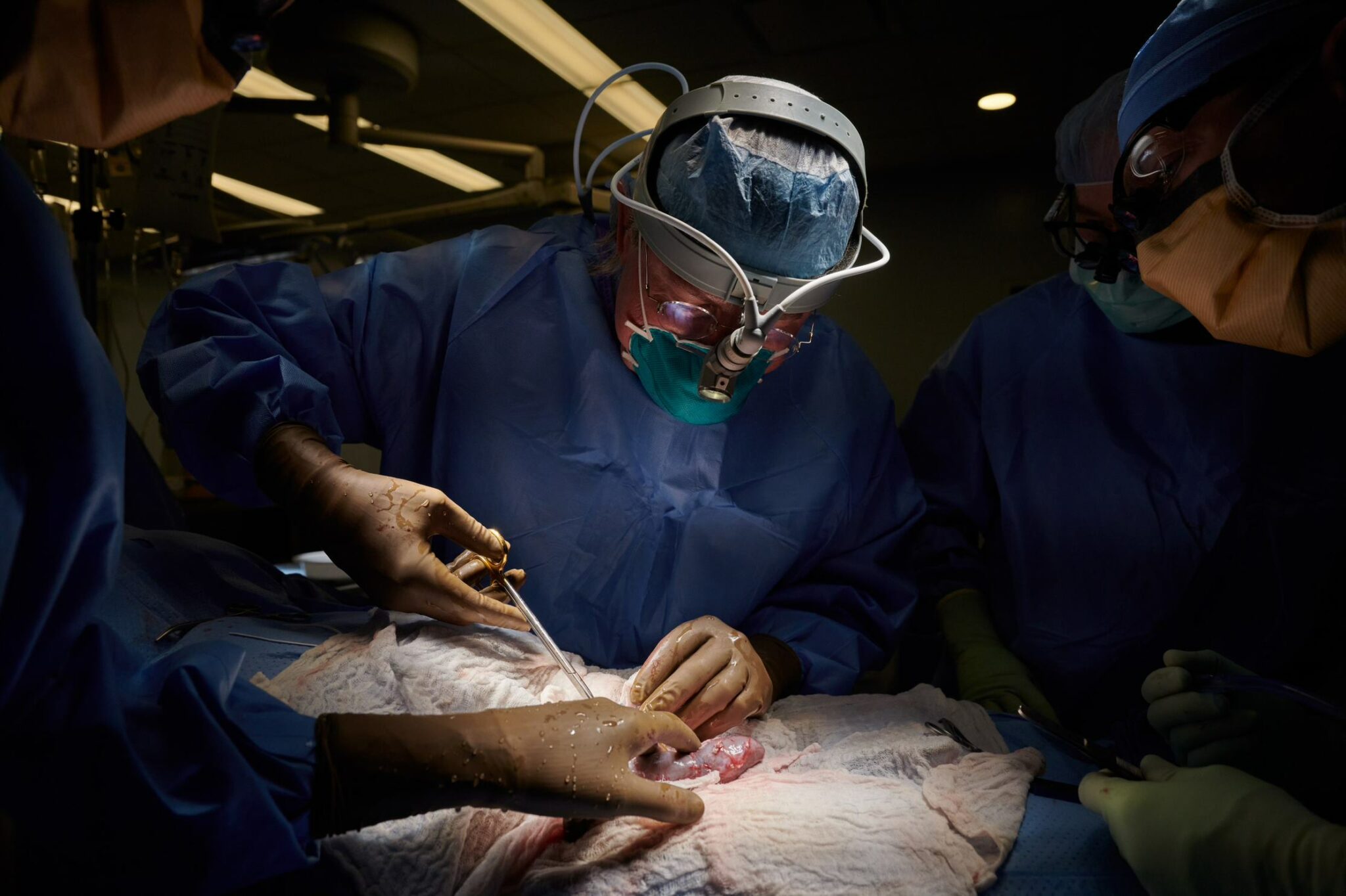 NYU surgeon transplants an engineered pig kidney into the outside of a brain-dead patient (Joe Carrotta/NYU Langone Health)
A virus may have dri­ven the death of the first pa­tient to re­ceive a ge­net­i­cal­ly mod­i­fied pig heart
Doc­tors may be clos­ing in on an an­swer for why the first hu­man trans­plant­ed with a ge­net­i­cal­ly mod­i­fied pig heart died last month, around 60 days af­ter the pro­ce­dure. If ac­cu­rate, it may amount to an un­forced er­ror at one of the most sen­si­tive mo­ments in mod­ern med­ical his­to­ry.
At a we­bi­nar last month, Bart­ley Grif­fith, the sur­geon who per­formed the pro­ce­dure, re­vealed that the heart pa­tient, 57-year-old David Ben­nett, was in­fect­ed with a pig virus called porcine cy­tomegalovirus, or pCMV.
MIT Tech­nol­o­gy Re­view first re­port­ed late Wednes­day on the we­bi­nar and the de­bate it set off among trans­plant ex­perts.
Al­though the virus is com­mon in pigs and gen­er­al­ly on­ly trig­gers symp­toms in very young pigs, it has pre­vi­ous­ly been linked to poor out­comes when re­searchers trans­plant­ed pig hearts with the in­fec­tion in­to ba­boons.
Grif­fith em­pha­sized they still aren't sure that the porcine virus con­tributed to Ben­nett's death, but he pre­sent­ed ev­i­dence that it set off an ul­ti­mate­ly fa­tal cas­cade. It's par­tic­u­lar­ly no­table be­cause pigs de­vel­oped for hu­man trans­plants are sup­posed to be kept in com­plete­ly pathogen-free fa­cil­i­ties and test­ed for the pres­ence of such in­fec­tions.
When they first no­ticed low lev­els of the virus in the heart af­ter trans­plant, Grif­fith said, they thought it might be an er­ror.
"We thought maybe that lit­tle bit didn't mean any­thing, that it was prob­a­bly an er­ror," he said. "Our donor heart was al­leged­ly free of CMV."
Jay Fish­man, a trans­plant spe­cial­ist at Mass Gen­er­al, told Tech­nol­o­gy Re­view that it ap­peared the virus drove his death. And Joachim Den­ner of the In­sti­tute of Vi­rol­o­gy at the Free Uni­ver­si­ty of Berlin, who led the ba­boon study show­ing the risk of pCMV in pig-to-hu­man trans­plants, told the out­let the same.
Den­ner added that, al­though CMV is hard to de­tect, it could have been found pri­or to the trans­plant with bet­ter test­ing. He ar­gued, how­ev­er, that the virus was not sole­ly to blame — Ben­nett was very ill — and the pro­ce­dure was still a suc­cess. Ear­ly at­tempts at an­i­mal-to-hu­man trans­plants last­ed mere hours.
The virus is not con­sid­ered to be trans­mis­si­ble to hu­mans.
Tech­nol­o­gy Re­view said Re­vivi­cor, the biotech that de­vel­oped Ben­nett's heart, de­clined to com­ment. The com­pa­ny, a sub­sidiary of Unit­ed Ther­a­peu­tics, has re­mained large­ly qui­et even as or­gans from its pigs have been used in a se­ries of head­line-grab­bing pro­ce­dures.
Grif­fith al­so point­ed to oth­er is­sues that could have im­pact­ed Ben­nett's sur­vival, in­clud­ing mis­steps from the trans­plant team. They gave him an­ti­bod­ies from donor blood twice that were lat­er shown to con­tain an­ti-pig an­ti­bod­ies and may have dam­aged his heart.
The doc­tor's at­tempts to treat the in­fec­tion with an old AIDS drug failed, but Grif­fith ar­gued that, if pCMV in­deed drove his death, it bodes well for the fu­ture of xeno­trans­plan­ta­tion, as Re­vivi­cor, a Har­vard spin­out called eGe­n­e­sis and oth­er com­pa­nies push to launch the world's first pig-to-hu­man clin­i­cal tri­als.
If Ben­nett's im­mune sys­tem had re­ject­ed the heart as for­eign, it would be un­clear to re­searchers how to pro­ceed and whether the pigs might need ad­di­tion­al ge­net­ic mod­i­fi­ca­tions to make them com­pat­i­ble. Virus­es, though, can be de­tect­ed.
"If this was an in­fec­tion, we can like­ly pre­vent it in the fu­ture," Grif­fith said.