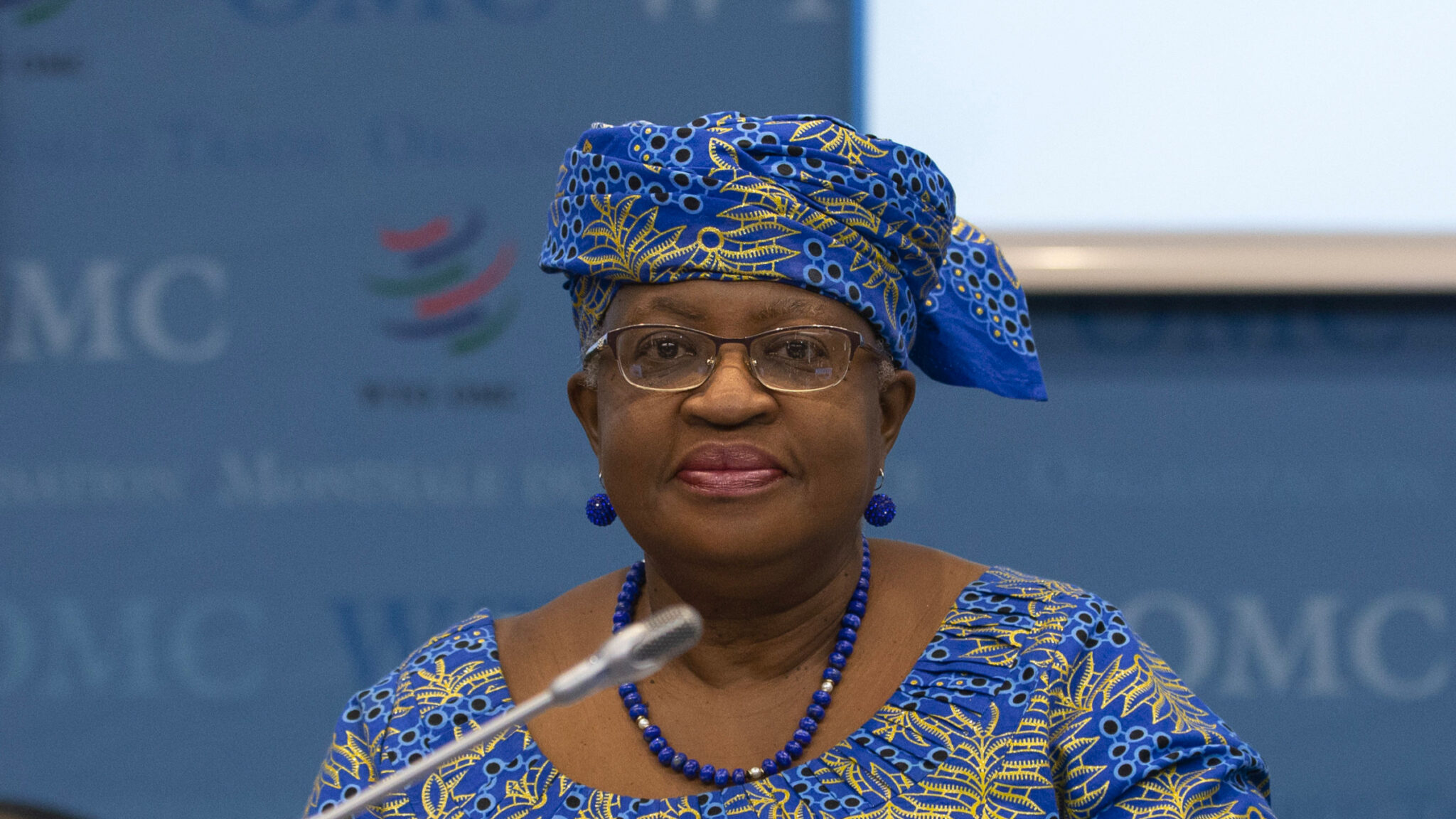 Ngozi Okonjo-Iweala, WTO Director-General (Salvatore Di Nolfi/Keystone via AP Images)
A wa­tered-down Covid-19 vac­cine IP waiv­er nears the fin­ish line: Will it ac­tu­al­ly ex­pand sup­plies?
The US, EU, In­dia, and South Africa have forged at least a pre­lim­i­nary agree­ment around an in­tel­lec­tu­al prop­er­ty (IP) waiv­er at the World Trade Or­ga­ni­za­tion — a move the four coun­tries hope will help oth­ers at­tain more Covid-19 vac­cine sup­plies, even as ad­vo­cates have said the waiv­er won't do much.
The waiv­er, ac­cord­ing to a leaked draft ver­sion, will ap­ply to any de­vel­op­ing coun­try par­tic­i­pat­ing in the WTO that ex­port­ed less than 10% of the world's Covid-19 vac­cine dos­es in 2021 (i.e., not Chi­na or Rus­sia, but In­dia could use it).
But it will be lim­it­ed to patents, and not in­clude oth­er trade se­crets, and it will on­ly cov­er vac­cines for now, and not ther­a­peu­tics or tests. But six months af­ter the vac­cine IP waiv­er takes ef­fect, the plan says that WTO mem­bers will de­cide on whether it should be ex­tend­ed to cov­er di­ag­nos­tics and ther­a­peu­tics too.
Those ad­vo­cat­ing for the waiv­er from the start did not of­fer much sup­port for this lat­est plan.
"This is not a vic­to­ry for vac­cine eq­ui­ty," Tahir Amin, an IP lawyer and co-founder of the Ini­tia­tive for Med­i­cines, Ac­cess & Knowl­edge, tweet­ed, adding to End­points News:
So it ap­pears this 'com­pro­mise' in­cludes things the US were against as well as the EU. They have both squeezed the ne­go­ti­a­tion space of South Africa and In­dia to ac­cept a half baked so­lu­tion. I would em­pha­size this is not a TRIPS waiv­er in the full sense as hoped. It re­flects the pow­er dy­nam­ics that the Glob­al North coun­tries have and how the rules of the WTO are stacked against the Glob­al South in pan­demics and oth­er­wise.
"It does not do much that you can't al­ready do," KEI founder and IP waiv­er and com­pul­so­ry li­cense ad­vo­cate Jamie Love told End­points.
Non­prof­it ad­vo­ca­cy org Pub­lic Cit­i­zen al­so said in a state­ment that this pro­pos­al would help no one "but the floun­der­ing WTO and should be re­ject­ed." The group not­ed key lim­i­ta­tions, in­clud­ing "the pro­pos­al ap­pears to cov­er on­ly vac­cines (not tests and treat­ments), cov­er on­ly patents (not oth­er im­por­tant in­tel­lec­tu­al prop­er­ty bar­ri­ers), be lim­it­ed ge­o­graph­i­cal­ly, and fur­ther un­der­mine cur­rent WTO flex­i­bil­i­ties for com­pul­so­ry li­cens­es."
My quick, over­all take is that deal pro­vides clar­i­ty & mod­est ad­vances be­yond what could al­ready be done on a coun­try-by-coun­try ba­sis un­der ex­ist­ing TRIPS flex­i­bil­i­ties

But it comes very late in pan­dem­ic, when world is much less sup­ply con­strained
5/5https://t.co/PvvKR­jfG0j

— Tom Bol­lyky (@TomBol­lyky) March 16, 2022
Bio­phar­ma in­dus­try groups were sim­i­lar­ly unim­pressed, with the IF­P­MA urg­ing the WTO that bio­phar­ma com­pa­nies "reaf­firm their po­si­tion that weak­en­ing patents now when it is wide­ly ac­knowl­edged that there are no longer sup­ply con­straints of COVID-19 vac­cines, sends the wrong sig­nal."
Di­rec­tor-Gen­er­al Ngozi Okon­jo-Iweala al­so cau­tioned that not all of the fi­nal de­tails have been ironed out.
"In the WTO we de­cide by con­sen­sus, and this has not yet been achieved. My team and I have been work­ing hard for the past three months and we are ready to roll up our sleeves again to work to­geth­er with the TRIPS Coun­cil Chair Am­bas­sador Lansana Gberie (Sier­ra Leone) to bring about a full agree­ment as quick­ly as pos­si­ble," she said in a state­ment.