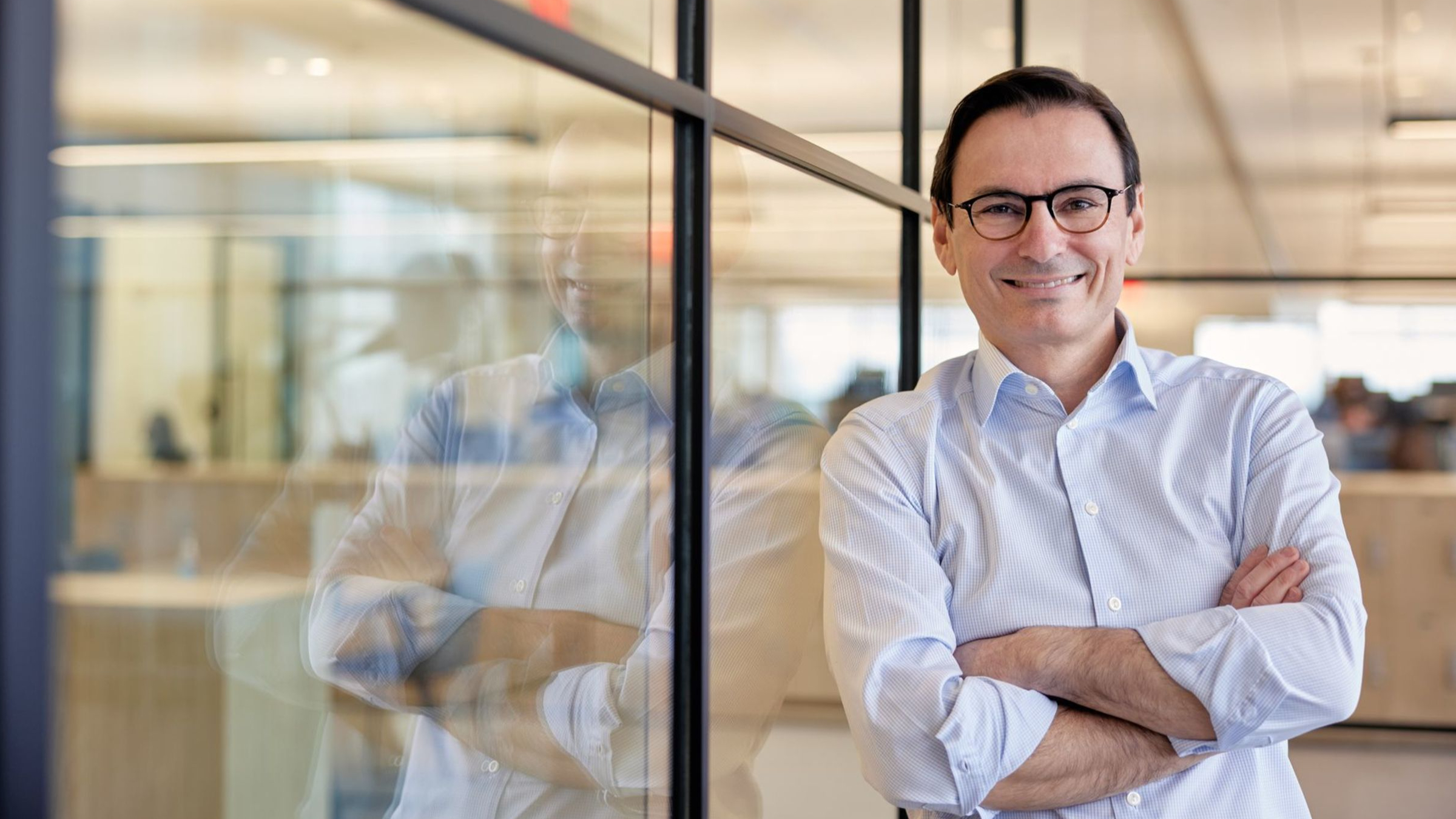 Fabrice Chouraqui, Cellarity CEO
A year and a half af­ter Cel­lar­i­ty raised $123M, the Flag­ship biotech is back — and it's ready to pick out can­di­dates
Cel­lar­i­ty doesn't have any lead can­di­dates yet. It doesn't even have a pub­lic pipeline.
But it's still at­tract­ing new in­vestors. In a third round of fi­nanc­ing an­nounced this morn­ing, Cel­lar­i­ty raised $121 mil­lion — just $2 mil­lion short of its last round — and brought on four new in­vestors, in­clud­ing Ky­owa Kirin and Han­wha Im­pact Part­ners.
Flag­ship, where the start­up was first con­ceived, al­so par­tic­i­pat­ed in the lat­est round. Most of its oth­er for­mer in­vestors re­turned as well, Cel­lar­i­ty CEO Fab­rice Chouraqui told End­points News, though he would not dis­close which ones.
Since its last round in Feb­ru­ary of last year, Cel­lar­i­ty has made progress on a num­ber of fronts, said Chouraqui, a No­var­tis vet. Most sig­nif­i­cant­ly, the biotech is poised to se­lect its first drug can­di­date in the near fu­ture.
They've iden­ti­fied com­pounds for their me­tab­o­lism and hema­tol­ogy pro­grams — though Chouraqui wouldn't say what in­di­ca­tions ex­act­ly — and test­ed them in cells and non-hu­man pri­mates. And with ad­di­tion­al cash in hand, "the goal will be to nom­i­nate our first drug can­di­dates and then progress our pipeline to­wards the clin­ic," he said.
But Chouraqui couldn't say ex­act­ly when that would hap­pen. "We are in white space," Chouraqui said, "It's un­chart­ed ter­ri­to­ry — there is no play­book — and that's why I couldn't an­swer some of your ques­tions about tim­ing."
Cel­lar­i­ty is built around a non-tra­di­tion­al drug de­vel­op­ment ap­proach. Rather than look­ing for tar­gets, and then drugs that mod­i­fy said tar­gets, its tech­nol­o­gy ex­am­ines the en­tire cell sys­tem. The goal? To go from a dis­eased cell state to a healthy one.
Cel­lar­i­ty's plat­form be­gins by map­ping out the changes that hap­pen when cells go from healthy to dis­eased. Then, it pre­dicts what com­pounds can change a cell back from dis­eased to healthy.
The ap­proach gen­er­ates vast amounts of da­ta that is processed through ma­chine learn­ing. In or­der to look at changes to the whole cell state, Cel­lar­i­ty's plat­form main­ly us­es tran­scrip­tomics — da­ta on all the RNA tran­scripts pro­duced in a cell.
But with its new fund­ing, that could change too. Chouraqui said Cel­lar­i­ty is look­ing to add oth­er 'omics' da­ta, such as pro­teomics (all the pro­teins ex­pressed in a cell), to its plat­form. But he said what kind of da­ta are added would dif­fer from case to case.
Cel­lar­i­ty is one of a hand­ful of biotechs run­ning with a 'tar­get-ag­nos­tic' ap­proach. Just a few days ago, sci­en­tists from Har­vard's Wyss In­sti­tute launched their own biotech that al­so us­es RNA da­ta to an­a­lyze cell states, but their plat­form is fo­cused on CNS dis­eases. The first in­di­ca­tion they're tack­ling is Rett syn­drome.
Cel­lar­i­ty, which al­so has grown from 40 to 120 em­ploy­ees, may al­so look to fur­ther ex­pand with its new fund­ing. "Ex­pan­sion will be more around de­vel­op­ing new ca­pa­bil­i­ties as our pipeline pro­gress­es as op­posed to ex­pand­ing what we have," Chouraqui said.
Un­sur­pris­ing­ly, as it inch­es to­ward the clin­ic, one of the ar­eas Cel­lar­i­ty will be look­ing to form a new team around is trans­la­tion­al sci­ences.
With its lat­est round, Cel­lar­i­ty has raised $274 mil­lion to date, in­clud­ing $30 mil­lion from its first round and $123 mil­lion in its sec­ond one.