#AACR18 round 1: Mer­ck takes a di­rect swing at Bris­tol-My­ers with ad­ju­vant melanoma da­ta for Keytru­da
CHICA­GO — Mer­ck $MRK came out of its cor­ner swing­ing Sun­day morn­ing, tak­ing a few di­rect jabs at the de­fend­ing cham­pi­on in check­point in­hi­bi­tion as the phar­ma gi­ant en­tered the lat­est I/O ti­tle fight with Bris­tol-My­ers Squibb $BMY at the an­nu­al meet­ing of AACR in Chica­go.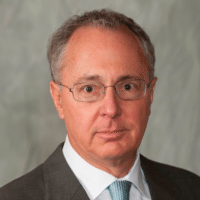 Roger Perl­mut­ter, Mer­ck
Re­searchers for Mer­ck were in Chica­go for the cur­tain open­er in what promis­es to be a bruis­ing brawl be­tween the lead­ers in the PD-1 field over a mar­ket one an­a­lyst has said is worth $3 bil­lion.
In KEYNOTE-054, Mer­ck de­ter­mined that 18 dos­es of Keytru­da pushed post-surgery pa­tients with stage 3 melanoma to a re­cur­rence-free rate of 75.4% com­pared to 61% for a com­par­i­son group get­ting a place­bo. A 43% drop in re­cur­rence rate was some­thing Mer­ck tout­ed as a ma­jor ad­vance for pa­tients.
Mer­ck is look­ing to carve away mar­ket share from Bris­tol-My­ers any way it can. And they'll have their work cut out in Stage 3 melanoma. Bris­tol-My­ers won an ap­proval to use Yer­voy in this group three years ago, and fol­lowed up with an OK for Op­di­vo last year, mak­ing them the go-to play­er for ad­ju­vant ther­a­py.
Mer­ck, though, didn't hes­i­tate to make its case in their out­line of the re­sults Sun­day morn­ing. Yer­voy, they note, is no­to­ri­ous­ly tox­ic for pa­tients, who may well pre­fer an al­ter­na­tive. And Op­di­vo? They have an ar­gu­ment there as well.
"Nivolum­ab was more ef­fec­tive and had few­er side ef­fects than ip­il­i­mum­ab, but it is giv­en at a dose of 3 mil­ligrams per kilo­gram every two weeks for up to a year, which is 26 dos­es in to­tal," not­ed Alexan­der Eg­ger­ment, di­rec­tor gen­er­al of Gus­tave Roussy Can­cer Cam­pus Grand Paris, mak­ing Mer­ck's case. "Pem­brolizum­ab may prove con­ve­nient to pa­tients and hos­pi­tals be­cause it re­quires few­er out­pa­tient hos­pi­tal vis­its and is giv­en at a flat dose."
Mer­ck is hunt­ing ap­provals in the US and Eu­rope so they can take that pitch di­rect­ly to physi­cians.
A spokesper­son for Bris­tol-My­ers, though, fol­lowed up with me to note that "the ad­ju­vant melanoma dos­ing for nivolum­ab was up­dat­ed with the Q4W ap­proval and is now ap­proved for flat dos­ing 240 mg every two weeks or 480 mg every four weeks."
Bris­tol-My­ers won an FDA ap­proval af­ter Check­mate-238 demon­strat­ed that Op­di­vo was bet­ter than Yer­voy in hold­ing back melanoma for post-surgery stage 3 and 4 pa­tients. In that study, the re­cur­rence rate for Op­di­vo at a me­di­an fol­low-up of 18.5 months was 66.4% for Op­di­vo and 52.7% for Yer­voy.
Whats at stake? Ac­cord­ing to Sea­mus Fer­nan­dez at Leerink, about $3 bil­lion. Here's his com­ment on the -238 re­sults from last sum­mer:
We es­ti­mate the ad­ju­vant melanoma mar­ket will ex­pand PD1 sales by ap­prox­i­mate­ly $3B glob­al­ly. Al­though this like­ly will can­ni­bal­ize sales of Yer­voy in the set­ting (we es­ti­mate cur­rent ad­ju­vant Yer­voy sales at $300-400M), the ex­pan­sion of the mar­ket should add ap­prox­i­mate­ly $1B to BMY's net im­muno-on­col­o­gy (IO) sales de­spite as­sumed com­pe­ti­tion from MRK's (MP) Keytru­da (pem­brolizum­ab; an­ti-PD-1).
It's not just about mon­ey, though. Ever since Bris­tol-My­ers rolled out in front of Mer­ck, Roger Perl­mut­ter's team has been fo­cused on claim­ing the lead. A key mis­step on lung can­cer at Bris­tol-My­ers gave them an ad­van­tage they've been ex­ploit­ing ever since — which we'll al­so hear more about over the next two days.
This par­tic­u­lar show­down has just be­gun.