Ab­b­Vie digs in for a long war as Am­gen bags first OK for a Hu­mi­ra biosim­i­lar
The FDA pro­vid­ed its stamp of ap­proval on Am­gen's biosim­i­lar of Ab­b­Vie's an­ti-in­flam­ma­to­ry megablock­buster Hu­mi­ra. But don't look for any cheap­er copies of the drug any­time soon. Ab­b­Vie plans to fight to the last lawyer keep­ing the com­peti­tor off the mar­ket, claim­ing it has patents in place to bar this and oth­er ri­vals in the works for an­oth­er six years.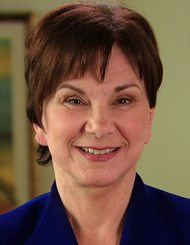 Janet Wood­cock
Ab­b­Vie has plen­ty to gain and much to lose when it comes to Hu­mi­ra and the biosim­i­lar mar­ket. The com­pa­ny earned about $14 bil­lion off the one fran­chise last year, and the num­bers keep head­ed north. In the sec­ond quar­ter, its flag­ship drug brought in $4.15 bil­lion. Hu­mi­ra pro­vides rough­ly two thirds of its rev­enue and Ab­b­Vie has been fight­ing for more time — lots more time — to de­vel­op new drugs to take its place.
Am­gen, mean­while, will be push­ing to get their copy­cat — named Am­je­vi­ta — on the mar­ket some­time next year, hop­ing that once the main patent laps­es in De­cem­ber they can fight their way out front. Mean­while, Mer­ck/Sam­sung Bioepis, No­var­tis and Shire (Bax­al­ta)/Mo­men­ta al­so have knock­offs in the clin­ic, look­ing to line up for a share of the mar­ket as well.
The slate of new ap­provals on biosim­i­lars, with one un­ex­plained re­jec­tion for No­var­tis, has helped il­lu­mi­nate the FDA's at­ti­tudes to­ward biosim­i­lars. Clean da­ta on one cen­tral in­di­ca­tion ap­pears good enough to win ap­provals for a full slate of in­di­ca­tions. And the agency ap­pears ready to move quick and fast to green light these drugs, even if patent bat­tles are like­ly to take much longer to play out.
Am­gen, for ex­am­ple, has been play­ing de­fense on the biosim­i­lars front as well as of­fense. The com­pa­ny has been fight­ing a de­lay­ing ac­tion against No­var­tis' ap­proved ri­val Zarxio, a copy of ne­u­pogen.
"This is the fourth FDA-ap­proved biosim­i­lar. The biosim­i­lar path­way is still a new fron­tier and one that we ex­pect will en­hance ac­cess to treat­ment for pa­tients with se­ri­ous med­ical con­di­tions," said Janet Wood­cock, M.D., di­rec­tor of the FDA's Cen­ter for Drug Eval­u­a­tion and Re­search.