Ab­b­Vie wins a 5-year free pass on mega-block­buster Hu­mi­ra in biosim set­tle­ment with ri­val Am­gen
It was clear from a re­cent sit-down with Leerink's Ge­of­frey Porges that Ab­b­Vie was feel­ing good about keep­ing its mega-block­buster Hu­mi­ra fran­chise in the US to it­self through 2022. And this morn­ing we got a peek in­to why they were so bull­ish.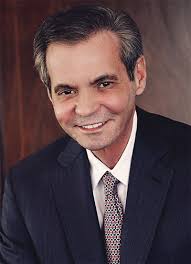 Richard Gon­za­lez
Am­gen, which scored the first ap­proval for a biosim­i­lar of Hu­mi­ra in the US, has signed off on a set­tle­ment agree­ment with Ab­b­Vie that will de­lay its roll­out un­til ear­ly 2023. Am­gen can get start­ed in the EU in the fall of next year, with a mar­ket­ing pact that calls on the com­pa­ny to pay roy­al­ties to Ab­b­Vie.
Ab­b­Vie's shares $AB­BV shot up 6% this morn­ing.
The de­tails on this deal are be­ing kept un­der wraps, but the set­tle­ment re­moves one of the most liti­gious com­pa­nies in the in­dus­try from Ab­b­Vie's pact. As Ever­cor­eISI's Umer Raf­fat said in a quick note this morn­ing, the court dates over the patent fight could well have left any fi­nal ap­peals de­ci­sion un­til 2021.
Ab­b­Vie CEO Rick Gon­za­lez is ea­ger to make Hu­mi­ra in­to a $20 bil­lion a year drug be­fore hav­ing to com­pete against biosim­i­lars, and there are at least 10 oth­ers in the late-stage pipeline now with vir­tu­al­ly every­one in the gener­ic bi­o­log­ics busi­ness tack­ling the king of the mar­ket.
The FDA has be­come quite wel­com­ing to new biosim­i­lar ap­pli­ca­tions over the past year. But get­ting an ap­proval and carv­ing up mar­ket share at two com­plete­ly dif­fer­ent things, as Pfiz­er found out when it went af­ter J&J's Rem­i­cade. Pfiz­er's knock­off bare­ly made a dent in the mar­ket, and the phar­ma gi­ant re­cent­ly ac­cused J&J of us­ing im­prop­er meth­ods in bar­ring com­pe­ti­tion — a po­si­tion that J&J says was dri­ven by an em­bar­rass­ing in­abil­i­ty to mar­ket the ther­a­py prop­er­ly.
Ab­b­Vie, which has now de­layed the lead threat to its biggest cash cow for an­oth­er five years, was care­ful not to gloat this morn­ing.
Lau­ra Schu­mach­er, ex­ec­u­tive vice pres­i­dent, ex­ter­nal af­fairs, gen­er­al coun­sel and cor­po­rate sec­re­tary, Ab­b­Vie, had this to say:
In reach­ing this agree­ment, we have achieved the bal­ance be­tween pro­tect­ing in­vest­ment in in­no­va­tion and pro­vid­ing ac­cess to biosim­i­lars, which will play an im­por­tant role in our health care sys­tem. We will con­tin­ue to de­fend our in­tel­lec­tu­al prop­er­ty and to rein­vest in fur­ther ad­vance­ments in med­i­cine to bring choic­es to pa­tients in need.