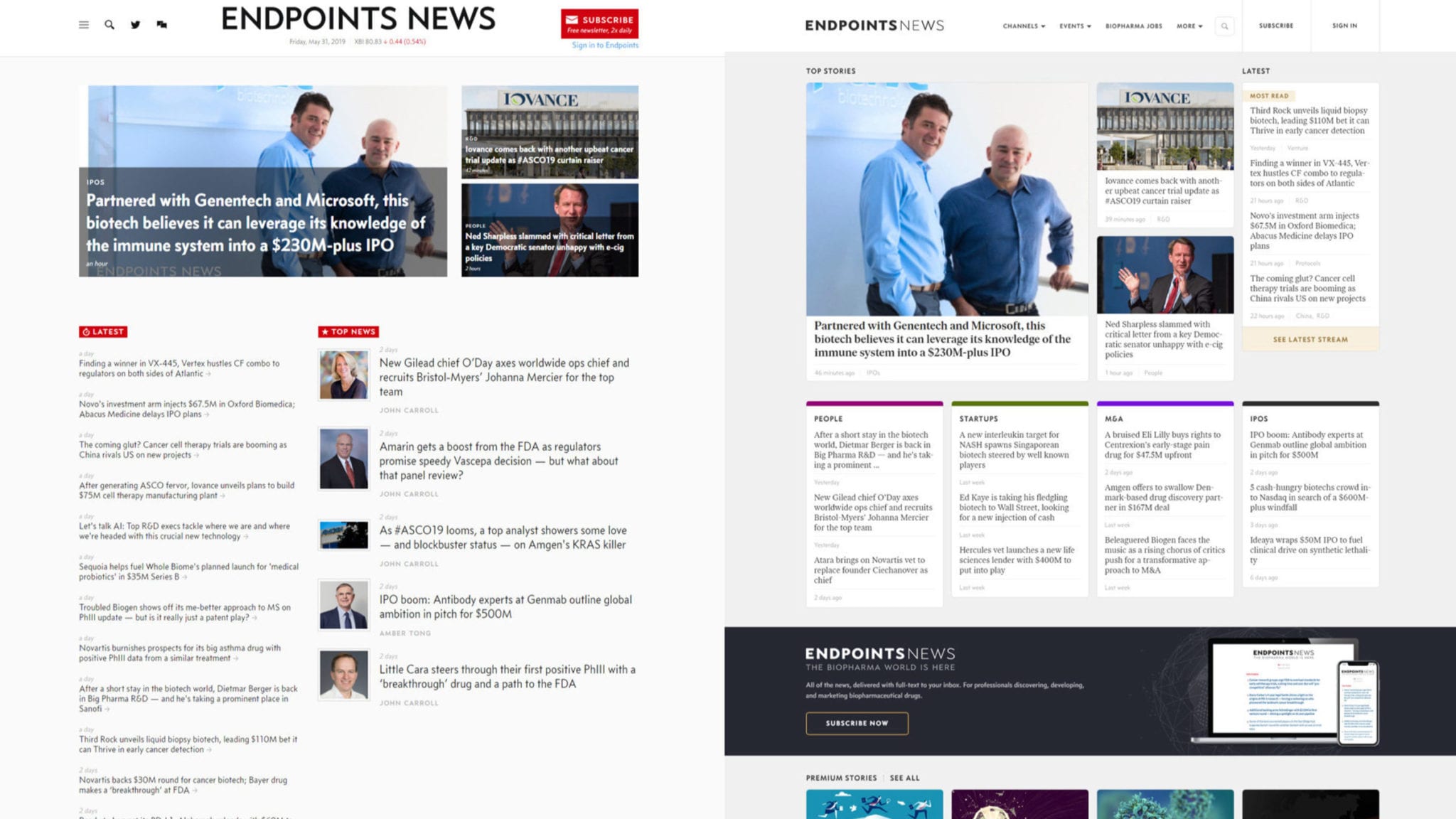 About the re­designed End­points News
We've up­grad­ed the End­points web ex­pe­ri­ence for the first time since our launch three years ago. It was built from scratch in­ter­nal­ly with the read­er in mind to be a clean­er and more use­able plat­form. We have some spe­cif­ic goals in mind for the de­sign, which I'll de­scribe be­low. And for those in­ter­est­ed, I'd like to go in­to some depth be­hind the over­all process and back­end be­hind End­points News.
But first, a word of thanks to the CRO Bio­rasi for their ex­clu­sive spon­sor­ship of the re­design. End­points' chief rev­enue of­fi­cer Mike Peck and I met the team a year ago at a con­fer­ence, where we talked about clin­i­cal out­sourc­ing and its place in drug de­vel­op­ment. Soon, we de­vel­oped a brand cam­paign tied to the End­points brand re­fresh, and over the next two weeks you'll see the re­sults of that across the site.
I set out three ma­jor goals for the re­design. They were:
In­crease the con­ver­sion rate of web vis­i­tors in­to ba­sic sub­scribers
In­crease the av­er­age num­ber of sto­ries read per vis­it
2x im­prove­ment on the de­sign, fit, and fin­ish
The first two can be ob­jec­tive­ly mea­sured. And in the 48 hours since we soft launched the site, we've al­ready seen im­prove­ments. Im­prov­ing the rate at which new web vis­i­tors will­ing­ly and vol­un­tar­i­ly sub­scribe to get the ba­sic End­points email prod­uct is pure or­gan­ic growth and re­mains our #1 mar­ket­ing KPI. We crossed 50,000 re­cent­ly. Three years ago, John Car­roll and I kicked things off with around 1,000 per­son­al con­tacts who were our Day One sub­scribers. And in­creas­ing the av­er­age num­ber of sto­ries read per vis­it is a crit­i­cal mea­sure of the dis­cov­er­abil­i­ty of our news con­tent. We were av­er­ag­ing around 1.2 sto­ries per vis­i­tor. We ex­pect to triple that num­ber with this new de­sign.
The last goal — a 2x im­prove­ment in the de­sign — is a sub­jec­tive one. And to do it jus­tice re­quires a look that reach­es back to well be­fore the ori­gins of End­points News. I'll do that be­low for the read­ers who are in­ter­est­ed.
For the rest, just know the de­sign was cre­at­ed with you, the read­er, in mind. End­points' tech/de­sign team is deeply com­mit­ted to in­creas­ing the use­abil­i­ty of the web­site. And that goes dou­ble for our pre­mi­um sub­scribers (check out the new read­er pro­file fea­ture for a glimpse).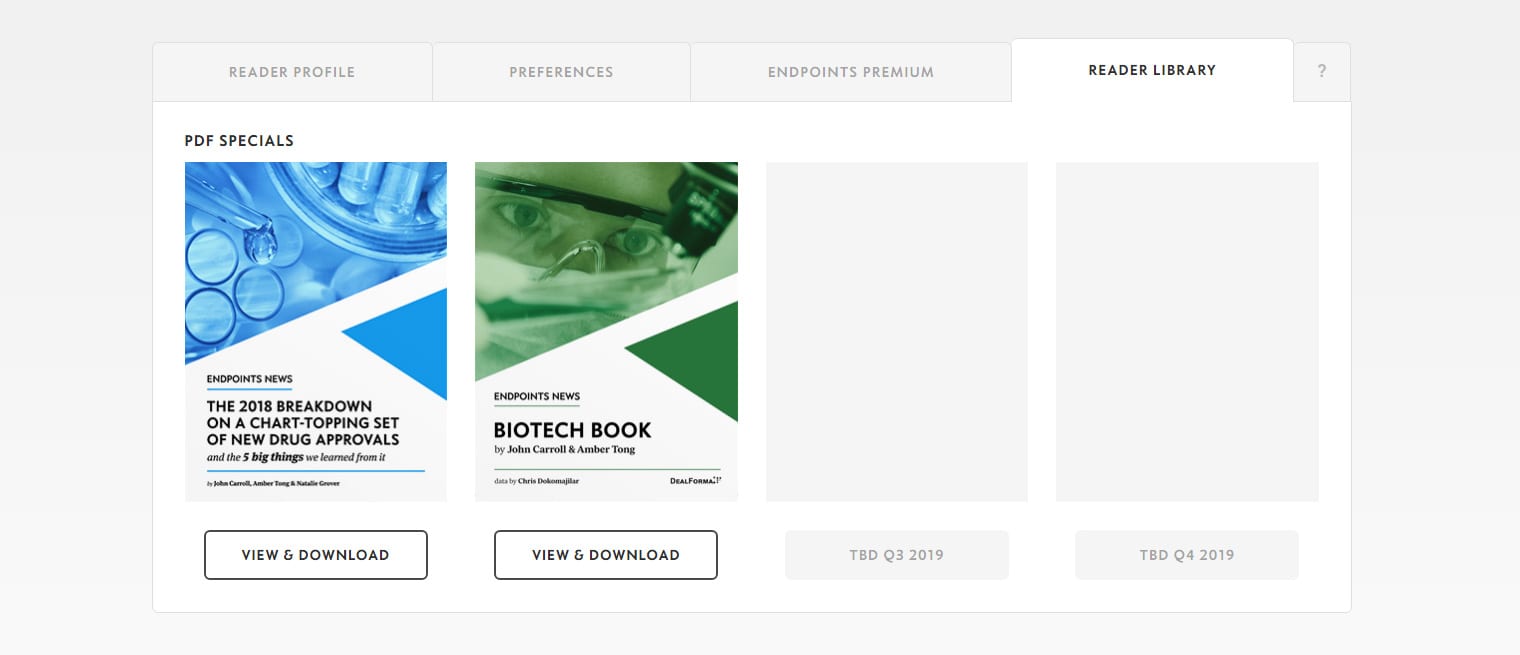 If you de­pend on End­points, but haven't up­grad­ed to a pre­mi­um sub­scrip­tion — now is the time. Our En­ter­prise plan of­fer is a trans­par­ent, un­lim­it­ed seat-li­cense for com­pa­nies for a flat $1,000/year re­gard­less of head­count. And the In­sid­er plan is $200/year for in­di­vid­u­als. You can see all the ben­e­fits here.
Once again, thanks to Bio­rasi for their ex­clu­sive spon­sor­ship of End­points News dur­ing the #BIO2019 con­ven­tion. You'll see their brand place­ments across the new plat­forms for the next two weeks, with a we­bi­nar launch­ing lat­er in the year. I en­cour­age you to check out their new web­site as well.
We hope you en­joy the new End­points ex­pe­ri­ence.
---
About the process and de­sign
John Car­roll de­scribed the ear­li­est days of End­points News re­cent­ly. It was a ful­ly boot­strapped ven­ture with four vir­tu­al em­ploy­ees.
Ty­pog­ra­phy com­par­i­son. Top: old ver­sion (Eq­ui­ty) / Bot­tom: new (Ivar Text)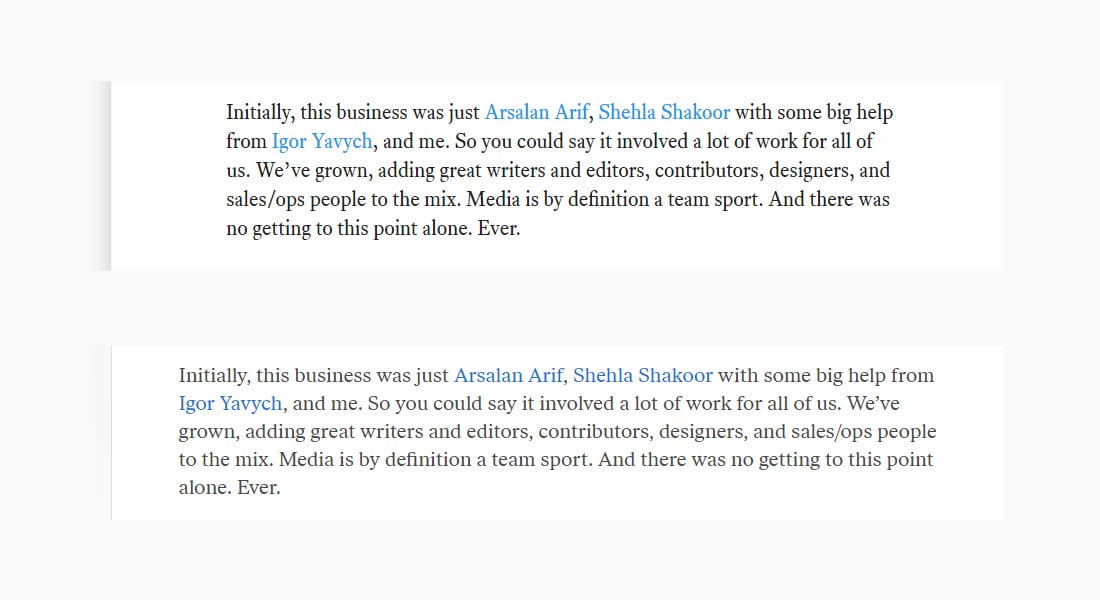 Click on the im­age to see the full-sized ver­sion
Long­time read­ers know that John and I were at a pre­vi­ous com­pa­ny. And when we found­ed End­points, we knew it was go­ing to be a ful­ly boot­strapped ven­ture. We had a well-known ed­i­tor. And with tools like Word­Press, start­ing a me­dia com­pa­ny to­day is so easy, any­one can do it.
But there was no bud­get for a de­sign­er. So the task fell be­tween our CTO Ig­or Yavych and my­self. Frankly, we're no de­sign­ers.
Com­par­i­son of the old End­ponts News home­page with the June 2019 up­grade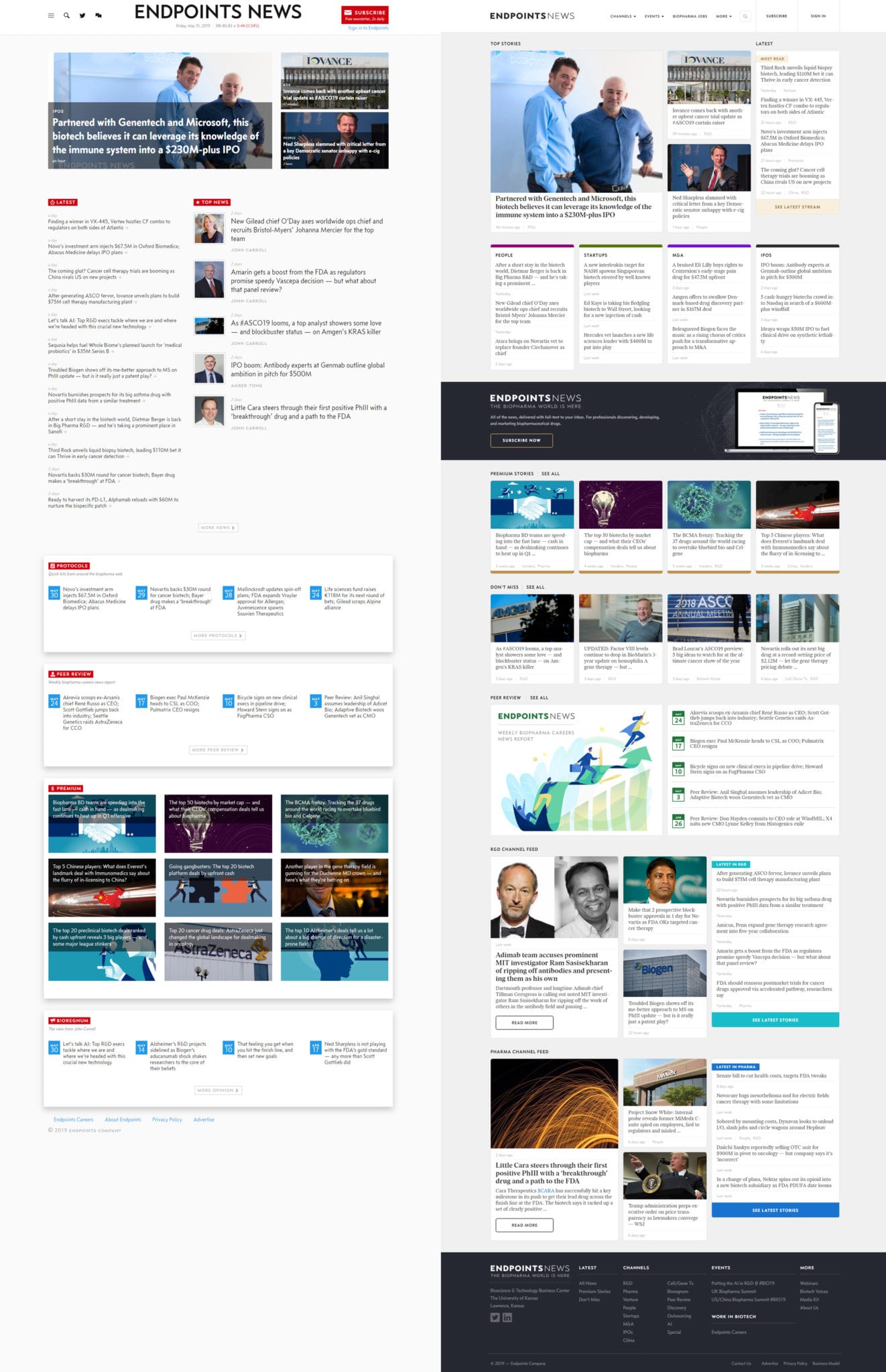 Click on the im­age to see the full-sized ver­sion
Last year, thanks to the suc­cess of our paid sub­scrip­tion cam­paigns, we were able to start build­ing out our team. We brought on board Valentin Manov as our cre­ative di­rec­tor, and the new fit and fin­ish you see to­day are his con­tri­bu­tions.
It was vi­tal­ly im­por­tant to me that once we had a de­sign bud­get, we would make "good de­sign" an in­ter­nal ca­pa­bil­i­ty — not some­thing we'd out­source. When de­sign­ers have ac­cess to the on­line news­room, they get to see what's im­por­tant to ed­i­tors and that in turn shapes their read­er-fac­ing work. We did not want to go to an out­side agency and ask for pitch­es on what they thought our news ex­pe­ri­ence ought to be.
Back in March, I flew to Sofia, Bul­gar­ia to meet up with Valentin and Ig­or and fi­nal­ize the ba­sic out­lines of the de­sign you see to­day. We named this re­lease "Rakia," which is the most pop­u­lar brandy in the Balka­ns.
We're ea­ger to know what you think about the de­sign.
PS: In or­der to em­brace the newest tech­nolo­gies that are com­ing, we had to end sup­port of some very old web browsers. Old­er ver­sions of In­ter­net Ex­plor­er are no longer sup­port­ed: If you're on a PC, Mi­crosoft's Edge brows­er is ex­cel­lent. Ig­or rec­om­mends the Opera Brows­er. My rec­om­men­da­tion? The lat­est ver­sion of Chrome will al­ways do.