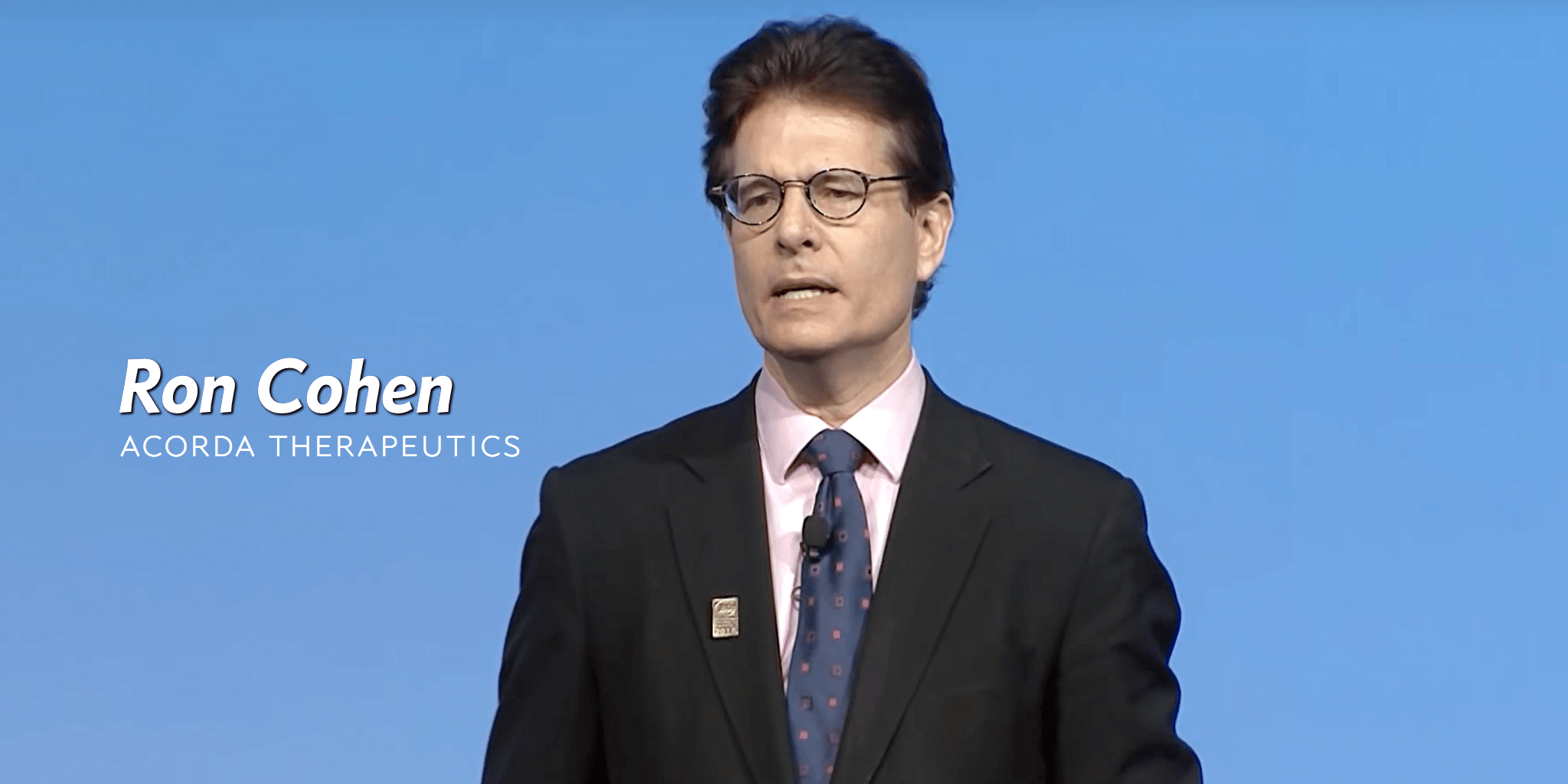 Acor­da is shift­ing in­to sur­vival mode. And it's go­ing to start by ax­ing more than 100 staffers.
PHO­TO: Co­hen at BIO 2016
---
One month af­ter a US dis­trict court tossed four key patents on its flag­ship drug Ampyra, leav­ing it with one to stand on in­to next year, Acor­da $ACOR is chop­ping 20% of its staff as it scram­bles to re­struc­ture while gam­bling that it can field new drugs in short or­der. Those cuts will fall dis­pro­por­tion­ate­ly on the com­pa­ny's R&D staff, CEO Ron Co­hen tells me, as Acor­da cir­cles its wag­ons around its two late-stage drugs while con­serv­ing its mar­ket­ing mus­cle.
The shift calls for a move away from the ear­ly-stage clin­i­cal work at the biotech, which leaves an ar­ray of pro­grams on the ta­ble for pos­si­ble deals as Co­hen's team takes a look at mon­e­tiz­ing as­sets, in­clud­ing its ex­ist­ing roy­al­ty streams. And there are oth­er op­er­at­ing cost cuts be­ing planned as well. But the CEO leaves no doubt that it's the staff cuts that hurt.
"This is trau­mat­ic for the en­tire or­ga­ni­za­tion," he says. But it's up to the lead­ers in the group now to "hold it to­geth­er and keep fo­cused so we can move ahead."
Co­hen couldn't spec­i­fy ex­act­ly how many staffers are be­ing cut in the re­struc­tur­ing, but said the com­pa­ny had 500 to 600 staffers and is cut­ting 20% of them. That cut will save the com­pa­ny $21 mil­lion a year.
Not on the chop­ping block: The mar­ket­ing team. If the com­pa­ny does lose patent pro­tec­tion on Ampyra in the sum­mer of 2018, says the CEO, the team can shift "seam­less­ly" to CVT-301 — pro­vid­ed it wins an ap­proval on sched­ule af­ter be­ing filed lat­er in this quar­ter.
Their mul­ti­ple scle­ro­sis drug Ampyra wasn't just Acor­da's main drug, it was a life­line and sup­port for every­thing the com­pa­ny was plan­ning for its pipeline. The ther­a­py pro­vid­ed $493 mil­lion out of $520 mil­lion in rev­enue last year. And with gener­ics loom­ing as ear­ly as 2018 – though the com­pa­ny is ap­peal­ing the court rul­ing and hasn't giv­en up the fight — all re­main­ing hands will be on deck hus­tling up a loom­ing NDA for its lead ther­a­py while push­ing a fol­low-up drug, tozadenant, for Parkin­son's through late-stage test­ing in ear­ly 2018.
Acor­da has $159 mil­lion in cash to help fund the tran­si­tion stage.
The re­or­ga­ni­za­tion can't come as a sur­prise. Co­hen has blunt­ly told an­a­lysts on sev­er­al oc­ca­sions that he was pre­pared to cut, and cut deep, to pre­serve the com­pa­ny in the event of a set­back on the patent front.
Among the as­sets Co­hen will look to part­ner or li­cense out:
— rHIgM22, a re­myeli­nat­ing an­ti­body be­ing stud­ied for the treat­ment of mul­ti­ple scle­ro­sis in a sec­ond Phase I study.
— BTT1023, a ful­ly hu­man mon­o­clon­al an­ti­body that tar­gets VAP-1 (vas­cu­lar ad­he­sion pro­tein-1). That's an as­set from Bi­otie.
— Tozadenant has al­so aroused some in­ter­est in its us­es in on­col­o­gy, which could help kin­dle a pact.
Co­hen would like to keep SYN0120, though, a dual-mech­a­nism drug which could have broad us­es in psy­chosis and cog­ni­tion that ex­tend fur­ther than its im­me­di­ate in­ter­est in Parkin­son's dis­ease.
It's not what he want­ed for Acor­da, but Co­hen sounds re­solved to do what he has to to get through un­cer­tain times.
"The fact that a sin­gle judge can com­plete­ly up-end every­one's ex­pec­ta­tions is a pro­found risk," says Co­hen. And in biotech, risks tran­scend any one area, stretch­ing from a huge risk of clin­i­cal fail­ure through reg­u­la­to­ry risk, re­im­burse­ment risk and on to patent risk.
"It reem­pha­sizes just how risky this busi­ness is," says the CEO. Build­ing a com­pa­ny in biotech re­quires some hard choic­es in nav­i­gat­ing risk and ad­vanc­ing new prod­ucts. And Acor­da is at a cross­roads.