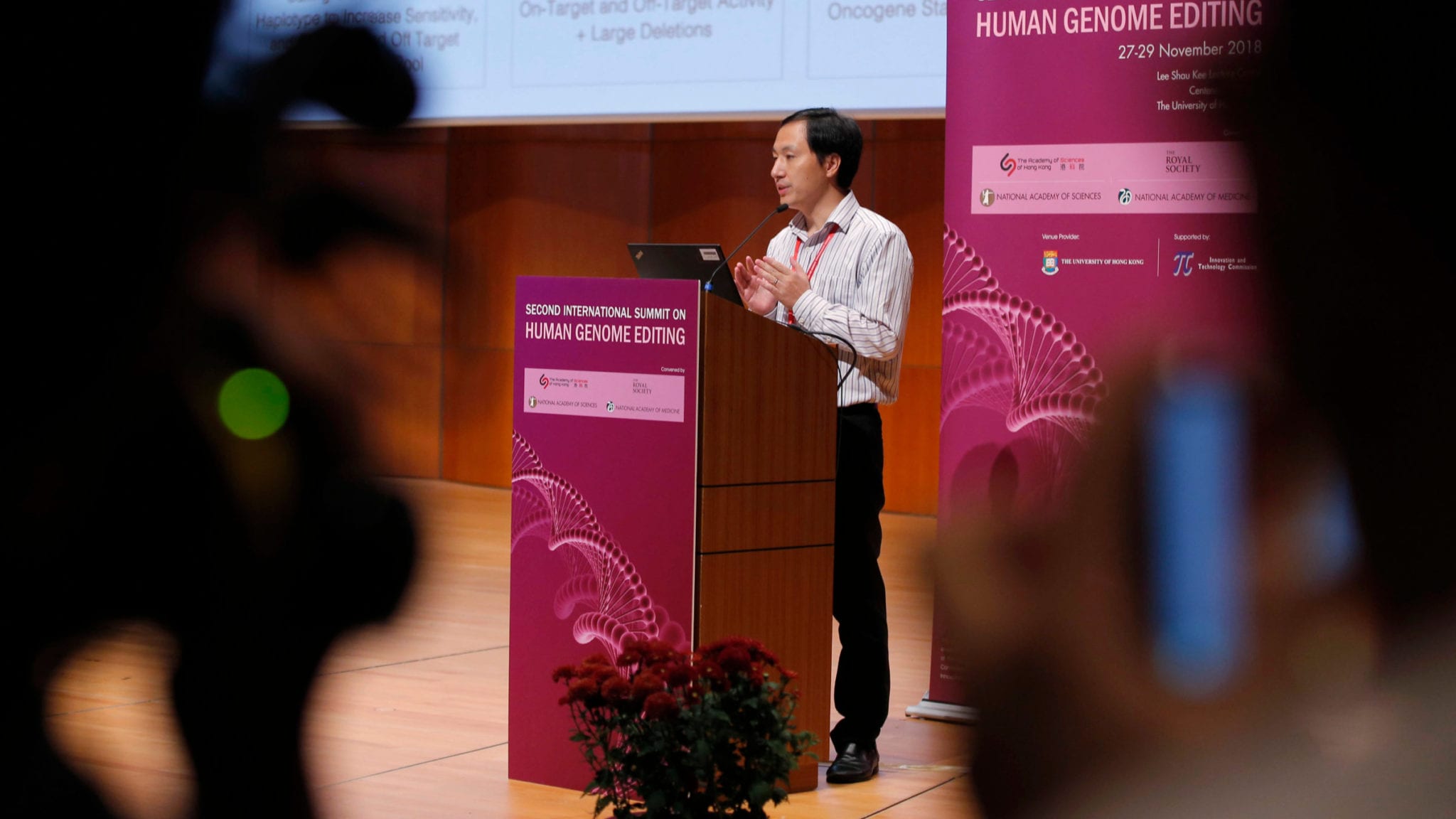 Add one fa­tal flaw to Jiankui He's litany of mis­takes in CRISPR ba­by de­ba­cle
Sci­en­tists the world over have found plen­ty of rea­sons to con­demn their Chi­nese col­league Jiankui He's ex­per­i­ment with the world's first CRISPR ba­bies late 2018: The al­leged med­ical need to con­fer HIV im­mu­ni­ty was un­found­ed, the con­sent process seemed du­bi­ous, the ac­tu­al gene edit­ing ap­peared spot­ty, just to name a few. But a new re­search pa­per may have un­cov­ered the most stag­ger­ing of them all.
Two re­searchers at UC Berke­ley has found that the ge­net­ic mu­ta­tion He at­tempt­ed to mim­ic in twins Lu­lu and Nana — known as CCR5-∆32 — is as­so­ci­at­ed with a high­er risk of pre­ma­ture death.
It's been wide­ly re­port­ed that the mu­ta­tion, which in ef­fect knocked out the CCR5 gene, had al­ready been shown to ren­der peo­ple more sus­cep­ti­ble to the West Nile virus and more like­ly to suf­fer se­ri­ous com­pli­ca­tions, in­clud­ing death, from in­fluen­za. But the over­all ef­fect on mor­tal­i­ty has yet to be es­tab­lished.
By comb­ing through geno­type and death reg­is­ter de­tails of 410,000 in­di­vid­u­als UK Biobank, Berke­ley pro­fes­sor Ras­mus Nielsen and his post­doc Xinzhu Wei found a 21% in­crease in all-cause mor­tal­i­ty rate among peo­ple with two copies of the ∆32 mu­ta­tion, in which 32 base pairs are omit­ted from the gene.
Wei and Nielsen are quick to warn against over­in­ter­pret­ing their find­ings, not least be­cause they on­ly an­a­lyzed genomes of UK vol­un­teers, and they don't nec­es­sar­i­ly trans­late to East Asians as "the ef­fect of the mu­ta­tion de­pends on the ge­net­ic back­ground and the en­vi­ron­ments," Wei wrote to Na­tion­al Ge­o­graph­ic.
That said, a sim­i­lar point was al­so made with re­gards to the stud­ies that He cit­ed to jus­ti­fy in­tro­duc­ing the mu­ta­tion in the ba­bies in the first place. Signs that CCR5-∆32 had pro­tec­tive ef­fects against HIV, nat­u­ral­ly ob­served in Eu­ro­pean pop­u­la­tions, spurred him to en­gi­neer their trait in­to the em­bryos that even­tu­al­ly grew in­to twin ba­by girls.
No­tably, He didn't ex­act­ly recre­ate the ∆32 mu­ta­tion in ei­ther em­bryo. Based on the slides he pre­sent­ed at a con­fer­ence in Hong Kong, Both in­fants ap­peared to still car­ry nor­mal copies of the CCR5 gene, and where the gene edit­ing did work it re­sult­ed in very dif­fer­ent mu­ta­tions whose ef­fects have nev­er been stud­ied.
Nonethe­less, these new find­ings once again lay bare the knowl­edge gap on the con­se­quences — good and bad — of gene vari­a­tions and, thus, the dan­gers of ap­ply­ing gene edit­ing tools on hu­man cells, es­pe­cial­ly when the al­ter­ations can be passed on­to fu­ture gen­er­a­tions as in the case of an em­bryo.
He him­self ex­pressed sec­ond thoughts about his ex­per­i­ment in an email ex­change with Stan­ford Uni­ver­si­ty bioethi­cist William Hurl­but, STAT's Sharon Be­g­ley re­port­ed.
"I have been think­ing," He wrote, "I rec­og­nize I pushed too quick­ly in­to a first-of-kind clin­i­cal study with­out the nec­es­sary open di­a­log with reg­u­la­tors, the sci­en­tif­ic com­mu­ni­ty, and the pub­lic."
As gov­ern­ments and ex­perts rush to pro­pose new reg­u­la­tions on the bound­aries of gene edit­ing, with new stud­ies such as this, the world is fi­nal­ly hav­ing the con­ver­sa­tion that He — now com­plete­ly side­lined and close­ly mon­i­tored by Chi­nese au­thor­i­ties — didn't have.
---
Im­age: Jiankui He in No­vem­ber 2018. KIN CHE­UNG for AP PHO­TO