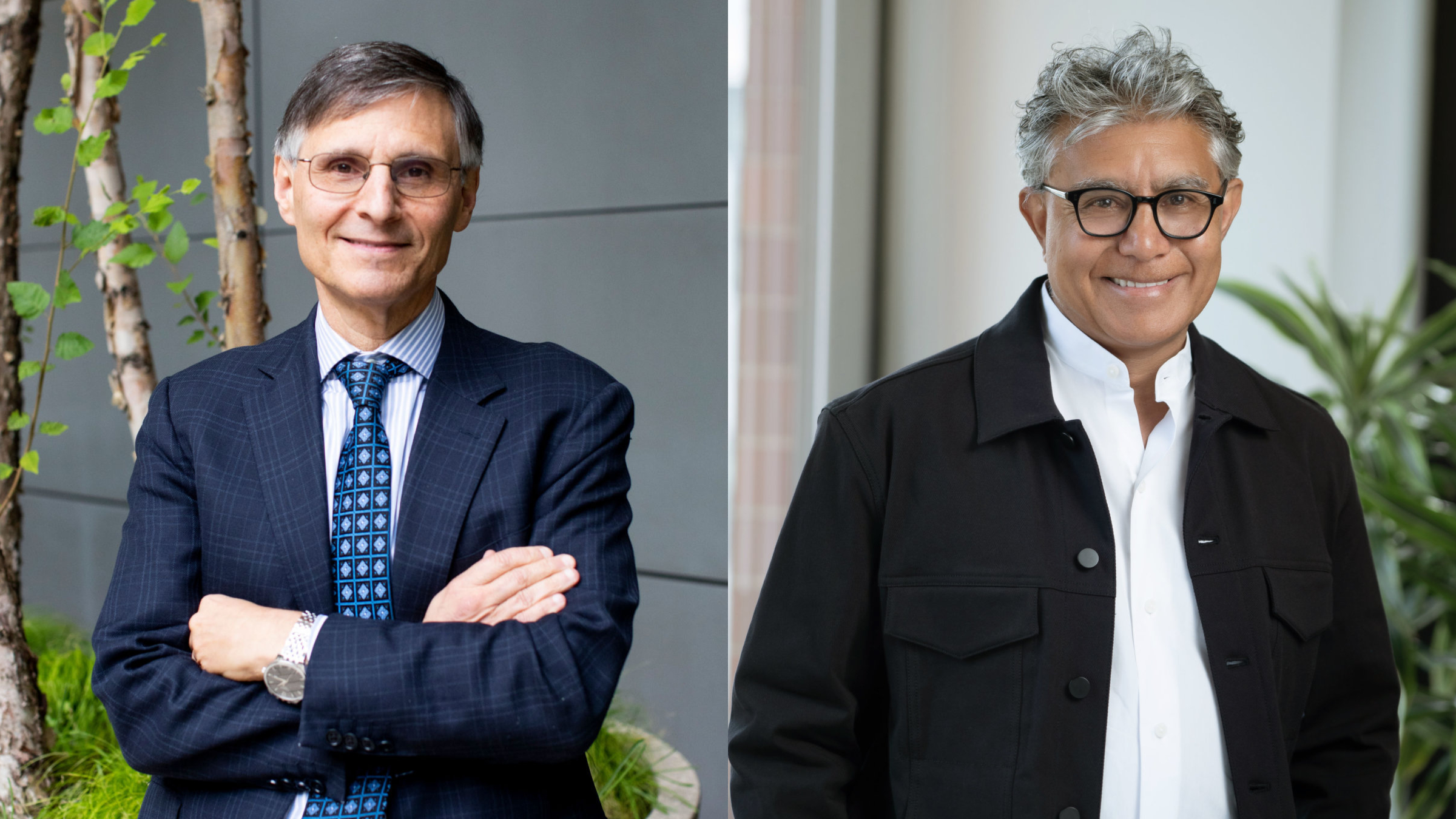 Ben Neel (L) and Raj Chopra
Up­dat­ed: New Ap­ple Tree biotech emerges with an­ti­bod­ies that might pair with Am­gen, Mi­rati's KRAS drugs
Ap­ple Tree Part­ners is out Mon­day with a new biotech from the labs of NYU Lan­gone Health that aims to tack­le drug re­sis­tance in can­cer.
Aethon Ther­a­peu­tics will get $25 mil­lion from the VC firm, and an­oth­er $5 mil­lion from New York Uni­ver­si­ty and oth­er in­vestors, the New York-based biotech said Mon­day.
The fledg­ling start­up is work­ing off a so-called HapIm­mune im­munother­a­py plat­form from the labs of Shohei Koide and Ben­jamin Neel at NYU's Perl­mut­ter Can­cer Cen­ter. The two re­searchers be­gan pon­der­ing the idea about three and a half years ago, Neel told End­points News, and they came to Ap­ple Tree's head of on­col­o­gy Raj Chopra about a year ago to form the com­pa­ny.
In a state­ment, Chopra, the act­ing CEO, said Ap­ple Tree was struck by the work out of Koide and Neel's labs: "That when co­va­lent in­hibitors bind to their tar­get pro­teins in­side can­cer cells, they pro­duce a pep­tide con­ju­gate 'bea­con' that is de­liv­ered on­ly to the sur­face of can­cer cells, not to healthy cells. Aethon has dis­cov­ered cus­tomized an­ti­bod­ies that home in on that bea­con, mak­ing the can­cer cells vul­ner­a­ble to at­tack."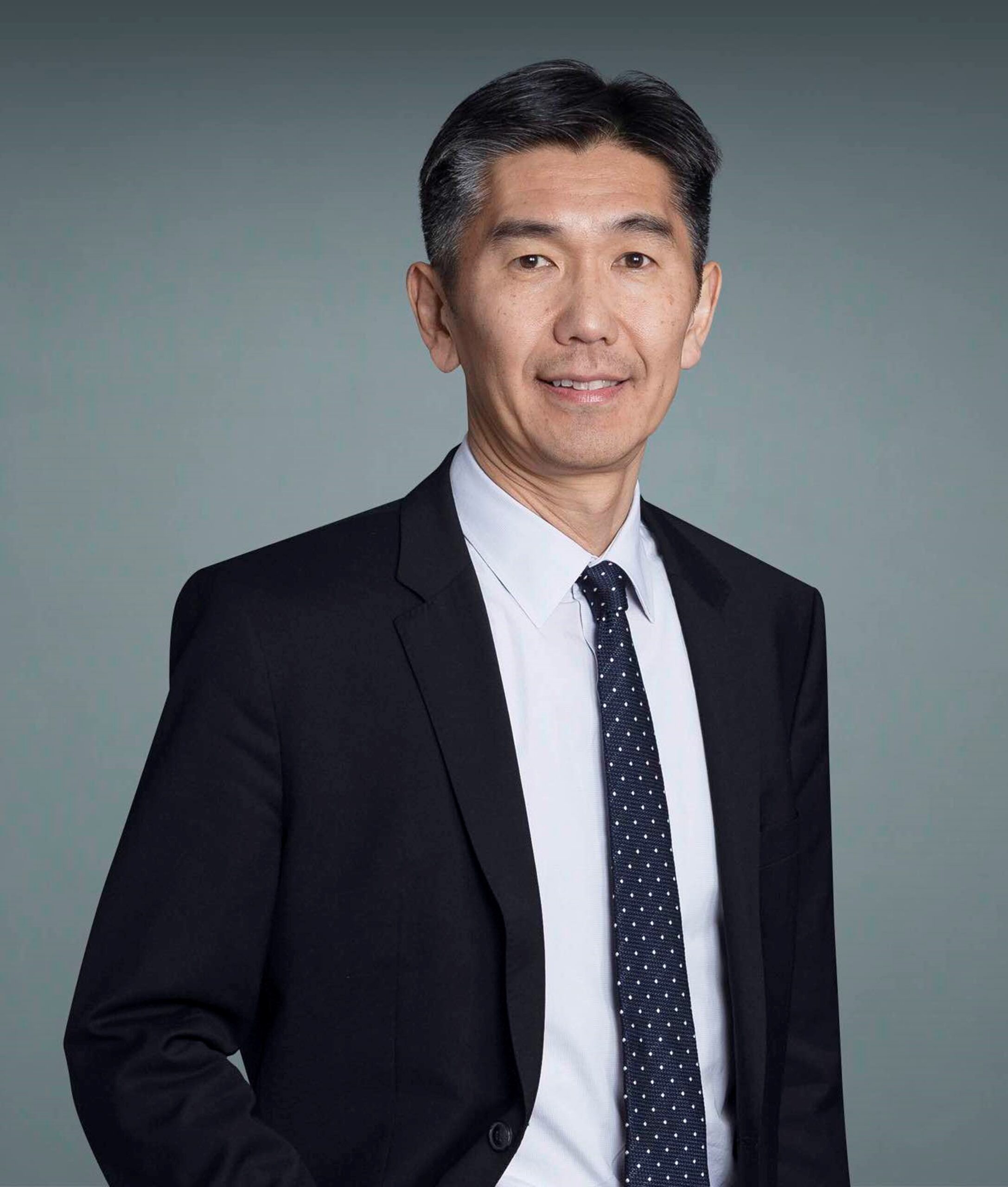 Shohei Koide
"One day, we were think­ing about how re­mark­able it was that all of a sud­den RAS was be­com­ing drug­gable and par­tic­u­lar­ly that KRAS G12C was be­ing drugged with co­va­lent in­hibitors," Neel said about his con­ver­sa­tions with Koide a few years ago. But the re­spons­es aren't that durable as re­sis­tance builds up, he said.
So, Aethon is mak­ing an­ti­bod­ies us­ing its HapIm­mune plat­form to drum up the T cells to specif­i­cal­ly thwart tu­mor cells. The an­ti­bod­ies are re­for­mat­ted in­to cus­tom bis­pe­cif­ic T cell en­gagers. The goal is to test com­bi­na­tions with RAS and EGFR in­hibitors, like Tagris­so, Neel said.
The biotech will like­ly start by test­ing the drug in com­bi­na­tion with ap­proved KRAS G12C in­hibitors, of which there are two: Am­gen's Lumakras and Mi­rati Ther­a­peu­tics' Kraza­ti, which was green­lit in De­cem­ber 2022.
The sci­en­tist who kicked off the race to­ward a KRAS drug, Ke­van Shokat at UCSF, is al­so on the hunt to make them more pow­er­ful by cre­at­ing bis­pe­cif­ic T cell en­gagers bound by the KRAS G12C in­hibitors. He and col­leagues are al­so go­ing af­ter hap­tens, small mol­e­cules that hope­ful­ly spark an im­mune re­sponse when at­tached to a larg­er pro­tein, and their biotech is apt­ly named Hap10 Bio.
"The fact that a dis­tin­guished team from UCSF has al­so come to the same broad sci­en­tif­ic con­clu­sions as us, is val­i­dat­ing of this nov­el ap­proach," Chopra told End­points in a fol­low-up email.
"Our an­ti­body on­ly binds to the so­tora­sib[Lumakras]–KRAS G12C pro­tein com­plex on the cell sur­face when it is part of an­oth­er spe­cial­ized com­plex, known as a ma­jor his­to­com­pat­i­bil­i­ty com­plex, or MHC," Chopra said.
Those com­plex­es help in­form the im­mune sys­tem that what is be­ing dis­played is bad and that the dan­ger needs to be re­moved. Hap10 and Aethon are both go­ing af­ter the hap­ten-MHC com­plex.
Chopra told End­points that Aethon ex­pects to en­ter the clin­ic in 2025. It has re­cruit­ed a chief tech­nol­o­gy of­fi­cer who will be­gin in March. The CEO said an­oth­er ex­ec­u­tive is com­ing from BioN­Tech but de­clined to name the new hire. Al­so in the C-suite is act­ing CSO Paul Da Sil­va Jar­dine, an Ap­ple Tree ven­ture part­ner, a 25-year Pfiz­er vet­er­an who left in 2015 af­ter end­ing his stint as VP of car­dio­vas­cu­lar and meta­bol­ic re­search. He's al­so the co-founder of Stat­en Biotech­nol­o­gy.
The biotech is in "on­go­ing dis­cus­sions" about po­ten­tial part­ner­ships, Chopra said. Pri­or to join­ing Ap­ple Tree, he was a cor­po­rate VP of trans­la­tion­al re­search at Cel­gene.
Aethon comes from Greek mythol­o­gy. The biotech is named af­ter one of the hors­es that helped trans­port the char­i­ot of He­lios, god of the sun, Chopra said. There's al­so Aetho­nan, a breed of winged horse, which the CEO analo­gized to the hy­brid plat­form his com­pa­ny is de­vel­op­ing.
Neel's daugh­ter is a clas­sics pro­fes­sor. "I get free ad­vice from her," he said.
Ed­i­tor's note: This sto­ry was up­dat­ed to clar­i­fy ATP and NYU are not the sole in­vestors in the $30 mil­lion Se­ries A, and that Hap10 Bio is al­so go­ing af­ter the hap­ten-MHC com­plex.