Ae­vi shares smashed by a tri­al fail­ure for AD­HD ge­net­ic sub­group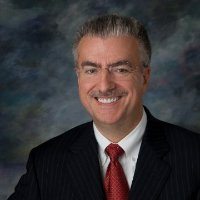 Gar­ry Neil, Ae­vi
Ae­vi Ge­nom­ic Med­i­cine had all its eggs in one pot. And this morn­ing, that pot got smashed by a land­slide of bad da­ta.
Ae­vi says that its ge­net­ic ap­proach to AD­HD failed to hit the pri­ma­ry end­point in a study dubbed SAGA. AE­VI-001 failed to sig­nif­i­cant­ly help AD­HD pa­tients with mu­ta­tions that throw a mon­key wrench in the mGluR net­work, dis­rupt­ing glu­ta­mate.
The com­pa­ny's stock $GN­MX was evis­cer­at­ed, plung­ing 68% on the news.
In­ves­ti­ga­tors did tease out sil­ver lin­ings, though. There was some en­cour­age­ment on the inat­ten­tion sub­scale. And if you just look at the pa­tients who re­spond­ed, there was a sig­nif­i­cant gain.
More than one in five AD­HD pa­tients have the ge­net­ic mu­ta­tion, and Ae­vi still be­lieves that it's on the right track to treat­ing them with a more per­son­al­ized ther­a­py. But that is a tough sale at this stage of the game.
Ae­vi lists five dif­fer­ent pro­grams for AE­VI-001 re­lat­ed to the mGluR mu­ta­tion. The mid-stage AD­HD study was the most ad­vanced. It al­so has an ear­ly-stage drug in de­vel­op­ment.
"While we are dis­ap­point­ed that the SAGA tri­al did not achieve sta­tis­ti­cal sig­nif­i­cance on the pri­ma­ry end­point of im­prove­ment on AD­HD-RS, we are very en­cour­aged by the clin­i­cal­ly and sta­tis­ti­cal­ly sig­nif­i­cant re­sults we achieved on the AD­HD-RS and CGI-I re­spon­der analy­ses," said Gar­ry Neil, the chief sci­en­tist at Ae­vi Ge­nom­ic Med­i­cine. "There is a clear sig­nal of ef­fi­ca­cy and clin­i­cal ben­e­fit with AE­VI-001 at the high­est dose. The drug demon­strat­ed a dose-re­sponse lim­it­ed by the max­i­mum dose of 400 mg BID and a fa­vor­able safe­ty pro­file."
Prin­ci­pal in­ves­ti­ga­tor Robert Fin­d­ling added:"Al­though the SAGA tri­al did not meet its pri­ma­ry end­point, the clin­i­cal re­sults high­light a clear po­ten­tial to ben­e­fit pa­tients. I look for­ward to work­ing with Ae­vi Ge­nomics to bet­ter un­der­stand these re­sults and fur­ther de­vel­op the mol­e­cule."