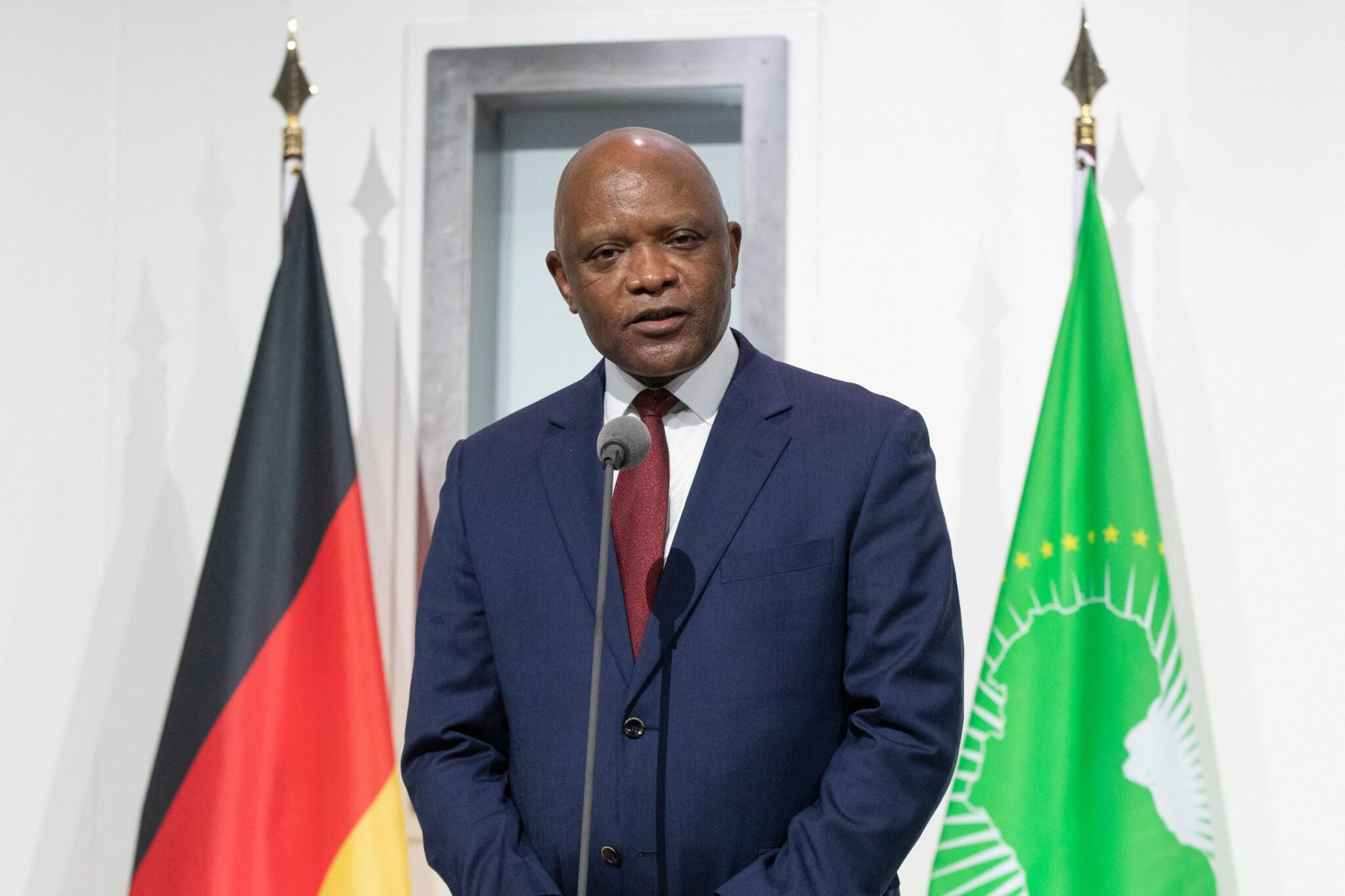 John Nkengasong, Africa CDC director (Andre Pain/AFP via Getty Images)
Covid-19 roundup: Africa CDC to seek vac­cine do­na­tion pause — re­port; New study sug­gests blood clots from As­traZeneca shot are very rare
The Africa CDC is re­port­ed­ly seek­ing a pause in vac­cine do­na­tions as lo­gis­ti­cal chal­lenges and hes­i­tan­cy be­gin to out­strip sup­ply is­sues.
John Nken­ga­song, the agency's di­rec­tor, told Politi­co on Tues­day that coun­tries are bet­ter able to pro­vide shots for their cit­i­zens. But con­cerns over get­ting shots in­to arms have mount­ed in re­cent weeks, and the con­ti­nent's CDC will ask for a do­na­tions pause un­til the third or fourth quar­ter this year.
Nken­ga­song rea­soned the vac­cines would ex­pire if oth­er coun­tries and CO­V­AX con­tin­ued the pace of its cur­rent ship­ments.
"It's like buy­ing a whole bas­ket of foods and just to put it on your kitchen counter," he told Politi­co. "If you can­not use any, it will rot. But if you do that in small­er pieces, then you still get to the end goal with the same amount of food on your kitchen ta­ble — but at least you don't have any waste."
Most of the con­ti­nent's vac­cine hes­i­tan­cy comes from young in­di­vid­u­als who don't see the virus as much of a threat, he added. In ad­di­tion, he list­ed the fol­low­ing lo­gis­ti­cal chal­lenges: African coun­tries still need to build up their cold-stor­age ca­pac­i­ties, make more sup­plies like sy­ringes and nee­dles avail­able, and fig­ure out where to store un­used shots.
Thus far, CO­V­AX says it has shipped more than 500 mil­lion Covid-19 vac­cine dos­es to low-in­come coun­tries, many of which are in Africa. The Africa CDC's strat­e­gy al­so comes as Pres­i­dent Joe Biden aims to boost US vac­cine do­na­tions to oth­er coun­tries as the Omi­cron wave sub­sides state­side.
New study shows blood clot risk is ex­treme­ly low af­ter As­traZeneca shot
A new study from the UK is delv­ing deep­er in­to side ef­fects from the As­traZeneca vac­cine, sug­gest­ing events of rare blood clots may be more un­com­mon than pre­vi­ous­ly thought.
Re­searchers found the clots on­ly ap­peared in one case per three mil­lion vac­ci­na­tions, and on­ly af­ter in­di­vid­u­als re­ceived their first dose, ac­cord­ing to a pa­per pub­lished in PLOS Med­i­cine. The study an­a­lyzed health records of 46 mil­lion Eng­lish adults be­tween De­cem­ber 2020 and March 2021 to draw its con­clu­sions.
The pa­per's au­thors looked specif­i­cal­ly at in­tracra­nial ve­nous throm­bo­sis (ICVT) and throm­bo­cy­tope­nia, or clots that are some­times ac­com­pa­nied by low platelet counts. Some coun­tries sus­pend­ed roll­outs of the As­traZeneca vac­cine when these is­sues first arose in ear­ly 2021.
Tues­day's study showed no risk of blood clots for those old­er than 70, with younger pop­u­la­tions see­ing high­er risk. For all pop­u­la­tions, the au­thors said the risk of blood clots "are like­ly to be out­weighed" by the shot's ben­e­fits in pro­tect­ing against Covid-19 hos­pi­tal­iza­tion and death.
It's the same side ef­fect that in­duced a dis­tri­b­u­tion pause in the US for the J&J vac­cine last April. Though ad­min­is­tra­tion re­sumed a few weeks lat­er fol­low­ing a re­view clear­ing the shot, the pause damp­ened vac­cine up­take at the time, par­tic­u­lar­ly for the J&J shot. As­traZeneca and J&J used the same tech­nol­o­gy in de­vel­op­ing their vac­cines — ade­n­ovi­ral vec­tors.