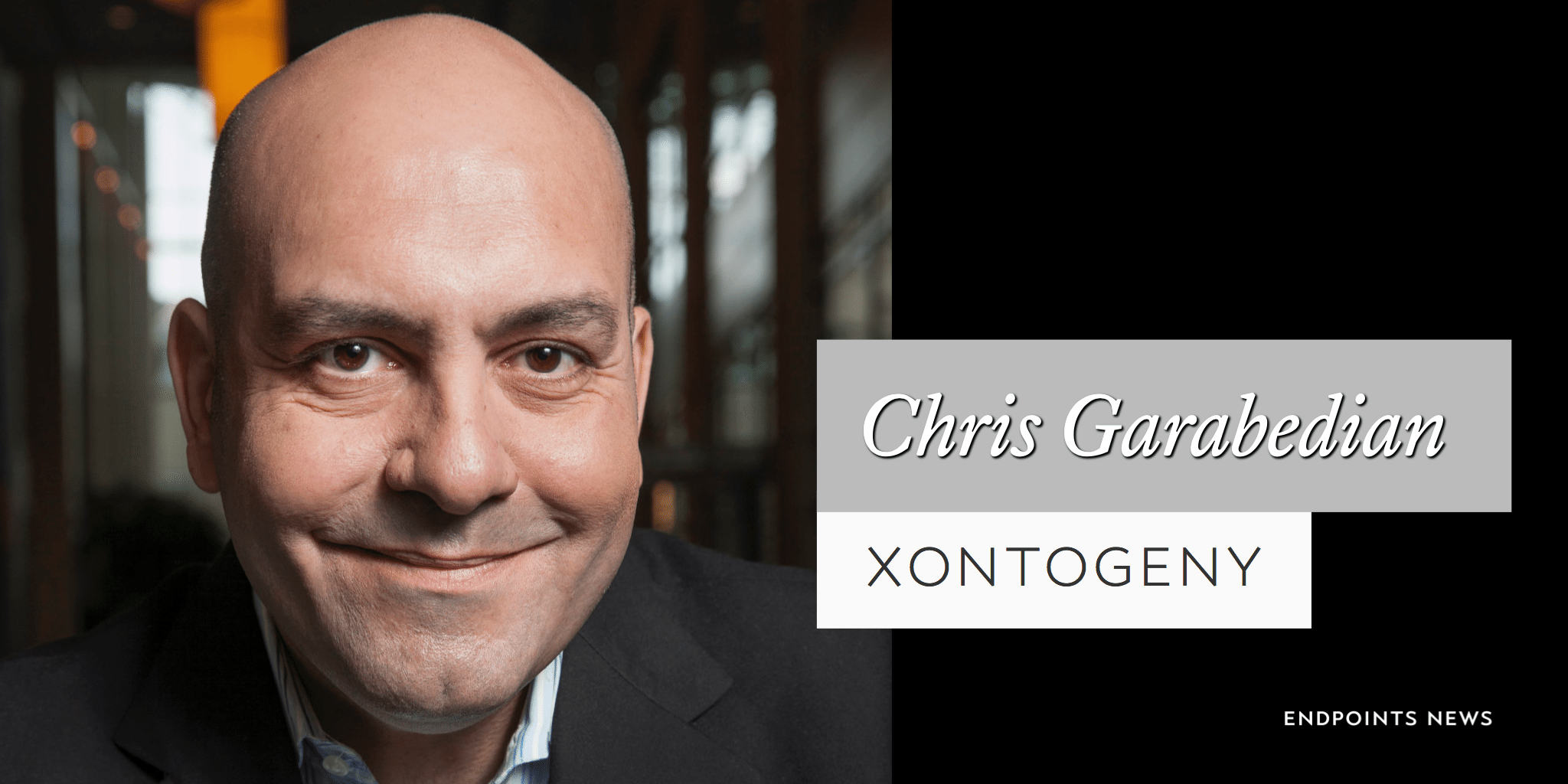 Af­ter a bruis­ing turn as Sarep­ta CEO, Chris Garabe­di­an is back in biotech with a new role as god­fa­ther to a bunch of star­tups
Chris Garabe­di­an is back.
Two years af­ter the for­mer Sarep­ta CEO end­ed a tur­bu­lent reign marked by a roller coast­er ride for in­vestors — which is still not over, even af­ter the con­tro­ver­sial FDA OK of eteplirsen — Garabe­di­an has won $15 mil­lion from some loy­al back­ers at Per­cep­tive Ad­vi­sors to es­tab­lish a com­pa­ny that promis­es to guide biotech star­tups through that first crit­i­cal stage of de­vel­op­ment lead­ing to proof-of-con­cept da­ta.
This is brand new and its called Xon­toge­ny. Now that he has the first tranche of a $25 mil­lion com­mit­ment in hand, Garabe­di­an is putting to­geth­er a small team that will be tasked with god­fa­ther­ing new drug de­vel­op­ment for a group of would-be en­tre­pre­neurs who ei­ther can't or re­al­ly don't want to go the tra­di­tion­al VC route to fund a biotech start­up.
"I was get­ting a num­ber of calls from en­tre­pre­neurs who had an idea, had their hands on some­thing of val­ue, in­creas­ing­ly look­ing for some­one to part­ner with but with­out a lot of deep in­dus­try ex­pe­ri­ence," Garabe­di­an tells me. VCs ei­ther weren't all that in­ter­est­ed or want­ed way too much eq­ui­ty. These were "unique and good op­por­tu­ni­ties that would nev­er see a path­way for­ward un­less they found some­one to help them find a way for­ward."
For about a half dozen to 10 new star­tups, Garabe­di­an and his team plan to play that role.
At one point, Per­cep­tive's stake in Sarep­ta amount­ed to one of its largest in­vest­ments. And that gave Garabe­di­an time to get to know CEO Joseph Edel­man and the oth­er ex­ecs at Per­cep­tive, a fund which backs pub­lic biotechs and of­ten plays a crossover role in the lead up to an IPO. But Garabe­di­an stress­es that Xon­toge­ny isn't a fund. They may be able to put up a few hun­dred thou­sand for seed cash to get things start­ed at a promis­ing new ven­ture, but most of Per­cep­tive's mon­ey will go to cre­at­ing the team and fund­ing their op­er­a­tion through the start­up pe­ri­od.
The group will shep­herd new drugs through a proof-of-con­cept event, pro­vid­ing the in­fra­struc­ture on in­dus­try spe­cial­ists that each new biotech doesn't re­al­ly need to start with from scratch. And then af­ter that point, they can con­sid­er what to do next, with all the usu­al choic­es of in­dus­try sale, a ven­ture round or IPO. And they plan to take eq­ui­ty in pay­ment, with Garabe­di­an fill­ing a role as ex­ec­u­tive chair­man or board mem­ber.
"It will be a rel­a­tive­ly small team," says Garabe­di­an, "like a typ­i­cal se­nior biotech op­er­at­ing team, about 12 with sup­port staff" and ex­per­tise in things like pre­clin­i­cal tox and reg­u­la­to­ry work. And they can play a vir­tu­al role in man­ag­ing a range of star­tups. Garabe­di­an plans to work with aca­d­e­mics as well as some deeply pas­sion­ate dis­ease ad­vo­cates who are look­ing to launch a com­pa­ny around a new drug prospect, per­haps li­censed in. And he ex­cit­ed­ly told me — in gen­er­al terms — about sev­er­al he's al­ready in talks with.
"What I've ob­served," says Garabe­di­an, who com­plet­ed stints at Gilead and Cel­gene be­fore tak­ing the helm at Sarep­ta, "is that noth­ing has beat­en the val­ue of clin­i­cal proof-of-con­cept da­ta."
That's still true to­day, he adds, even with biotech val­u­a­tions run­ning high. He watched Sarep­ta shares shoot up from $45 to $55 a share on Phase II da­ta. To­day, with a drug on the mar­ket, it's $35.
So what did he learn at Sarep­ta that would help guide him at Xon­toge­ny?
"I think Sarep­ta found it­self and I found my­self at the cen­ter of many things the in­dus­try and the FDA was grap­pling with," he tells me. Maybe he was too trans­par­ent, he adds, though com­mu­ni­cat­ing with the pa­tient com­mu­ni­ty at every turn al­so pro­vid­ed a foun­da­tion of pas­sion­ate sup­port that was ul­ti­mate­ly crit­i­cal to the FDA ap­proval process. But per­haps the best les­son is that run­ning a pub­lic com­pa­ny is not his best role.
"I can be that pub­lic com­pa­ny CEO," he says, "but that's not what dri­ves me. I in­her­it­ed a30-year-old com­pa­ny that need­ed a lot of fix­ing, with min­i­mal fi­nanc­ing, no top tier board or sci­en­tif­ic founders."
With Xon­toge­ny he can "work with peo­ple who want to work with me." He can fo­cus on de­vel­op­ment, in­stead of the dis­trac­tions of man­ag­ing a larg­er com­pa­ny in the pub­lic eye.
"A lot of peo­ple love the spot­light," he says. "I re­al­ly want to fo­cus on de­vel­op­ment. I feel I can beat the in­dus­try av­er­ages."
Now he has the mon­ey to find out.