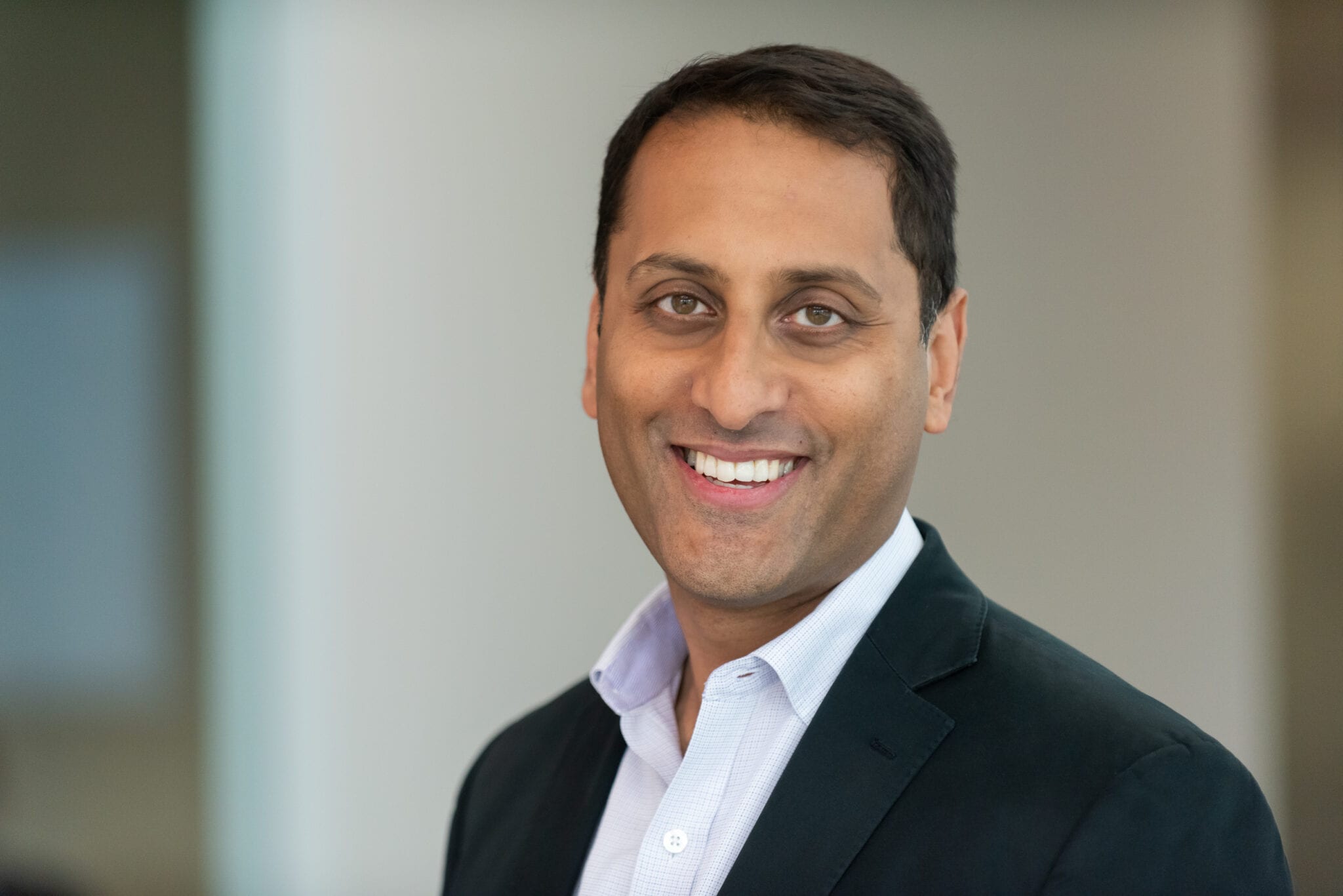 CEO Harith Rajagopalan (Fractyl)
Af­ter a decade in the type 2 di­a­betes game, Fractyl Lab­o­ra­to­ries recharges with a fresh $100M and a new name
Harith Ra­jagopalan com­pared the way type 2 di­a­betes is man­aged to stick­ing your fin­gers in a dam that's leak­ing from a num­ber of places.
You can take drugs to low­er your blood sug­ar, cho­les­terol, or blood pres­sure, but you're not ad­dress­ing what he says is the core is­sue — the meta­bol­ic ab­nor­mal­i­ty that caus­es the dis­ease.
"We're so busy plug­ging the holes in the dam, we don't have time to see that the whole in­fra­struc­ture is at risk," he said. "That in­fra­struc­ture is a full-body sys­temic meta­bol­ic ab­nor­mal­i­ty called meta­bol­ic syn­drome, that we're ig­nor­ing while we're so busy try­ing to treat all of the in­di­vid­ual symp­toms of the con­di­tion."
Fol­low­ing ev­i­dence that the gut is a key dri­ver of meta­bol­ic con­trol, Ra­jagopalan launched Fractyl Lab­o­ra­to­ries with a $5.5 mil­lion Se­ries A round back in 2011. Al­most ex­act­ly a decade lat­er, the com­pa­ny's back with a $100 mil­lion Se­ries F round and a shiny new name to con­tin­ue the hunt for ther­a­pies to re­verse meta­bol­ic dis­ease.
Fractyl Health will use the Se­ries F funds to ad­vance its en­do­scop­ic ther­a­py, Re­vi­ta DMR, in late-stage stud­ies across the spec­trum of type 2 di­a­betes. The tech­nol­o­gy re­cent­ly re­ceived break­through de­vice des­ig­na­tion, and is ex­pect­ed to com­plete a reg­is­tra­tional tri­al in in­sulin-treat­ed pa­tients in the US in 2023.
Why the sub­tle name change? "We want to stand re­al­ly firm­ly on the side of im­prov­ing health for pa­tients and for so­ci­ety, rather than man­ag­ing dis­ease," Ra­jagopalan told End­points News.
The com­pa­ny has raised about $280 mil­lion so far. But when asked whether he has plans to go pub­lic, Ra­jagopalan re­spond­ed: "We don't have any news to share on that as of now."
Re­vi­ta DMR makes use of a bal­loon catheter to in­ject saline in­to the walls of the duo­de­num, the first part of the small in­tes­tine im­me­di­ate­ly be­yond the stom­ach. Duo­de­nal lin­ing thick­ens over time due to mod­ern di­ets high in fat in sug­ar. This "cush­ion of saline" thick­ens the lin­ing, in or­der to sep­a­rate it from deep­er struc­tures. The bal­loon then heats up to about 90 de­grees Cel­sius (194 de­grees Fahren­heit), es­sen­tial­ly strip­ping away that ex­ces­sive lay­er. Then the body heals it­self, re­gen­er­at­ing a new, healthy lin­ing which Fractyl be­lieves could re­store in­sulin sen­si­tiv­i­ty.
"The rea­son we tar­get the duo­de­num is be­cause there's a lot of ev­i­dence that, in peo­ple with type 2 di­a­betes and obe­si­ty, there's a dys­func­tion­al duo­de­nal sig­nal that's trig­ger­ing in­sulin re­sis­tance in the liv­er, and that we be­lieve to be one of the very first events in the meta­bol­ic syn­drome," Ra­jagopalan ex­plained.
Fractyl be­gan en­rolling in the reg­is­tra­tional tri­al, dubbed RE­VI­TA-T2Di, in the first half of this year. The pri­ma­ry end­point in that study is the per­cent­age of pa­tients who achieve glycemic con­trol (de­fined as HbA1c lev­els less than or equal to 7%) with­out the need for in­sulin af­ter 24 weeks.
In a tri­al con­duct­ed in Eu­rope and Brazil, Re­vi­ta DMR didn't reach sta­tis­ti­cal sig­nif­i­cance in re­duc­tion of HbA1c lev­els in the com­bined pop­u­la­tions, though Ra­jagopalan said the Brazil group was un­der­pow­ered. In just the Eu­ro­pean pop­u­la­tion, me­di­an HbA1c change from base­line was –6.6mmol/mol (17.5mmol/mol) in the Re­vi­ta group, ver­sus –3.3mmol/mol (10.9mmol/mol) in a sham group, with a p-val­ue of 0.033, ac­cord­ing to da­ta pub­lished in the BMJ.
While Ra­jagopalan be­lieves the pro­ce­dure can ben­e­fit pa­tients for "a very long time," he's still un­sure ex­act­ly how of­ten pa­tients might need to re­peat it.
"We're look­ing for­ward to do­ing some stud­ies in which we can show the re­peata­bil­i­ty af­ter sev­er­al years," he said.