Everest Medicines departing CEO Kerry Blanchard (L) and Everest president and CFO Ian Woo
Af­ter Chi­na Trodelvy OK, Ever­est Med­i­cines CEO re­signs and the hunt is on for his re­place­ment
Shang­hai-based Ever­est Med­i­cines CEO has hit the com­pa­ny's ex­it door.
Ker­ry Blan­chard has re­signed as the CEO and as a mem­ber of the board of di­rec­tors, ef­fec­tive im­me­di­ate­ly, Ever­est an­nounced Fri­day. Af­ter spend­ing near­ly 17 years at Eli Lil­ly where he rose to the rank of VP, Blan­chard spent three years as a top ex­ec­u­tive for oth­er phar­ma com­pa­nies in Chi­na, in­clud­ing a year-long stint at In­novent Bi­o­log­ics.
In 2020, Ever­est brought Blan­chard on as the CEO, and short­ly af­ter he led the com­pa­ny's IPO, rais­ing HK$3.495 bil­lion ($440 mil­lion) to ad­vance its pipeline of dis­cov­ery drugs in on­col­o­gy, au­toim­mune dis­or­ders, car­dio-re­nal dis­eases and in­fec­tious dis­eases.
While Blan­chard will no longer serve as the CEO, he will re­main as an ad­vi­sor to the com­pa­ny for six months. Mean­while, the com­pa­ny is look­ing for his re­place­ment.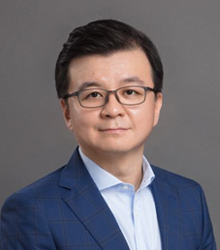 Wei Fu
"Fol­low­ing an ex­ten­sive search in the past few months, we are de­light­ed to have iden­ti­fied a fi­nal­ist among a short list of CEO can­di­dates, with a broad set of ex­per­tise across clin­i­cal de­vel­op­ment, reg­u­la­to­ry af­fairs and com­mer­cial­iza­tion," said Wei Fu, Ever­est's chair­man, in a press state­ment.
"We ex­pect to have the new CEO join Ever­est in the com­ing month," he added.
In June 2022, Ever­est won ap­proval for Trodelvy for adult pa­tients with un­re­sectable lo­cal­ly ad­vanced or metasta­t­ic triple-neg­a­tive breast can­cer. This marked the com­pa­ny's first ap­proval in its home coun­try.
Ever­est had orig­i­nal­ly ob­tained Trodelvy rights through a 2019 deal with Im­munomedics, which saw the for­mer shell out $65 mil­lion up­front and $60 mil­lion. The deal al­so came with up to $710 mil­lion in mile­stones head­ed Im­munomedics' way — which was ac­quired by Gilead in late 2020.
How­ev­er, in Au­gust 2022, Ever­est sold Trodelvy's Chi­na rights back to Gilead for a $280 mil­lion up­front pay­ment with an­oth­er $175 mil­lion in mile­stone pay­ments.
Ac­cord­ing to a fil­ing on the Hong Kong Ex­change, Ever­est said "the broad­er macro­eco­nom­ic and cap­i­tal mar­kets back­drop," and "the busi­ness prospects, the in­vest­ment nec­es­sary and risks as­so­ci­at­ed with com­mer­cial­iz­ing" as rea­sons for sell­ing Trodelvy rights.
The com­pa­ny said the mon­ey from the deal would be used to lead to a stronger bal­ance sheet. The pro­ceeds would go to­wards build­ing its drug pipeline, strength­en­ing its drug dis­cov­ery ca­pa­bil­i­ties, and fo­cus­ing on the de­vel­op­ment of Ne­fe­con, a kid­ney dis­ease drug.
Mean­while, Gilead will al­so re­gain Trodelvy rights in Macau, Hong Kong, Tai­wan, South Ko­rea, Sin­ga­pore, In­done­sia, the Philip­pines, Viet­nam, Thai­land, Malaysia and Mon­go­lia.